Soundtrack World is, as the name suggests, all about music for film, television, animation and computer games. Launched  in January 2017, we focus on our own take on news, in depth reviews and informative editorials about the music associated with these media. Furthermore we hope to provide interesting interviews with composers and other people and in the soundtrack industry. Finally, we will report on concerts  around the world. To be kept informed, the best thing you could do is follow us on facebook and twitter.
Soundtrackwereld
All content on Soundtrack World is written in English, but it also has a Dutch brother:  Soundtrackwereld. Most content are posted in both languages their respective sites.
Editor in Chief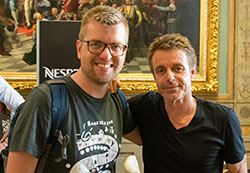 The editor in chief and founder of Soundtrack World is Anton Smit. Anton is a staff member at Streaming Soundtracks, a web radio station founded in 2001. Because he works for Streaming Soundtracks, he started visiting film music concerts in Europe. During those concerts he came in contact with the people from the film music industry. Anton also has written for Score magazine. After all these years it was time for Anton to start a project on his own. That is why he founded Soundtrack World. Next to working on this website as a hobby Anton has a full-time job in IT also and plays a tuba in a local orchestra.
Helping out
If you are interested in writing about music in films and other media, you can do so! The idea is that the more people write informative pieces about this sort of music the more it will bring attention to the general public. We would like it very much if you would like to help us. If interested please contact us via our contact form.