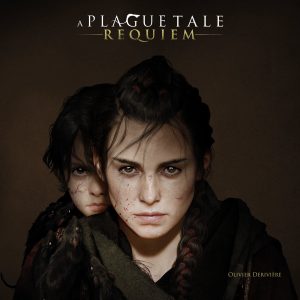 Sometimes I am conflicted if I should review scores to sequels from games or movies by the same composer. The main reason is that the music often needs to vary from its predecessor, using the same instrumentations and reusing existing themes. Fortunately, composers often can expand on their existing material to make it worthwhile for me to write about, as is the case with the music Olivier Derivière has written for the game A Plague Tale: Requiem.
As can be read in my review of its predecessor, A Plague Tale: Innocence, I was fond of the music, and I have been revisiting a couple of tracks from the album in recent years. I was excited about the new music from Requiem, and after listening to it, I was not disappointed. The game continues the story of two siblings in medieval times who have to deal with massive groups of deadly rats and many other foes coming their way. The older sister has become more skilled in combat and has more options to fight in the new game, which is also reflected in the music. You can still hear the same wonderful themes from the first game, performed on many medieval instruments and by one cellist performing gorgeous melodies and aggressive strokes on his instrument to create tension. In addition to these familiar sounds from the first score, Derivière added two more musical elements to the music for Requiem. The first is a medieval bagpipe, linked to a new character in the story, but the second element is what makes this score terrific and made me want to write about it, and that is the introduction of a choir. I already loved the main theme from Innocence, but the choir elevates this piece to the next level by singing words to the gorgeous melody, as can be heard in "A Plague Tale Requiem."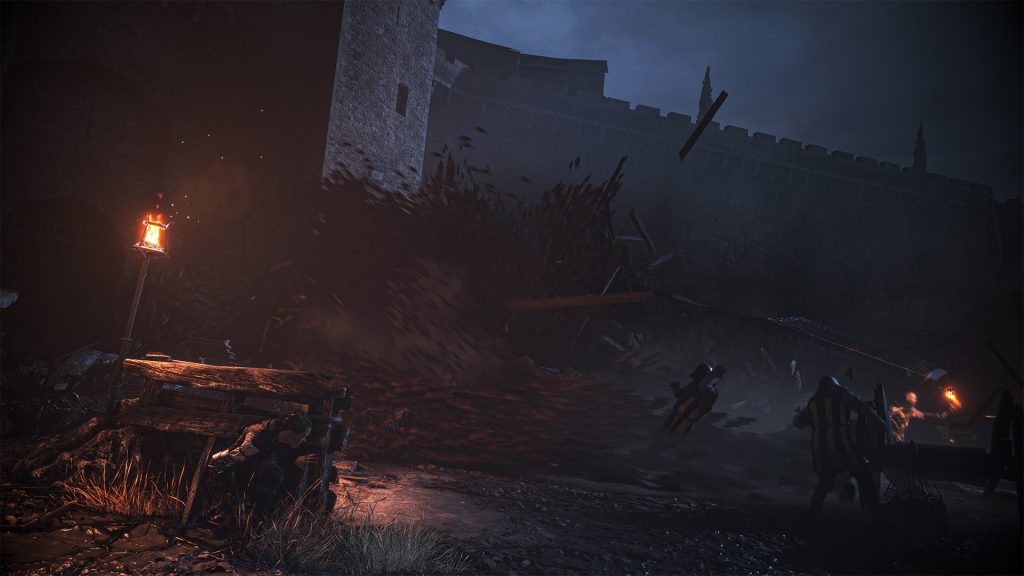 The music for A Plague Tale: Requiem is more soothing and beautiful than in Innocence. Not only is the choir responsible for that, with many stunning tracks in the back half of the album, but the melodies in most of the tracks are less disturbing than in the first game. The lack of disturbance is, in a way, quite unpleasant when you hear these cues in the game while gruesome murders are happening on screen.
You can listen to or buy this score on all the usual platforms, but on Derivière's Bandcamp page, you can buy a deluxe version with many more tracks. I already love the music for the first game, and the score for Requiem is even better.
Listen or buy
Tracklist
The highlights are in bold.
A Plague Tale Requiem (4:00)
A Beautiful Morning (1:49)
Hide and Seek (1:16)
The Dream (3:57)
No Turning Back (4:20)
The Friendly Lucas (1:56)
Arnaud's Men (2:30)
The Men After Me (1:16)
The Rage Within (3:15)
Unwilling Violence (3:04)
The Rats and Hugo (1:15)
Reunion (2:42)
A New Foe (3:25)
A Wreck (2:19)
Alone Together (1:25)
Siblings (1:35)
Fragile (1:55)
The Wall (2:11)
The Storm (2:55)
The Island (2:46)
The Child (L'Enfant) (1:58)
The Holy Child (L'Enfant Divin) (2:07)
The Spirit of the Island (3:56)
Heavy Heart (1:18)
The Truth (2:14)
The Night (La Nuit) (5:08)
The Count (1:53)
The Duel (3:02)
A Knight (1:24)
At Peace (1:44)
Love and Friendship (1:18)
Up There (Là‐haut) (4:34)
Brother (4:07)
O Ma Belle Lune (2:17)
Total length: 1 hour and 27 minutes
Ameo Prod, Inc. (2022)