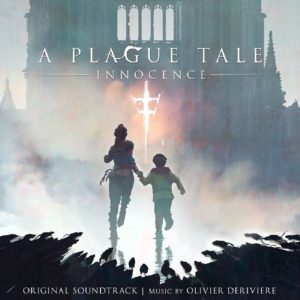 Sometimes I have a hard time reviewing a score of a movie that I have seen in the theater. Especially with some blockbusters it is hard for me to say anything about the score, simply because the music was not at all that interesting to me. As a result, it is a simple and easy review to write, but the downside is that there is not much to gain from such a review, since it means it is not worth buying the album. I prefer to focus on soundtracks that are worth mentioning or that at least have something I can talk about, even if the music is not that interesting to listen to. When such a moment of indecisiveness happens, I like to broaden my search outside the realm of blockbuster scores: I will look for older soundtracks that I already love and deserve some extra attention, Dutch film music, or music from other countries other than the US. Most of the time, however, I end up reviewing a score from a medium that I still hold very dear: video games.
The game A Plague Tale: Innocence has been developed by Asobo Studio, which is based in France. They have created a very dark and unnerving game, in which two siblings, a teenage girl and her baby brother, are forced to travel through 14th century France, surrounded by war, enemies, the plague and many rats – and with many rats I really mean a lot of rats: swarms of them. One of the elements to help the gamer feel uneasy is the score by French composer Olivier Deriviere, who I have been following since his beautiful score for the game Remember Me.
The main focus for this game is all about sneaking around and solving puzzles to avoid rats, and use those same rats to murder your opponents in very horrific ways. For a lot of the time no music is present while the siblings are moving and talking to each other in horrible French accents, but at key moments the music sets in, and adds an extra layer of emotion to whatever is happening in the game at that certain moment.
The music Deriviere has written for this game is very minimalistic and is done by only a handful of instruments, most of them medieval sounding instruments like the lute (or a normal guitar, since as a layman I cannot really hear the difference) and string instruments including medieval instruments to fit the period of the game, together with some occasional percussion. The music can be divided into two main categories. The first category is music written to portray the tension the main characters – together with the player – are experiencing. Good examples of tracks in this category are "Inquisition," "Orphans," "Escape" and the final part of "Prisoners." Each track contains a pattern that keeps repeating, but instead of getting tedious, enough variation has been added to the pattern to keep the music interesting and gets progressively darker and builds to a broader sounding climax.
The second category is what I would describe as happiness, which is pretty weird for such a dark game, but the game does have its moments of tranquility, and when those happen you can hear some beautiful medieval sounding melodies, as can be heard in "Father," "Together Forever," "Little Brother" and "By the River."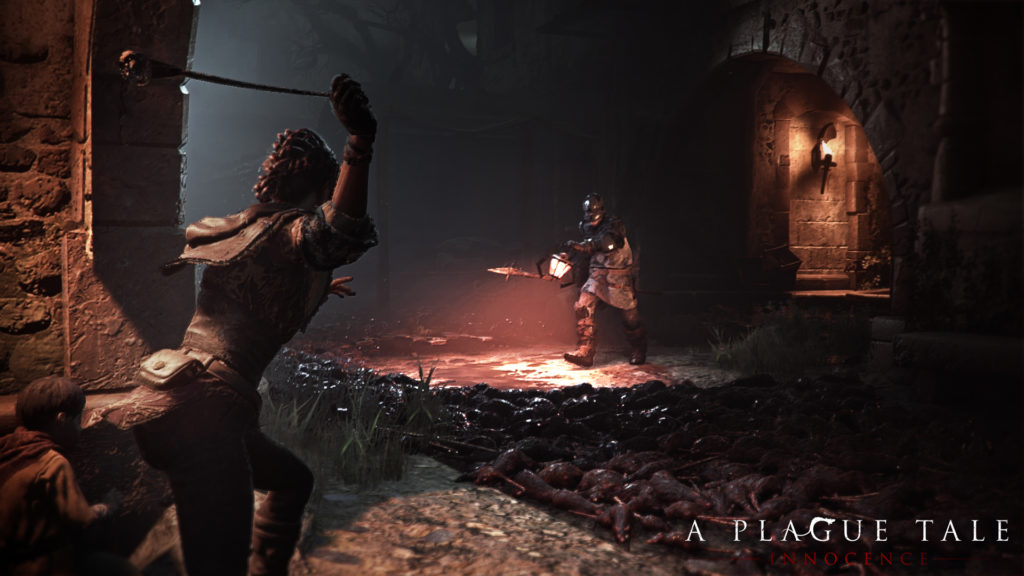 There is one track, called "Beyond the Horizon," which deserves special attention, since it does not really fit musically within the rest of the album. Instead of medieval strings and lutes, the main melody is played by a distant-sounding pipe organ. It is also the first track on the album that contains some clear electronic music together with a male vocalist who loudly sings over the organ, making this track a true delight to listen to.
While I was researching this score for a possible review, I thought that it would be a decent soundtrack that enabled me to inform my audience about the correct use of music to add emotion to the gameplay, yet would not be interesting enough to listen to on its own. However, while I was reviewing the music and watching more of the gameplay, the music really started to grab me. It is not only the amazing music Deriviere has written for the game, but it is also his choice of instruments and the musicians he chose to work with. These musicians were capable of adding the extra emotional layer to the music perfectly, giving the emotional melodies even more impact, but their aggressive strokes of the bows of their instruments also add the tension that the music sometimes needs.
If you are curious I can totally recommend to at least give this score a listen. If you are interested in buying it, I recommend buying on Deriviere's Bandcamp page. The album is only available in digital format and from that page you can download it in various qualities, from standard MP3s to lossless quality. In addition, you will receive extra tracks, which are only available on his Bandcamp site.
Listen or buy
Tracklist
The highlights are in bold.
Plague Tale (2:16)
Father (2:35)
Grieving (3:13)
In Shock (1:38)
The Inquisition (3:44)
Orphans (2:03)
Strangers (2:21)
Escape (1:30)
Big Sister (1:38)
The Killing (1:28)
Adulthood (2:15)
Together Forever (2:15)
The Rats (1:31)
Little Brother (1:38)
By The River (2:00)
Massacre (3:12)
Prisoners (3:45)
Mystical Castle (0:53)
The Shelter (3:01)
Exodus (1:55)
The son of a Blacksmith (2:01)
She Is Alive (1:44)
Beyond The Horizon (3:48)
Reunited (4:11)
I'm Sorry (1:34 )
The Wrath (2:36)
Bedtime Story (Bandcamp Exclusive) (2:32)
Deceiving Appearances (Bandcamp Exclusive) (1:25)
No Turning Back (Bandcamp Exclusive) (2:16)
Sacrifice (Bandcamp Exclusive) (1:33)
Sister's love (Bandcamp Exclusive) (1:12)
The Alchemy (Bandcamp Exclusive) (2:51)
The Call (Bandcamp Exclusive) (2:22)
The Plague (Bandcamp Exclusive) (1:17)
The Night Before Leaving (Bandcamp Exclusive) (4:26)
They Don't Know (Bandcamp Exclusive) (1:23)
Freedom (Bandcamp Exclusive) (3:02)
The Bound (Bandcamp Exclusive) (0:45)
Total length: 1 hour and 1 minute plus 25 minutes bonus content
(2019)