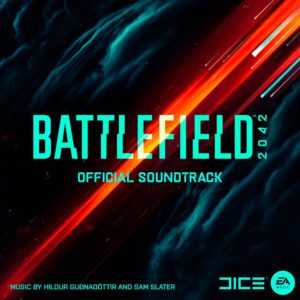 You are probably aware of famous rivalries between two big companies or franchises which usually play out as strict either-or decisions – Pepsi vs Coca-Cola, Burger King vs McDonald's, The Beatles vs The Rolling Stones, and so on. The same idea can be applied to military shooters, which are video games where two groups of soldiers battle each other, and in which the player looks through the eyes of one of these soldiers. In this rivalry the parties are Battlefield and Call of Duty, and millions of copies are sold of each new edition. Both franchises received a new release this month, with music written by noteworthy composers. Call of Duty: Vanguard's music was written by Bear McCreary, and maybe I will review that score at a later date, but it was the music for Battlefield 2042 that intrigued me the most, since it was co-written by none other than Academy Award winner Hildur Gudnaðóttir.
Gudnaðóttir did not write the music entirely on her own, as she had help from Sam Slater, with whom she has collaborated in the past on Joker and Chernobyl. If you are familiar with either of those soundtracks, you can imagine that there are not many melodic and thematic ideas to be found in the music for Battlefield 2042. The best way to describe the music Gudnaðóttir and Slater have written is by quoting from the press release I have received for this score: "This is the first video game score from the two-time Grammy Award winners, who used on-location recording techniques and algorithmic distortions to create a singularly unique auditory experience." This means that each track contains many drone sounds, percussion, random notes, of which many are probably performed on Gudnaðóttir's halldorophone, and more unique sounds to create a musical atmosphere.
What all the Battlefield games have in common is the superb main theme that was introduced in the first game Battlefield 1942 and has been composed by Joel Eriksson. In most games, the theme received an update and was expanded upon. For Battlefield 2042 the theme has been heavily altered, distorted and mangled, so that it is hardly recognizable if you do not know it very well.
For me as a reviewer, it is extremely difficult to say if this music is any good or not. There are probably many people who love these sound design and texture scores, but I had to force myself to listen to the album, and it was impossible for me to hear the full score in one sitting. The best way for me to describe the music for Battlefield 2042 is to say that it is an interesting score. My proofreaders always tell me never to use that word in my content, but I think it fits perfectly here. When I listen to this soundtrack the first thing that pops into my mind is "Huh, interesting," and after I am done listening, I will move on and will forget about it. If you are enthusiastic about Gudnaðóttir's music, this score is probably for you, but I will be listening to something else.
Listen or buy
Tracklist
The highlights are in bold.
Orbital (3:38)
The Observation of Beautiful Forms (3:50)
Irreversible (3:40)
Between the Bows (3:07)
Wall Jazz (2:04)
Load Bearing (3:11)
When does a country stop being a country? (3:36)
5 Degrees of Warming (1:56)
Hauled Over the Coals (2:00)
Wet Bulb (1:56)
Hourglass (3:05)
Shipping Forecast (2:30)
Tipping Points (5:59)
Battlefield 2042 (2:32)
Total length: 43 minutes
EA Music (2021)