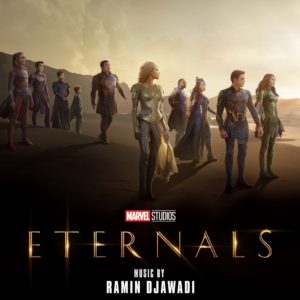 The Marvel Cinematic Universe has been an amazing concept for a long time: All kinds of Marvel superheroes have their own movies, which all take place in the same universe, telling one big impressive story. What is most interesting to me is that various superb composers have written fantastic scores for many of these movies, including Alan Silvestri, who composed the iconic Avengers main theme and Ludwig Goransson, who won an Oscar for Black Panther. To my surprise though, Ramin Djawadi has only written one score for the franchise, since he composed the music for Iron Man in 2008. It took 13 years for Djawadi to return to the Marvel universe, and he did so by writing the music for Eternals.
Eternals is a movie about a group of ten superheroes, who have been on earth for thousands of years and keeping humanity safe from monsters called the Deviants. As Djawadi did with his music for the popular TV show Game of Thrones, he decided not to go for a theme for each of them separately, but to develop a handful of themes for more generic aspects in this movie. This idea keeps the music from being too busy, with many small themes blending into each other, giving them more room to shine.
The first theme is introduced in "Eternals Theme," and I think it is one of the best Marvel themes that has been written in recent years. The foundation for the melody consists of a repeating pattern of fast notes on synths, but also using one of my favorite instruments: the organ. The melody itself is quite catchy and sounds powerful, worthy of this new group of superheroes. What is also interesting about the theme is that it does not appear that often in its heroic form on the album. I noticed it a couple of times while watching the movie, but not all versions were added to the album. There is a slow but powerful hint of the theme in "The Domo," and in "A Wish" you can hear a gorgeous emotional version performed on a piano. Unsurprisingly, it is the last music you hear on the album, not counting the song "Nach Mera Hero," hinting at a potential sequel.
The heroic theme has a melody that stands out and makes it easy for me to pinpoint it in the rest of the score. For the other themes, though, I had a harder time to recognize them in this gorgeous orchestral score, with support from synths, organ, electric guitar, choir and other additional instruments to highlight other time periods where the Eternals have been active. The reason for it being difficult is that there are still quite a few different themes to be found, which have all been written in the same musical style. Seeing the movie only once, makes it even harder to fully understand them all, and to put the melodies of the themes in context without the specific scenes. I do think, though, that I have some of them figured out. I will mention them below, but I could be wrong about some of them, and if I am, please let me know, because I would love to hear about all the stories behind thematic ideas.
The first additional theme I would like to mention is what I call the mission theme. It helps that it can be found in the track "Mission," and it represents the Eternals' noble mission to protect humanity from the Deviants. It is a gorgeous cue, performed by a pianist and a female vocalist, and it radiates beauty and tranquility, which is preserved even when the full orchestra chimes in. Another wonderful version can be heard at the 4-minute mark of "Remember," where the melody is hummed by a choir. In "Isn't It Beautiful" and "A Wish" you can even hear more variations of the theme. This theme probably appears in the movie more often than the heroic theme, which is a good indication of what kind of story the movie wants to tell.
While the Eternals are already extremely powerful beings, with their godlike status throughout history, there are entities even above their level, which are the Celestials, and their theme can be heard in "Celestials." This theme also starts with a melody performed by a female vocalist. As usual, the orchestra joins in, together with the organ, to support her and to continue this graceful melody and bring it to a higher level. While the cue progresses, the gracefulness slowly transitions into a big orchestral finale that sounds darker and more evil. In "Audience with Arishem" the theme returns, which is not a big surprise since Arishem, who is basically the Eternals' God, is a Celestial. In "Emergence Sea" the theme is dark and sounds desperate, and I have to give my compliments about the pun in this track's title.
The last theme that I have identified is definitely a highlight, and it can be seen as the love theme. There are some romantic moments between several members of the superhero group and Djawadi has given these intimate scenes the same theme. The most impressive version can be heard in "Across the Oceans of Time," which is a stunning choir piece. It starts first with one female vocalist, a recurring approach on this album to introduce a theme, who is supported later on by the full choir, resulting in a glorious cue, which will be one of my highlights of 2021. In "Joie De Vivre" you can hear a different version, in which it is surrounded by all kinds of historic instruments.
As I do with most of my reviews, I will not go into detail for all the tracks on the album. There are some dark moments to be heard, but most of the music is a pleasure to listen to. There is no need to know what each piece of melody represents to enjoy the music. The overall feel of the music stays the same throughout the whole album, but it never gets boring, since the music is rich with themes and other melodies.
In the last 13 years, Ramin Djawadi has written some wonderful music. Many people know his work on Game of Thrones, but most of his other music wasn't for a high-profile movie or TV show. Eternals has a different spin on what I am accustomed to in the Marvel Universe, making it a fun and refreshing watch, and Djawadi's music definitely helped to increase my enjoyment. It is a strong return to the Marvel franchise for him and with Eternals Djawadi shows that he is back in the big leagues.
Listen or buy
Tracklist
The highlights are in bold.
Eternals Theme (3:47)
It Is Time (2:17)
Mission (4:30)
Somewhere in Time (1:39)
The Domo (1:57)
Joie De Vivre (2:12)
Celestials (6:46)
Life (5:22)
Not Worth Saving (2:49)
Remember (5:32)
Across the Oceans of Time (3:50)
This Is Your Fight Now (2:46)
Audience with Arishem (5:33)
Isn't It Beautiful (2:38)
I Have Been Waiting for This (3:23)
Emergence Sea (2:22)
Eternal Loss (3:24)
A Wish (2:41)
Earth Is Just One Planet (1:39)
Nach Mera Hero (3:09)
Total length: 1 hour and 8 minutes
Hollywood Records (2021)