Concerning spoilers: I avoided mentioning story plots in this review, but I have to address some concepts which you may not want to know.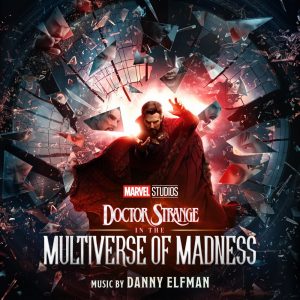 There are many movie directors who like to work with the same composer more often. One of those directors is Sam Raimi, who has been collaborating with Danny Elfman multiple times, including for two of his Spider-Man movies from the 2000s. Almost two decades later it was time to get together once again for a new Marvel movie: Doctor Strange in the Multiverse of Madness. This movie is the sequel to Doctor Strange, with a fantastic score by Michael Giacchino. As a film music enthusiast, I am always a little disappointed when a composer is not rehired for a sequel, but in this case, I was more intrigued instead. The multiverse concept that Marvel has created is based on the existence of infinite different and interesting universes – and that traveling between them is possible. Since normal rules do not apply, Elfman with his unconventional musical style is perfectly suited for the job.
Three themes stand out from the film music of Multiverse of Madness. The first one is, of course, for Doctor Strange. Instead of reusing Giacchino's theme, Elfman wrote his own theme for the magical superhero, and it can be heard at the beginning of "Multiverse of Madness." The cue sounds like typical music from Danny Elfman, with gorgeous melody lines by the strings, before the heavy brass sounds kick in together with short bursts of a choir and other out-of-place noises like ticking clocks. In "Are You Happy" you can hear the theme on a piano without all the other surrounding musical elements.
Wanda Maximoff, who as the Scarlet Witch has previously appeared in other Marvel movies, is also an important character in Multiverse of Madness. She is an extremely powerful mutant and Elfman did not need to write a new theme for her, since he already created one in Avengers: Age of Ultron back in 2015, which Elfman co-composed with Brian Tyler. It is a simple theme of only a handful of notes, and the best version of the melody can be heard at 1:40 in "Multiverse of Madness". That specific version is sung by children, which makes the theme a little creepy, perfect for Wanda's powerful but twisted mind.
A new character is also introduced, which is the teenage girl America Chavez. Since she is important to the plot of the Multiverse of Madness she gets her own theme as well. You can listen to a wonderful version of it in "Discovering America," performed by the cello players. In "Trust Your Power" her theme receives a more heroic and orchestral treatment.
These three themes are the foundation for the score for Multiverse of Madness. In almost every track you can hear one or more of them, integrated cleverly in some kind of way. The themes share some common musical elements, like recurring notes and chords, so that they can be combined and flow into each other with ease.
Next to the main themes, some minor themes can be found. One of them is Giacchino's Doctor Strange theme, which makes an appearance on several occasions. In "On the Run" it is integrated with action music and in "Strange Statue" you can hear a slow version of it performed on a trumpet. Elfman uses this theme a couple of times to reference a Doctor Strange from a different universe, which is a clever way to give Giacchino a respectful salute, but to avoid interference with his own theme at the same time.
Without getting too far into spoiler territory, the multiverse concept allows for the introduction of characters from other Marvel movies, which results in many cameo appearances. They are all wonderfully supported by the music, including theme music from the '90s. Unfortunately, most of them cannot be found on the album and you have to watch the movie to see how marvelously Elfman has integrated them into his score.
One final track I would like to mention is "Lethal Symphonies." It is a perfect example of how Elfman likes to write music. In this track you can hear two classical pieces – the 5th Symphony from Beethoven and Bach's Toccata and Fugue in D minor – brilliantly integrated with action music, together with Elfman's extravagant musical style.
When I was listening to the score for the first time, I was a bit overwhelmed. There are many things happening in the movie: There are a lot of action sequences, different universes and many conflicts between the characters which all need musical support. Elfman's musical style makes the music difficult to process. Only after exploring the themes more carefully, was I able to see how brilliantly executed the score is. The implementation of the themes is masterfully done, and sometimes you need to examine the music thoroughly to even find them.
The album is, however, not a soundtrack I will listen to more often. The music is very much in service of the film, with the exception of "Main Titles" and "Multiverse of Madness" which contain the themes. If you are an Elfman fan, on the other hand, the music he wrote for Doctor Strange and the Multiverse of Madness is probably exactly what you are looking for. You will certainly find a new excellent Elfman musical gimmick each time you listen to it. It is a fantastic score, which provides exactly what the movie needs. 
Additional Spoiler Tracks
Danny Elfman has been so kind as to add additional tracks to his YouTube channel, containing the spoiler music I have been talking about in this review. The track names may also contain some spoilers, so we will not mention them. You can find the additional tracks here: track 1, track 2 and track 3.
Listen or buy
Tracklist
The highlights are in bold.
Multiverse of Madness (2:36)
On the Run (2:16)
Strange Awakens (0:42)
The Apple Orchard (3:17)
Are You Happy (1:08)
Gargantos (2:50)
Journey with Wong (1:43)
Home? (4:08)
Strange Statue (1:43)
The Decision Is Made (1:13)
A Cup of Tea (3:57)
Discovering America (0:47)
Grab My Hand (1:14)
Battle Time (3:10)
Not a Monster (2:38)
Forbidden Ground (2:28)
Tribunal (2:13)
They're Not Coming Back (1:00)
Stranger Things Will Happen (2:55)
Buying Time (3:38)
Book of Vishanti (2:45)
Looking for Strange (1:38)
Strange Talk (3:31)
Lethal Symphonies (1:47)
Getting Through (5:33)
Only Way (2:51)
Trust Your Power (2:54)
They'll Be Loved (3:58)
Farewell (2:29)
An Interesting Question (3:13)
Main Titles (2:36)
An Unexpected Visitor (0:32)
Total length: 1 hour and 19 minutes
Hollywood Records (2022)