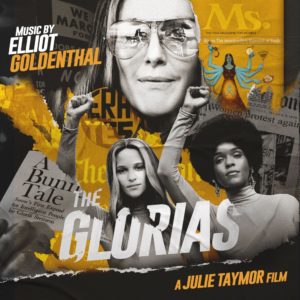 It was a pleasant surprise when I found out that composer Elliot Goldenthal had written music for a movie again, which has been a rarity throughout the last decade. This time he wrote the music for the movie The Glorias, which was directed by his long-time partner Julie Taymor. Another delight for me is the fact that Goldenthal is also known for writing very unconventional music, not only for movies, but also for plays, operas and also concert works. Most of his recent work does not make for an easy listening experience, with a lot of experimentation going on, but I have always found his music interesting and intriguing. As icing on the cake, I had the honor of having a conversation with him in 2018, where I got a small glimpse of his creative mind.
The music for The Glorias is not what I was expecting. Instead of wild experimental sounds, most of the music is quite conventional, but in all kinds of musical styles. On this 36-minute album you can hear soothing jazz, tracks with guitars, happy tunes and an orchestral piece as the finale. If you watch the movie, you will understand why these styles have been chosen. It is a biopic about feminist Gloria Steinem, in which four actresses play the role of Gloria at different stages of her life, and most music is there to provide texture to the scenes. If you listen closely, two recurring themes can be found on the soundtrack. One theme is for Gloria, and it can be heard in the first track, "The Greyhound". The second theme is for her father and can be heard in the second track, "Steinemite Jukebox."
There are some moments in the score though, where Goldenthal is showing his experimental and explosive side. "The Witch's Brew" is a chaotic sounding orchestral piece with a saxophone screaming over wild musical patterns and in "Treadmill Agitato" you can hear the strings playing rapid patterns, with a guitar playing some notes over them.
The best way to describe the music is to compare it to a painting. I was expecting something very expressive, with bright colors and wild patterns, but instead I got a beautiful image of a wonderful and realistic-looking valley painted by a master. The music for The Glorias did not meet my expectations, but it is a perfect underscore for the movie. If you listen closely, you can hear the thematic ideas integrated very well into the music – the work of a true master.
Listen or buy
Tracklist
The highlights are in bold.
The Greyhound (2:12)
Steinemite Jukebox (1:10)
Her Solitudes (3:22)
Jaipur Station (1:24)
Leo's Days (1:21)
Choice Now! (1:58)
The Witch's Brew (1:59)
Passing an Elegy (3:50)
Selectric (1:37)
Bella's Hat (1:37)
Slow Dance With Two (3:24)
A Torch Passed (2:09)
E.R.A. Now (1:19)
Treadmill Agitato (2:48)
Other Side of the Mountain (2:07)
We the People (3:57)
Total length: 36 minutes
Zarathustra Music (2020)