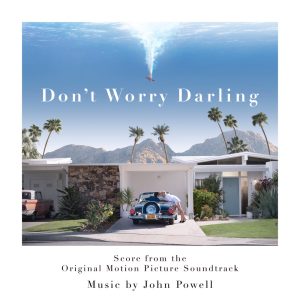 John Powell is one of the few composers who manage to turn out magnificent scores all the time. Most of the music he has written in the last decade has been for animations or movies that are adventurous and less serious, including Solo: A Star Wars Story. As a result, his music is full of fantastic themes, extraordinary instrumentations and uplifting melodies, which always puts me in a good mood. I am apparently not the only one who likes his music. He is now a renowned composer who can choose his projects very carefully, resulting in an average of one brilliant score each year.
The movie he chose to work on in 2022 is Don't Worry Darling. It is a psychological thriller about the housewife Alice, who is part of a suburban community in the 50s. At first glance she is living an idyllic, happy life, but, as the story progresses, she discovers that she is part of something dark and disturbing. A couple of uplifting moments in the movie are supported by songs, leaving the unnerving parts to Powell. So instead of his usual happy melodies, you can hear all kinds of unsettling sounds and effects.
Many tracks on the album contain many synthetic sounds, but there are also orchestral elements, primarily the string section, together with percussion and piano. This type of music is not something I would usually associate with John Powell. What makes this score exciting, however, is associated with him though, and it is the heavy use of the vocal skills of his partner Holly Sedillos in all kinds of clever ways. You can hear her voice many times on the album. In "Beginners Ballet Class," for example, she is singing a tone while being pushed on the chest. In "Keeping House," you can hear some low breathing before she starts to sing many lines stacked on top of each other. More of these vocal effects can be heard in many other tracks, and they are meant to reflect the inner struggle of Alice. In the finale of "A Doctor Visits," Sedillos' breathing is wonderfully integrated with rapid melodies by the strings. "Whisky by the Hearth" is another example of using a multitude of vocal layers to create a magnificent cue.
Sometimes, even more emotion is needed to reflect Alice's state of mind and in order to achieve that, Powell has added chants by a women's choir to the music. In the finale of "Trolley to HQ," you can hear their outbursts clearly. In "Catechisms & Catheters," their unnerving cries transition into a more soothing cue with gorgeous singing. You can listen to the choir in the terrific track "Victory Chase," with Sedillos' voice and action music that reminds me of Powell's music before he wrote the How to Train Your Dragon scores.
I was pretty surprised by the music for Don't Worry Darling. I had heard about the movie, so I knew it would not be a score filled with happy tunes. However, I did not expect Powell to write such a dark and moody soundtrack, after all the light-hearted film music he has composed in the last decade. I think the music is perfectly executed and fits the movie very well. I especially love the idea behind the vocals. Unfortunately, it is not really an album I can enjoy. The music is not fit for that purpose, with all the gloomy cues, and it also brings back memories of the disturbing story. It was interesting to see how Powell would approach such a story with its sinister plot, but I am still relieved that Powell teased that one of his upcoming projects will be another DreamWorks animation. After listening to this well-done but unnerving album and seeing the movie, I can use something more light-hearted.
Listen or buy
Tracklist
The highlights are in bold.
Beginners Ballet Class (1:21)
Breakfast of Champignons (0:34)
Welcome to the Party (4:04)
In the Bedroom (0:37)
Margaret's Flashback (0:40)
Keeping House (0:45)
Trolley to HQ (4:46)
Waking Up to an Ever‐Decreasing World (1:50)
Advanced Ballet Class (2:46)
Long Relaxing Bath (1:05)
A Doctor Visits (2:55)
Whisky by the Hearth (1:09)
In the Ladies with Bunny (1:26)
Whose World Is It? (1:49)
Sorties & Delusions (4:43)
Dinner Party Fallout (2:51)
We Need to Go (2:14)
Rabbit Hole (2:26)
Everything Is Good Now (1:01)
Catechisms & Catheters (3:18)
All for You Alice (2:51)
Bunny's Wise Words (1:58)
Victory Chase (8:18)
End Credits (1:47)
Total length: 57 minutes
WaterTower Music (2022)