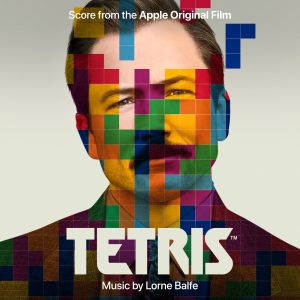 I have the impression that I do not have to mention again how important video games are for the film industry nowadays, since this will be the second soundtrack review I will be writing for a movie that is based on a video game, after The Super Mario Bros. This review will be about the music for the Apple TV Movie Tetris, which is based on a video game from the '80s that is regarded as one of the best video games ever made. Most movies about games try to tell stories with the characters from those games, but this concept is not possible for Tetris, because it is a puzzle game with blocks falling, without any additional story or characters. Instead a more interesting story is told in this movie, based on the true events of how Dutchman Hank Rogers obtained the legal rights for a worldwide release of the Russian game Tetris in the final days of the USSR.
In addition to the fun and addictive gameplay of Tetris, many people also have fond memories of the game's musical theme, which is based on the 19th-century Russian folk song "Korobeiniki." When I heard that Lorne Balfe was hired to compose the soundtrack for the movie, I was curious what kind of music he would write, and whether he would include the iconic theme in the music as well. Balfe has mainly been known for writing action scores in recent years, but the score of Tetris is anything but that. Instead of a fully orchestral score, Balfe opted for a more down-to-earth soundtrack with subtle sounds and melodies, using synthesizer sounds to reflect the '80s.
I would not have been surprised if "Korobeiniki" has been integrated into many cues in the score in all kinds of subtle ways, but there are some tracks in which the influence of the theme can be heard clearly, as for example in "Telling Lies" and "Tilting Tiles." These are also the tracks that stood out to me while watching the movie, because while Balfe has written some pretty delightful melodies, many of them are only subtly audible in the background during most scenes.
The music for Tetris was quite an interesting listening experience, and it showed me a side of Balfe that I had not heard in a long time. The soundtrack is a welcome change from all the action-packed scores Balfe has written recently and shows that Balfe is a composer who can write solid scores for all kinds of movies.
Listen or buy
Tracklist
The highlights are in bold.
Falling Blocks (4:14)
Cutting Corners (3:50)
Building Blocks (3:31)
Tetrominoes (feat. Joshua Pacey) (2:11)
Down It Goes (3:23)
Liar Liar (2:30)
Misdrop (3:32)
The Matrix (3:05)
Rotate (3:35)
Orange Rocky (2:22)
Floor Kick (1:54)
Hard Drop (2:54)
Back To Bach (2:32)
Line Up (3:38)
Telling Lies (3:34)
Blue Ricky (2:15)
Shift It (3:07)
Tilting Tiles (3:59)
Shifting Shapes (2:27)
Rhode Island Z (2:31)
T‐Spin (2:52)
Cleveland Z (2:55)
Lock Down (2:05)
TeeWee (2:35)
Deep Thoughts (2:53)
Total length: 1 hour and 14 minutes
Lakeshore Records (2023)