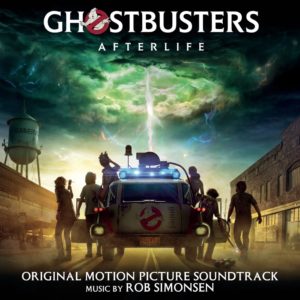 Ghostbusters is one of the classic movies from the eighties. I remember this movie, together with its sequel Ghostbusters II, and I have heard many stories about fans who are in love with this franchise. A reboot was released in 2016 using the same name, but taking place in a different universe, with the original cast having cameos. Apparently, that movie did not do well enough, so in 2021a new attempt was made to revive the franchise: Ghostbusters: Afterlife takes place more than forty years after the first movie, ignoring the iteration from 2016.
I had high hopes, and I can happily say that I did like the movie. I was positively surprised. The movie introduces a new cast of mainly young adults and children and has a well-written story that ties in perfectly with what happened in New York 40 years ago. Ghostbusters: Afterlife is a wonderful love letter to the original as well. There are many small details that make the heart of a true Ghostbusters fan beat faster, which is also the case for enthusiasts for the original Ghostbusters music. The original, iconic, "Ghostbusters" song by Ray Parker Jr. is used in the movie, where I was expecting some kind of cover in a more modern musical style. The same idea of keeping close to the original has been applied to the film music as well, which turns out to be a wonderful homage to the original score.
The music for the original movie was written by Elmer Bernstein, and it is a very pleasant and joyful score to listen to, with a superb main theme. Since Bernstein has unfortunately passed away, someone else had to step in to write the music. That assignment was given to Rob Simonsen, an unfamiliar name for me. Simonsen's approach to the music is to stay very close to the original's style. Bernstein's original was a melodic, orchestral score, with some additional piano parts, and he used theremin sounds for all the spooky elements in the movie. This concept made it possible for the original Ghostbusters movies to be more adventurous family movies than horror ones. Not only did Simonsen replicate that same style by using the same instruments, but he was also allowed to use Bernstein's superb themes. The main theme can be heard in many places on the album, as for example, in "Lab Partners," but it is not the only reused theme. The other important theme is Bernstein's Gozer theme, with the first track on the album "Trapped" being a good example of how Simonsen has integrated Bernstein's music into his own.
There is, of course, also a lot of music to be found that was originally composed for Ghostbusters: Afterlife, but it is still in the style of what Bernstein has written. A wonderful example of Simonsen's original material is "Summerville," which represents the little town in the middle of nowhere, where the movie takes place.
Every composer tries to write in his own style, but when you are listening to this score without any context, you can clearly hear that it is a Ghostbusters score, which fits perfectly with what the movie is trying to achieve. Like I said previously, Rob Simonsen is a composer I did not know, but I do now. His task was quite a challenge. He had to write music based on such an iconic score from a composer who was loved by many, and he nailed that perfectly.
Listen or buy
Tracklist
The highlights are in bold.
Trapped (4:55)
Dirt Farm (3:28)
Chess (1:18)
Summerville (1:41)
Research (1:52)
Under the Floor (3:10)
Nice Replica (0:42)
Culpable (1:52)
Laboratory (3:58)
Lab Partners (2:02)
Definitely Class Five (2:06)
Go Go Go (0:38)
Trap Him (3:53)
Don't Go Chasing Ghosts (2:41)
Mini-Pufts (3:45)
Down the Well (4:13)
The Temple Resurrected (2:02)
The Plan (2:59)
Suit Up (2:08)
No, I'm Twelve (2:26)
Getaway (2:54)
Callie (2:30)
Protecting the Farm (5:40)
Showdown (2:30)
Reconciliation (4:35)
Total length: 1 hour and 10 minutes
Sony Masterworks (2021)