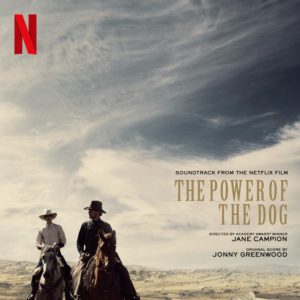 Being a teenager in the '90s, I grew up with a lot of music from the band Radiohead. I have always enjoyed their music immensely. Apparently their music clicked with me. When I discovered that award-winning composer Jonny Greenwood was the guitarist of that band, I was quite surprised, because while I like the music from the band, I never got into his film music, which is one of the reasons why I have not reviewed any of his scores. With the movie The Power Of The Dog being easy to watch for me on Netflix, I decided to have a good look at what Greenwood's music is all about: To see what kind of music he has written, and how it fits within the movie.
The Power Of The Dog is a Western drama and does not focus much on music. The majority of the scenes do not have anything playing in the background. When there is, it provides some texture to the scenes with a minimalistic approach. The small amount of music in the movie also resulted in a short soundtrack album, containing only 34 minutes of music, divided over 16 tracks.
Most of the tracks on the album are cues performed by a small group of string instruments. In the majority of them, the musicians play all kinds of melodies, which sometimes blend together very well, and other times, they do not, resulting in an unnerving atmosphere. Good examples of these string pieces are "So Soft," "Miss Nancy Arrives," "Viola Quartet," "A Lovely Evening," and "They Were Mine," with each of them having its own style. "West" is one of the string ensemble tracks that really stands out with a gorgeous melody. It can also be heard in "West Alone," where it is first performed on a piano before a violinist joins in.
There are a couple more solo pieces to be found. "Prelude" has rapid patterns performed on a cello. In "Mimicry" you can listen to a performance by a violin player, who is playing all kinds of musical jumps. Additionally, there are three tracks, "Requiem For Phil," "The Ravine" and "Best Friends," in which the French horn has the main focus. In these you can hear two horn players playing all kinds of melodies, sometimes together and sometimes in response to each other. What makes these tracks interesting is that you can hear the musicians playing in the distance, which creates an atmosphere of unease.
While most of these tracks do not really reflect the time period in which the movie takes place, there are some cues present on the album that do. In "25 Years" and "Figured It Out" you can hear some wonderful acoustic guitar play to reflect the cowboy life. Another instrument that does the same is the mechanical piano, a kind of piano that can play by itself that could be found in saloons in that time period. In "Detuned Mechanical Piano" you can hear rapid patterns so fast, you know that those have been produced by a machine and not a person. In "Paper Flowers" the notes are rather random instead of fast, but because of that, you can also feel that no human was involved in playing the instrument.
It was quite interesting and educational for me to analyze Jonny Greenwood's music. While I am still not fond of his music, I do have more appreciation for it. If you have a long period without music in a movie, and then it finally starts playing, it will have an effect on the audience. While the music is very well executed and clearly has some thought behind it, it is not clear enough for me without the context of the picture, since it lacks any emotion. When I listen to film music, I like to get some emotional response. I want to feel happy, sad, energetic or heroic. When I listen to the music for The Power of the Dog, I hear ideas, but I do not know what they represent. A good analogy for me is an art gallery: If I would visit one, I would be drawn to nature photos that make me appreciate how gorgeous the Earth can be, or I would feel horrified when I see photos of war, showing how cruel the world we live in is. An art gallery could also have an exposition of paintings with random colors, lines and patterns, where you gaze at them a bit puzzled, and you need to read the title of the painting, preferably with a more detailed description, to understand what the artist's intention with the painting is. That is exactly how I feel about Greenwood's score. There are amazing creative artists in the world, making superb artwork that I do not understand, and the same principle applies to Jonny Greenwood's music.
Listen or buy
Tracklist
The highlights are in bold.
25 Years (2:17)
Requiem For Phil (2:25)
So Soft (3:03)
Detuned Mechanical Piano (1:33)
Prelude (1:42)
The Ravine (1:34)
Mimicry (1:49)
West Alone (1:37)
Miss Nancy Arrives (1:40)
Figured It Out (1:54)
Viola Quartet (2:50)
Best Friends (1:48)
Paper Flowers (1:59)
A Lovely Evening (2:43)
They Were Mine (3:19)
West (2:32)
Total length: 34 minutes
Invada Records (2021)