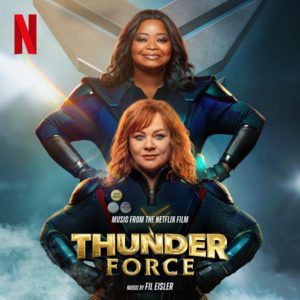 One of the things that I like about being a soundtrack reviewer is discovering music from composers that I have not heard of before. Netflix can be very aggressive with promoting their own movies, which was the case for Thunder Force. As usual, when I am trying to make a decision if watching such a recommendation is worth my time, I checked to find out who has written the music for it. Composer Fil Eisler has never crossed my path before, so I was instantly convinced to give the movie a go and to pay special attention to the music.
The movie is not a traditional superhero movie as can be seen on the cover of the album, and, after watching the movie, I am not sure what the vision was for this movie. What kind of movie did it try to be? Sometimes it was a bit childish, but I do not have the impression it was meant for children, and maybe it wanted to be a comedy, but it did not really have my kind of humor. I do have the impression though that Eisler had a vision for the music, with it being an interesting hybrid of orchestral sounds and metal elements.
The first track "Thunder Force" is a song which represents the rest of the score very well, and the list of performing metal artists participating in it is quite amazing, with Corey Taylor (Slipknot), and Lzzy Hale (Halestorm) on vocals, Scott Ian (Anthrax) on guitars and Dave Lombardo (Slayer) on drums, but the song also contains a solo on electric cello by Tina Guo. If you are interested in the kind of music Eisler has written for the movie, including these metal elements, "Thunder Force Suite" is an excellent track to listen to. It contains the thematic ideas Eisler has composed for the movie, including the main theme at the start of the piece.
Many tracks have these metal elements, performed by Ian and Lombardo, with "Lydia Goes Apes***t" and "6AM Day Two" as good examples. Some other tracks, like "Angel Wings" and "Thought This One Through," are purely orchestral, to highlight the more emotional side of the heroes. Resulting in an interesting score for a mediocre movie.
While listening to the music for Thunder Force, I realized that the use of metal does not happen that often in film music. While metal sounds are more common in games, the last score with guitars for a movie I can remember is Pacific Rim by Ramin Djawadi, and that surprises me. The use of metal is perfect to give the music a bit of extra flair and power, and since those bits are performed by real human hands, it still keeps its soul, which is not the case with artificial synthesizer sounds that are more common nowadays to enhance music for films. I need to keep an eye on Eisler since his music for Thunder Force is quite enjoyable and refreshing to listen to.
Listen or buy
Tracklist
The highlights are in bold.
Thunder Force (3:41)
Thunder Force Suite (5:25)
This Town's Gonna Get What It Deserves (1:31)
Angel Wings (1:11)
History of the Miscreants (1:14)
Lydia Goes Apes***t (0:34)
What Does This Button Do? (1:42)
Enter Laser (0:57)
Super Person (1:21)
The Stanton Building (1:01)
Training Begins (1:02)
Seems Like Overkill (0:32)
Social Visit (2:36)
6AM Day Two (1:09)
Cooked (1:01)
Go Time (1:13)
Super Suits (0:32)
Purple Lambo (1:17)
The Diner Attack (2:58)
The Special One (2:05)
Training Complete (1:03)
Like Thunder (1:13)
I Like 'em Thick (1:11)
Hold It Calamari (0:54)
Boom (2:49)
In the Public Eye (0:50)
It Feels Like I Need to Kill Them (2:08)
Dumpster Fight (0:50)
What Brings You By (0:47)
The Crab (1:37)
Boss Battle (5:29)
Thought This One Through (2:13)
Thunder Force Out (2:25)
Total length: 56 minutes
Sony Music (2021)