"and the Fantabulous Emancipation of One Harley Quinn"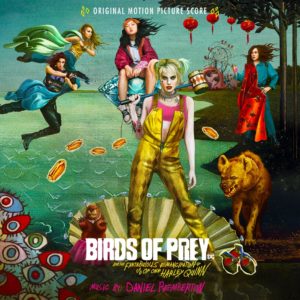 Movies featuring superheroes from the DC Universe have had their ups and downs for many years. There was finally a big success again with Joker, with music by Hildur Guðnadóttir, but Suicide Squad, starring Will Smith as Deadshot and Margot Robbie as Harley Quinn, was considered a huge flop. Robbie, however, did not give up and she reprised her role as Harley Quinn in Birds of Prey and the Fantabulous Emancipation of One Harley Quinn.
Starting with Joker, it looks like the DC movies are going in a different direction. Instead of creating standard action movies for superheroes, they are focused on different kinds of storytelling depending on the hero or villain. For Joker and its slow and dark storytelling, Guðnadóttir's melodies were a good contribution. They were so well done that she even won an Oscar for them. Harley Quinn is a very different kind of villain, however. She is a very intriguing person, who can be smart and dumb at the same time and who has a strong focus on having fun and being mischievous. If there is one person capable of writing a fantabulous score for her, it must be Daniel Pemberton. He is able to come up with impressive and unique musical ideas, which are perfectly suited for Harley Quinn.
The main theme is a good example of what can be expected from the music. The vocalist singing the 'koo koo koo's is amazing and there are a couple of wonderful variations of this theme. It can be simple and emotional on the one hand, but on the other it can easily be integrated into heavy, fast and chaotic electronic music. Instead of the melody being 'koo'-ed, it can also be screamed. There are more themes on this score, of which one of my favorites has been written for the Huntress character, with a melody played on some kind of ethnic flute that keeps reappearing throughout the music in lots of variations.
The score is full of all kinds of different musical styles. You can hear a band jamming with drums and guitars in one track, and some weird funky electronics in another. Some of them have amazing female vocals integrated in a unique way, giving the music a feminine touch that is perfect for this movie. It comes as no surprise to me, that Pemberton really delivers with this score. Not only was he capable of coming up with original musical ideas, but in addition the music is also very pleasant to listen to on its own. If you are looking for a new modern original soundtrack, you do not have to look any further. Daniel Pemberton is your man.
Listen or buy
Tracklist
The highlights are in bold.
Flying High (Birds of Prey) (1:53)
The Fantabulous Emancipation Explosion (1:32)
Harley Quinn (Danger Danger) (3:06)
Birds of Prey (2:16)
Harley Gogo Agogo (1:56)
The Black Mask Club (1:54)
Stolen Diamond (1:55)
Bad Ass Broad (Whistle MF) (3:07)
Lonely in Gotham (0:50)
Black Canary Echo (1:08)
The Bertinelli Massacre (The Huntress Story) (2:29)
Bump It! (2:19)
Roman Sionis (2:42)
Lockdown (2:27)
Bruce and the Beaver (1:26)
Lotus Flower (1:40)
Femme Fatale (0:19)
Breakout! (4:20)
The Bertinelli Revenge (1:57)
I Want To Kill You Because I Can (3:13)
Zsasz Showdown (2:30)
Work Together (2:05)
Battle Commence (2:33)
Fight Together (Birds Of Prey) (4:59)
Founders Pier (1:46)
Roller Vs Rollers (3:27)
The Fantabulous Emancipation of One Harley Quinn (2:03)
Total length: 1 hour and 2 minutes
WaterTower Music (2020)