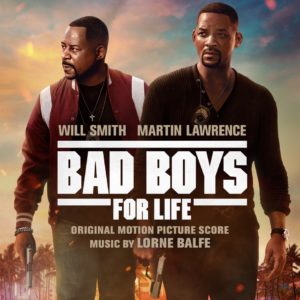 Hollywood's tradition of making sequels to old movies with the same actors is still going strong. The most recent example of this trend is the third Bad Boys movie, Bad Boys for Life, after Bad Boys (1995) and Bad Boys II (2003). The music for the second movie, composed by Trevor Rabin, is, in my opinion, quite forgettable, but Mark Mancina's music for the first movie is rather impressive, especially its main theme. It took a long while for that soundtrack to be released, and I was aware of bootlegs floating around, but luckily it finally received its official release in 2012, making many film music fans happy. Apparently Lorne Balfe, who had been assigned as the composer for this third movie, liked Mancina's music as well, because the theme from the original is the main focus in the music for Bad Boys for Life.
Balfe's version of the theme is fantastic and he has given it a bit of a modern touch, with more orchestral and electronic sounds. Another amazing thing about the score is the integration of the theme into the action sequences. Balfe has written some original material as well, of course, and I am especially a fan of his over the top long melody lines, which are sung by a choir. The antagonists get their own theme, which has long, dark lines, sounding like a wave and with mysterious guitars in the background. In between the themes, you can hear some emotional lines and rhythmic action music with bongos, which are starting to become Balfe's trademark. When I was watching Bad Boys for Life in the theater though, I noticed that a lot of Balfe's music disappeared to the background during all the action sequences
The big question is whether Balfe's music can live up to the original score. While his version of the theme, with the addition of the choir parts, is very good, Mancina's music in the first movie was unique and more present in the foreground. I think it is wonderful, however, to be able to experience new music based on the amazing Bad Boys theme 25 years later. They could have gone with completely new music for this movie, but the creators did not go for that approach, and I applaud them for that.
Listen or buy
Tracklist
The highlights are in bold.
Bad Boys for Life (2:47)
It's Good Shit Lieutenant (3:19)
Take Back What's Ours (2:09)
We're Dangerous People (3:46)
What Else You Got (3:13)
Prayer (3:12)
God's Gun (2:37)
The Truth (4:52)
Promise to God (2:59)
We Ride Together, We Die Together (6:02)
Ambulance Heist (2:59)
One Last Time (1:57)
Total length: 39 minutes
Sony Music Entertainment (2019)