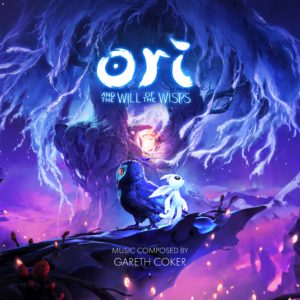 It is not the first time that I have mentioned that fantastic soundtracks are not only coming from movies or television. Some of the music composed for video games is just as marvelous. They are no longer the bleeping sounds we know from games from decades ago and many games have amazing orchestral scores. One of my favorite scores from the last decade is from Ori and the Blind Forest, which is a well-received platformer with gorgeous visuals and a superb score by Gareth Coker. Gamers were delighted when the sequel Ori and the Will of the Wisps was announced, but  Soundtrack fans like me were rejoicing as well, because Coker would be returning as the composer.
When I opened my Spotify with great anticipation, I was delighted to see that Coker had released over three hours of music for the game. Many tracks have a strong focus on orchestral music, but there are also tracks with a smaller set of instruments, including a large number of different woodwinds, which, according to Croker on twitter, were all played by Kristin Naigus. There are also a couple of gorgeous tracks that feature a choir, and vocalist Aeralie Brighton returns for the sequel, after doing an amazing job on the first Ori album.
As can be expected, the gorgeous main theme from the first game, representing Ori, returns in the sequel, but it is not used very prominently this time. Instead, you can listen to newly written marvelous themes for new characters, for example for Ku the little owl and the misunderstood creature Shriek. In addition to the thematic music, Coker also wrote other beautiful melodic pieces, which can be heard while the player is traversing the stunningly beautiful forest with Ori. 
As I said at the start, the soundtrack is three hours long, and everything is just terrific to listen to. The themes, the melodies, the instrumentation, all are wonderful and complement the beautiful visuals of the game. It is a fantastic continuation of the first Ori game and if I am honest, I am really hoping for another Ori game with more wonderful music in the future. Not only did Coker show that he is very capable of writing music for a sequel of a game, but he also provided a fantastic showcase of how amazing game music can be.
Listen or buy
Tracklist
The highlights are in bold.
Main Theme (1:56)
We Named Her Ku (1:01)
A Yearning for the Sky (0:31)
A Keepsake from the Past (2:22)
Ku's First Flight (2:44)
Separated by the Storm (3:47)
Howl (1:06)
Now Use the Light, We Want to See! (5:25)
A Shine Upon Inkwater Marsh (3:06)
Overlooking the Mill (3:44)
The Eyes of Kwolok (4:37)
Kwolok's Hollow (4:08)
Hornbug (1:53
Dashing and Bashing (4:19
Meeting Kwolok (1:09)
Kwolok's Throne Room (2:41)
Sanctuary in the Glades (2:45)
The Ancient Wellspring (2:54)
A Look Inside (3:08)
Trouble Within (0:42)
Turn, Turn, Turn Again (3:36)
Amelioration (2:09)
Escaping a Foul Presence (2:05)
Silent Woodlands (3:40)
Reunification (3:05)
Ash and Bone (3:40)
Shriek (1:21)
Fading of the Light (4:09)
The Story of Niwen (2:15)
Shadows of Mouldwood (5:10)
Mora the Spider (5:57)
The Eyes of the Forest (1:26)
The Darkness Lifted (3:59)
Luma Pools (5:05)
Kwolok's Malaise (3:19)
Strength of the Forest (1:20)
Resolution in Paradise (4:29)
Midnight Burrows (4:12)
Baur's Reach (5:07)
A Snowy Skirmish (1:17)
In Wonderment of Winter (3:26)
Baur's Peak (1:11)
Escape with the Memory of the Forest (1:55)
Shriek's Tale (2:53)
The Windswept Wastes (3:34)
Burrowing (4:17)
Approaching the Ruins (2:13)
The Heart Knows It's Safe (0:41)
The Windtorn Ruins (2:20)
Seir (2:01)
Escaping the Sandworm (2:08)
The Weeping Ridge (3:34)
Willow's End (4:55)
Decay (5:52)
Unblocking the Way (3:24)
The Spirit Willow (2:54)
Shriek and Ori (6:09)
Remaining in Darkness (1:38)
A Stirring of Memories (2:22)
Ori, Embracing the Light (3:51)
Total length: 3 hours and 6 minutes
Microsoft Studios Music (2020)