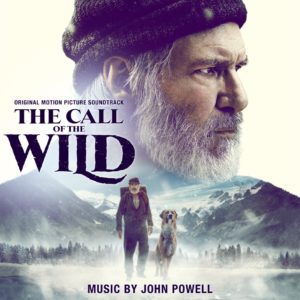 There is a small inconvenience when it comes to some of John Powell's scores. I experienced this with How to Train Your Dragon: The Hidden World and it happened again with The Call of the Wild. The issue with these movies is that they are considered to be movies for children in the Netherlands, and, as a result, they only show them in the afternoons in the theater. If you are quick enough you can catch it on a weekend as I did with Hidden World, but unfortunately I was not able to do the same for The Call of the Wild. In my regular theater, where I have a subscription, it was only available in the afternoon with Dutch dubbing. With the coronavirus currently rampaging through our country and the rest of the world, the theaters have been ordered closed, making it even harder to see this movie. With John Powell being one of my favorite composers and after having listened to the album, I really want to talk about it. So without having seen the movie, the newly introduced leit review is a good format to give the music some exposure.
As I was expecting, this is another typical John Powell score. His musical style can be heard throughout the whole score. Not only is there a strong focus on a handful of themes, with the main theme just being absolutely brilliant, but these themes can also be heard in all kinds of styles and emotions, all delivered by the orchestra, choir and some folk band instruments like the banjo, piano, fiddle and flutes. One of Powell's biggest strengths is his use of themes to tell a story, not only by manipulating that specific theme musically, but also by blending them together into a single piece, resulting in some superb tracks on this album, with "Buck Takes The Lead" being my absolute favorite.
For me personally, it is a rhetorical question if this score is any good. In my honest opinion, John Powell doesn't just write good scores. Each score he has written in the last couple of years is a masterpiece, including this one. It is really nagging me that I am not able to hear the music in combination with the images and the story and I am really looking forward to delving into the details of how Powell has used specific themes to support what is happening on the screen. Powell is always able to surprise me with clever new ways of using music to tell a story in each film he scores. I cannot wait for this movie to become digitally available to start digging.
Listen or buy
Tracklist
The highlights are in bold.
Wake the Girls (2:37)
Train North (4:01)
Skagway, Alaska (2:30)
Snowy Climb (1:24)
First Sledding Attempt (2:27)
The Ghost Wolf of Dreams (1:05)
Joining the Team (2:58)
Ice Rescue (2:26)
Sometimes Nature's Cruel and Gods Fight (4:57)
Buck Takes the Lead (4:54)
We Carry Love (3:01)
Couldn't Find the Words (2:21)
Overpacked Sled (2:31)
Newfangled Telegram (2:23)
In My Bed? (2:53)
Buck & Thornton's Big Adventure (4:35)
Finding Bears and Love in the Woods (2:56)
They've All Gone (2:51)
Rewilding (3:47)
Animal Nature (2:34)
Come Say Goodbye (2:08)
What An Adventure (3:01)
The Call of the Wild (2:51)
Total length: 1 hour and 7 minutes
Hollywood Records (2020)