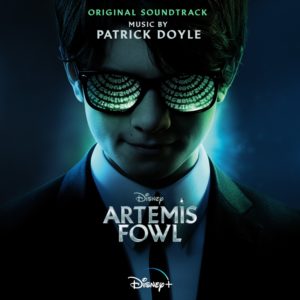 Movie theaters have started to open again in the Netherlands, after being in lock-down for quite some time. Going to one, however, is not really something I see myself doing soon, since all major movie releases have been postponed and there is also always a small chance of getting infected by the coronavirus. Apparently not all movie releases have been postponed, since Disney decided that instead of delaying their movie Artemis Fowl, which was supposed to be showing in theaters last May, it would be released directly to their streaming platform Disney+, so that we can enjoy the film from the comforts of our living rooms. It is a movie about a child prodigy and criminal mastermind, who lives in a world that is also inhabited by magical creatures, including fairies. The movie is directed by Kenneth Branagh, which means that the music is composed by his longtime collaborator, the Scotsman Patrick Doyle. I am familiar with all kinds of scores from Doyle, like Henry V, Thor and Harry Potter And The Goblet Of Fire, but I never took the opportunity to review his music.
There are two Artemis Fowls in the movie, Artemis Sr. and Artemis Jr., and both are represented by the main theme, which can be heard in the first track "Father and Son." Since they are an Irish family, the beautiful melody is played by a fiddle in this track, giving this version of the theme a beautiful emotional Irish feel. Doyle plays a lot with the theme in this score. You can hear it in all kinds of variations, and sometimes I even had trouble pinpointing the theme exactly because of how much Doyle had played with it. Have a good listen, for example, to "Battle Stations" at the two-minute mark, you can hear a broad sounding version of the Fowl theme in long lines. It sounds so very different from the fiddle melody in "Father and Son," while essentially still being the same. In "You're Not Going" the melody of the theme is easier to spot, starting on some kind of flute, followed by the cello continuing the melody before the Irish sounds with uilleann pipes and fiddles kick in.
There is another theme that is easier to recognize, which is the theme for the fairies in general and for one the fairy, Holly Short, in particular. I love the fact that before we actually are introduced to the fairies, we are already getting a hint of the theme in "Time to Believe." You can hear the melody played by a cello after the 1:20 mark. In "Haven City" you can hear the theme in its full glory. It is a waltz with a gorgeous melody laid on top. As with the Fowl theme, the melody can be heard a couple of times on this album. At the end of "To the Surface," for example, the theme sounds very orchestral and has a victorious feel to it. In "A Dear Friend" the fairy theme transitions perfectly from the Fowl theme. In "Commander Root" the fairy theme is modified and it sounds darker, sinister, with a more military vibe, using percussion in the background.
There are two additional themes I would like to mention. One is battle music for two scenes involving a huge troll, which was a good opportunity for Doyle to use a same pattern of short orchestral bursts in both of them to musically link the two fights together. The pattern can be heard in "Containment" and in the track with the fitting title "Troll Fight." The second theme worth mentioning is the theme for Domovoi Butler, who is the bodyguard and friend of the Fowls. It contains an extraordinary emotional melody, which you can hear on the piano in "The Fatal Blow" before other instruments take over, working together to a gorgeous orchestral finale. You can hear another orchestral variation of this theme in "Worth Fighting For."
Doyle creates sequences of music using patterns, electronics and percussion to fill the space between the themes in the music. Electronics and percussion are something I do not really associate with Doyle's film music, so it was very interesting for me to hear his approach to using those styles. If you are curious, listen to "Containment," for example, for fantastic battle music.
Finally, there are two wonderful cues I need to highlight. In "Surfing" you can hear a beautiful melody performed by female vocals and Irish instruments, like the Irish whistle and uilleann pipes. The last track worth exploring is "Bring Him Back," which is a superb buildup cue with a foundation of a pattern of strings and percussion, with long lines laid on top, starting with the French horns and other instruments including an Irish whistle chiming in later on.
I get a smile on my face every time I see a mention of Patrick Doyle. I have met him a couple of times at festivals, and he is a wonderful human being. He always looks happy and he shows interest in his fans. This joyfulness reflects in his music. He is able to come up with beautiful melodies, sequences and themes, as can be heard in this score. This album does not make it to the top of my list of Patrick Doyle scores, but it is still a wonderful soundtrack worth exploring.
Listen or buy
Tracklist
The highlights are in bold.
Father and Son (3:44)
Talented Tunneller (2:45)
Surfing (1:37)
Therapy (1:43)
Time to Believe (2:26)
Haven City (1:58)
Commander Root (1:28)
You're Not Going (1:36)
Do Not Engage (1:34)
To the Surface (2:24)
Containment (2:03)
Full Scale Recovery (1:41)
Battle Stations (3:39)
Fairy Fight (1:03)
Negotiation (1:07)
The Artist (1:08)
We Meet Again (1:38)
Beechwood Short (1:01)
The Aculos (2:09)
New Recruit (1:54)
Troll Fight (2:21)
The Fatal Blow (2:08)
Collapse (2:29)
Fairy Dust (1:45)
Bring Him Back (2:12)
A Dear Friend (2:58)
Worth Fighting For (2:36)
That's My Ride (2:55)
Total length: 58 minutes
Walt Disney Records (2020)