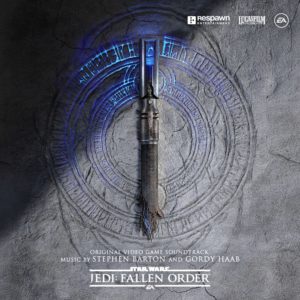 When you think about music for Star Wars you are probably having John Williams's music in mind, but the Star Wars universe is so much bigger. There have already been movies coming out without his music, but there are also a number of television shows and games with music written by other composers, as is the case with the soundtrack for the gameStar Wars Jedi: Fallen Order with music written by Stephen Barton and Gordy Haab. The story of the game involves an inexperienced Jedi Cal Kestis trying to get on with his life after his master died. Barton has written the music for all Respawn games, which is the studio that also made this game, but it looked like for this project he needed some help. With Haab, Respawn brought in more expertise with writing Star Wars music, since he has written the music for the games Star Wars: Battlefront 1 and 2.
The game has been out since November 2019, and as a Star Wars fan, I have seen most of it. I was quite impressed by the world and the story, but the music was marvelous as well. Not only does it sound very much like Star Wars, but it was also recognized as a superb piece of music by the critics, winning all kinds of music awards, including the ASCAP Composer's Choice Awards for Video Game Score of the Year. To hear so much praise about the music and listening to it in action in the game was quite frustrating for me, because the album had not officially been released. After months of waiting, the album had finally come out on all digital platforms in August 2020.
When I found the official soundtrack online I was amazed by the amount of music. The album consists of 44 tracks with more than three hours of music in total. The first track "Cal Kestis" contains the wonderful main theme of the game, which is an amazing orchestral piece to listen to on its own, and the rest is a delight to listen to as well. The music sounds very much like the orchestral music from the main Star Wars movies. It feels like Barton and Haab were looking at each scene and asked themselves what kind of music John Williams would compose for it. "Fight and Flight," for example, has fast-paced patterns in the brass as John Williams has done for the movies. This all results in a fantastic orchestral score fitting very well in this part and period in the Star Wars universe. If you are looking for more orchestral Star Wars music, give this soundtrack a good listen, I can totally see why the music has won those awards.
Listen or buy
Tracklist
The highlights are in bold.
Cal Kestis (5:33)
Jedi Starfighter (2:32)
An Unscheduled Stop (2:24)
The Inquisition (2:45)
Fight and Flight (8:18)
Bogano (5:53)
BD-1 and the Boglings (3:33)
Oggdo Bogdo (5:51)
The Path of the Three Sages (2:48)
To Dathomir (4:43)
Nightsister (3:55)
The Wanderer (4:53)
Kashyyyk (5:27)
AT-AT Hijacked (3:52)
The Mantis Lands (2:30)
Saw's Plan (3:25)
Infiltration (3:14)
Flore and Fauna (4:01)
Wookiee Liberation (3:00)
Saw's Speech (1:19)
Zeffo (3:33)
Project Auger (3:44)
Trilla (1:57)
Crashed Venator (1:54)
Exploring Ancient Tombs (5:59)
The Origin Tree (4:19)
Chieftain Tarfful (2:44)
Flight of the Shyyyo Bird (11:56)
The Ninth Sister (6:18)
Tomb of Kujet (3:15)
Gorgara, The Chyrodactyl (11:38)
Memories of Days Past (4:04)
Broken Saber (6:05)
Ilum (2:52)
Failure Is Not the End (5:28)
A New Saber (2:07)
Confronting the Past (4:14)
Peacekeepers (2:10)
Taron Malicos (5:47)
Merrin (3:11)
Opening the Vault (3:55)
Fortress Inquisitorius (6:36)
The Will of the Force (5:10)
Eno Cordova's Theme (2:44)
Total length: 3 hours and 11 minutes
Lucasfilm Ltd (2020)