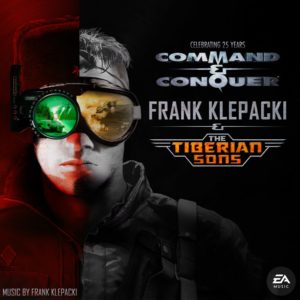 These last couple of weeks I have had a bit of a hard time finding new scores to review. It looks like the big movies are being put on hold, waiting for movie theaters to open again (at least in countries where the pandemic is getting under control through large-scale vaccinations). Luckily during one of the online meetings for my daytime job, one of my coworkers mentioned that he started playing the remastered version of Command & Conquer, which is a well-received real-time strategy game from 1995. It has recently been brought back to life to be played on modern computers with better graphics, and, which is important to me, better quality music by Frank Klepacki.
I had not been aware of this remaster, and when I looked into the music I was happy to discover new Klepacki albums with remastered music for Command & Conquer and Command & Conquer: Red Alert, but also the compilation album Celebrating 25 Years of Command & Conquer with the best tracks from both games. According to an interview, Klepacki had most of the original material in his possession, and he could remix it using modern technology. He did not have the material of a couple of cues though, so he even went through the trouble of recreating some of them from scratch.
If you do an internet search on Klepacki, the first thing you will notice is his wonderful customized guitar, with a large curve from the body of the guitar all the way up to the neck. After seeing these images, it should not come as a surprise that the music he wrote for the games is a metal score, with excellent guitar riffs, bass, drums, synth sounds and some voices from the game. Many tracks on the compilation album are considered classics, including "Hell March," "Grinder" and "Act on Instinct," perfectly suited to bang your head to while moving your armies around in the game. Judging by the number of listeners he has on Spotify as well as the huge audiences at his live concerts, many people are already aware of Klepacki's amazing music. If you are not one of them and you are a bit of a metalhead, definitely give his new remastered albums a listen. It is fantastic to hear these amazing game music classics in even better quality than before.
Listen or buy
Tracklist
The highlights are in bold.
Act on Instinct (2:48)
Industrial (2:54)
Target / Mechanical Man (3:02)
Just Do It Up (2:27)
Prepare for Battle (3:23)
Rain in the Night (3:44)
Warfare / Full Stop (3:12)
Bigfoot (5:36)
Workmen (4:24)
Crush (2:58)
Militant Force (2:14)
Dusk Hour (3:54)
Mad Rap (3:38)
No Mercy (3:19)
Slave to the System (2:44)
Got a Present for Ya (2:22)
Grinder 1 & 2 Medley (2:53)
Blow It Up (3:11)
Brain Freeze (4:17)
Command & Conquer (3:03)
Hell March (3:34)
Hell March 2 & 3 Medley (4:12)
Total length: 1 hour and 13 minutes
EA Music (2020)