The Buma Music in Media Awards were announced today, which is an important award you can win in the Netherlands. Below you can find the nominees of the most important categories, with the winner in bold.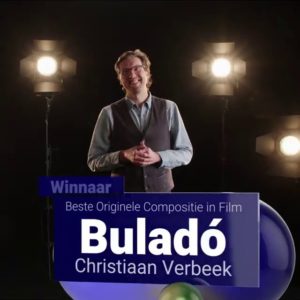 Buma Award Best Original Composition in Film
Christiaan Verbeek – Buladó
Beau Zwart – Drama Girl
Pieter Straatman, Reimer Eising (Kettel), Peet Gelderblom (Man After Midnight) – When Forever Dies
Buma Award Best Original Composition in Short Film
Matthijs Kieboom – The Cloudmaker
Koen van de Wardt (Klangstof) – Embodiment
Mike Meurs – Margin of Terror
Buma Award Best Original Composition in Documentary
Bram Meindersma – Allen Tegen Allen
Jeroen Goeijers – Dierbaren (Sheltered)
Bob Thole – Instilled
Buma Award Original Composition in Television
Rutger Reinders – I.M.
Vincent van Warmerdam – Klassen
Frank van Kasteren, Peter van Rooijen, Jan-Paul Buijs – TreurTeevee 2
These were not all the award winners. On the BUMA Music in Media Awards website, you can find even more nominees and winners. Winners, congratulations on your awards.