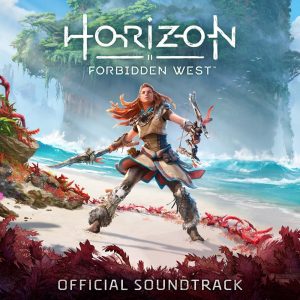 One of the video game soundtracks that has impressed me the most since I started Soundtrack World was the score for Horizon: Zero Dawn. First of all, I was quite astonished by Julie Elven's soothing voice, which can be heard wonderfully in "Aloy's Theme" on that score. But my biggest surprise was that most of the music was composed by Joris de Man, a Dutch composer that was previously unknown to me. The music for Zero Dawn has been received very well, and I totally support that. I have even given the Track of the Year 2017 Award to "Aloy's Theme". 
With Zero Dawn being such a success for the Dutch gaming company Guerilla Games, it was only logical that a sequel was announced – Horizon: Forbidden West. De Man returned to write the music, and as with the previous game, which was also set in a large open world that requires lots of different music, he got help from additional composers. Niels van der Leest, and the composer duo The Flight return for the sequel, but there is also a new composer introduced to the Horizon franchise, Oleksa Lozowchuk.
With four CDs the soundtrack album for Zero Dawn was already massive. For Forbidden West the composers went even further by releasing a digital album divided into six volumes, containing more than seven hours of music. Writing a full review about the score would take me many days, and, unfortunately, I do not have the time for that. For this review, I will give more global impressions, instead of diving into all the details. 
The first thing I noticed on this album is that the overall musical feel is about the same as with the first game. The score contains wonderful melodies performed with some string instruments, flutes, synths and, of course, Julie Elven's voice. I have always loved her performance in "Aloy's Theme" from Zero Dawn and I was happy to hear a new version of it in Forbidden West. This version is richer, with more instruments supplemented by synth elements.
Elven is not the only vocalist for this score, however. There are also many tracks featuring the lovely voice of Melissa R. Kaplan. One of my favorite tracks is "Trinity," in which Elven and Kaplan are both singing in perfect harmony. The tracks in which they are featured would probably not be as amazing if the music was not well done. Most of the more melodic cues on the album are composed by De Man and Lozowchuk, but Van der Leest, who composed more percussion-focused tracks in the first game, has also written some more melodic material, using instruments other than percussion. The composer duo The Flight was again more focused on the electronic side of the music.
Next to the theme for Aloy, I recognized some additional themes. There are probably a couple more, but with seven hours of music finding them would mean searching for a needle in a haystack. The most recognizable theme for the new game can be heard in the song "In the Flood," which is composed by Lozowchuk and is sung by Ariana Gillis in one version and by Lovisa Berghal in a second one. An instrumental version can be heard in "The Crossing."
The first game had a couple of choir pieces that I liked. That choir does not return, but a different one can be heard in Forbidden West, e.g. in "As Before, We Are" performed by Musica Intima and again composed by Lozowchuk. In "Infinite Circle" and "Sacred Decay," The Flight takes a small section of the piece and integrates it into electronic soundscapes.
The last theme I want to mention was also one of the highlights from Zero Dawn: the Meridian theme by De Man. You can hear its return in "Savior of Meridian" in a slower and more elegant version. In "Alone Again," a shortened version of the theme can be heard, performed by a cello and a violin.
It is hard for me to wrap my head around the whole score for Forbidden West and to focus my thoughts. There are many beautiful tracks on the score, but there is also lots of filler music that is not that interesting to listen to without the context of the game, making it hard for me to pinpoint all the gorgeous music. While I was listening to the seven hours of music – divided over multiple days – I noticed that the more gorgeous melodies can be found at the beginning of the album, and the music gets less interesting over time if you listen further. The later part of the album cannot completely be ignored though, since some of the tracks I have mentioned can be found in that section.
Many music lovers like to sit down and listen to an album from start to end, which is not feasible with this score. A game like Horizon needs many hours of music, and for fans, this album is probably fantastic. I would like a more curated list of all the glorious musical highlights from the game with a maximum of two hours. I would buy an album like that in a heartbeat. I think it would be a better showcase of how wonderful the music for Horizon: Forbidden West is.
Listen or buy
Tracklist
The highlights are in bold.
1 Joris de Man
2 Oleksa Lozowchuk
3 The Flight (Joe Henson and Alexis Smith)
4 Niels van der Leest
Part 1
Whatever Comes (feat. Julie Elven & Melissa R. Kaplan) (3:09)2
Aloy's Theme – Forbidden West (feat. Julie Elven) (3:28)1
In the Flood (feat. Ariana Gillis) (3:10)2
The World on Her Shoulders (feat. Julie Elven) (3:40)1
Echo of You (feat. Melissa R. Kaplan) (4:02)2
Unity (3:44)3
Mother of All (feat. Julie Elven) (3:45)1
Shelter from the Storm (5:20)1
Built to Kill (2:58)2
Rusted Sands (4:18)2
Guardian of the Deep (feat. Julie Elven) (3:17)2
No Footfalls to Follow (3:13)2
Look Deeper (feat. Julie Elven & Melissa R. Kaplan) (1:27)2
Trinity (feat. Julie Elven & Melissa R. Kaplan) (1:55)2
As Certain as Stone (feat. Julie Elven & Melissa R. Kaplan) (3:43)2
These Stones Unturned (3:46)1
The Wings of the Ten (feat. Julie Elven) (2:03)3
Second Chance (3:46)3
This Place, This Moment (feat. Julie Elven) (2:13)1
Resilience to Rise (feat. Julie Elven & Melissa R. Kaplan) (2:25)2
In the Flood (Lovisa's Version) (4:13)
Part 2
A Promise to Uphold (feat. Julie Elven) (4:18)1
Restless as the Weald (2:54)1
The Trail We Leave Behind (3:41)2
Edge of the Sundom (3:23)4
A Steady Breath (feat. Julie Elven) (3:02)1
Adrift (2:54)1
Off the Trail (3:02)1
Restricted Access (3:21)3
Wither and Ache (4:01)4
The Chorus (2:34)2
Solace Beneath the Stars (4:31)2
A Scattered Reflection (2:49)3
Machine Made (3:37)3
Figments of Time (3:51)1
Riddles in Ruins (3:51)3
Steel Bones (2:45)4
Marvels Below (2:32)2
By Choice, by Fate (feat. Julie Elven) (7:08)2
Part 3
The Strength to Make a Stand (feat. Julie Elven & Melissa R. Kaplan) (2:00)1,2,3
Her World, Her Legacy (feat. Julie Elven) (1:56)1
Always Left Alone (feat. Julie Elven) (1:22)1
A Gift Shared (feat. Julie Elven) (3:41)1
Reclaimed by the Wilds (2:49)3
All Fall Down (1:10)3
The Long Road Back (2:15)1
Savior of Meridian (2:35)1
Vigilance (2:44)3
A Signal in the West (2:06)3
Alone Again (0:51)1
Valley's Descent (2:57)
Clear the Way (3:02)1
Spark and Flame (2:12)1
A Wager Over Barrels (2:13)4
Forged for the Fight (1:25)1
By the Cold Light of Stars (2:52)1
The Way to Barren Light (1:39)1
In All Its Splendor (4:02)1
Lost in the Keg (4:08)2
Commander's Orders (1:45)2
Storming the Gates (2:13)2
Born in Blood (4:21)3
Bloodied and Broken (2:57)3
The Embers in Our Wake (5:52)2
Alone Before the World (4:45)1
Dawn Eases Night (2:51)1
The Sky Remade (3:29)3
Shattered Metal (1:30)3
Solitude's Shore (1:25)3
Part 4
As Verdant Limbs Wither (4:25)2
Gravesinger (6:35)2
Silhouettes (3:59)2
As Before, We Are (feat. musica intima) (5:46)2
Echoes of Plenty (2:59)4
Infinite Cycle (2:15)3
Sacred Decay (3:15)3
Glyphs of Light (2:17)2
The Corner of Your Eye (2:44)1
Defenders of the Sky (4:09)4
Blood Shed on Stone (2:50)1
Pride's Fall (3:23)3
Strike from the Sky (2:37)3
All Will Be Run Red (3:04)3
Delver's Dream (2:48)2
Showtime (1:42)2
Night Life (2:02)
The Way of the Desert (3:43)4
The Diviner (2:00)2
The Eye That Reveals (2:07)2
Every Secret, a Maze (3:15)2
The Time of Ashes (4:59)2
Ancestor Reborn (3:45)2
Part 5
Mutually Assured Destruction (1:46)3
Eternal Conceit (4:39)3
A Whispered Plea (1:33)3
237 (feat. Melissa R. Kaplan) (2:57)2
Time Twisted Around Metal (3:24)3
Where the Wanderer Goes (3:14)2
The Crossing (feat. Ariana Gillis) (1:36)2
Legacy's Landfall (4:17)4
Pride of the Expedition (4:20)1
Entombed (4:55)1
Scraped from Salt and Rust (4:07)3
A Quiet Strength (3:27)3
Look Deeper (feat. Julie Elven & Melissa R. Kaplan) (Extended Version) (7:06)2
Gemini (feat. Ariana Gillis) (3:59)2
Contingency 13-F (3:15)3
All That Remains (6:32)2
Reunion (3:16)1
What Looms Ahead (4:08)3
Singular Purpose (2:39)3
Point of No Return (3:36)3
Unshackled (2:02)1
Regalla Reigns (1:09)3
Breached (3:23)1
This Place, This Moment (feat. Julie Elven) (Extended Version) (4:57)1
Part 6
Storm on the Rise (2:36)1
Shoulders of Giants (3:02)2
Rust and Risk (2:34)3
Coiled Strike (2:14)2
Rifts and Ruptures (5:30)2
In the Dust, to the Death (4:10)3
Hollowed Out (3:33)3
Drowned and Gone (2:17)2
Search and Destroy (3:41)2
Rumors in the West (3:29)3
Sudden Surge (2:14)3
Ride the Edge (3:17)4
Rebel's Rage (3:39)3
Blade on Blade (1:58)1
Where None Should Tread (5:20)2
Primal Steel (2:15)2
Claws in the Hollow (2:25)2
Sharpened Instinct (2:12)3
Imperator (3:05)3
Show Her Our Teeth (2:46)4
No Delve Without Danger (3:22)3
Far From Rest (2:58)1
Steel the Mind (3:03)2
The Edge of Battle (2:02)2
The Pride of the Arena (2:29)4
Rise Above Ruin (3:41)3
Total length: 7 hours and 36 minutes
Sony Classical (2022)