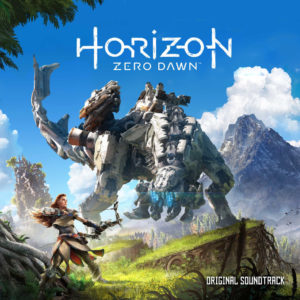 Sometimes you have soundtracks waiting in a pile that you really want to review, but that you simply do not have time to get around to. An example is the soundtrack of the game Horizon Zero Dawn with music written by a number of people, including the main composer Joris de Man from the Netherlands. Horizon Zero Dawn is made exclusively for PlayStation 4 and was developed in the Netherlands by the games studio Guerilla Games. The game takes place in a post-apocalyptic world where mankind has fallen back to a primitive lifestyle, but where, for mysterious reasons, large beastly robots walk around and have to be defeated. The game gives its red-haired protagonist, Aloy, an opportunity to find out what's going on, and it gives Joris de Man and his fellow composers to write beautiful music while this is happening.
You can entertain yourself for hours in the game, resulting in 4 hours of music on the album. This is split into four parts, which are divided among De Man and his team. It's easy to see where everyone's talents lie. If I am honest, I think the music written by Joris de Man is the strongest, as is evident from the outset of the score. In "Prologue" you can hear beautiful flute and violin melodies and vocalist Julie Elven is introduced here with her fantastic, soothing voice. It is therefore, as the title states, a prologue to my personal favorite track of 2017: "Aloy's Theme." The melody in this theme, sung by Elven, simply touches me on an emotional level. Fortunately Elven makes regular appearances on the album. Great examples of this are "The Good News" (featuring futuristic sounds and brilliant violin patterns), "Victory," "Homecoming" (with beautiful piano and cello), "Song for Aloy" (which is an a cappella vocal solo), and "Will Against Will." Joris de Man has also written a number of tracks without her voice that are fantastic to listen to, like "Her Breath, Her Land," with a nice section played by a flute. Another favorite track of mine is "City on the Mesa", which has a beautiful violin melody that stays in your head, written on top of a good foundation of guitars.
The score also contains music by several other composers. The composer duo The Flight has written a lot of atmospheric music with many long electronic melody lines. Sometimes they move away from this as, for example, in "The Memory of Old Walls," which includes a cello solo along with the electronics, or in "Your Hand of Sun and Jewels," which sounds very Eastern and traditional. From their work I think "Years of Training" is the most beautiful, with a good rhythm and structure and the theme performed on cello. Their music can mainly be heard in the third and fourth part of the album. Composer and percussionist Niels van der Leest wrote a number of percussion pieces for this game. The cues, performed by the Dutch percussion group Circle Percussion, provided well-paced rhythmic sounds, such as in "To The Hunt!" and "Drums in The Sun-Ring." Finally, we must not forget composer Jonathan Williams, who has written four very interesting pieces which can be found at the end of the third part of the album. The first three form a song called "Song To The Sun," which is sung by a group of men. It is very clean, pure, and honest. In contrast, the fourth work "Nora u Norawea," is sung by a group of women using a cheerful question and answer method.
This soundtrack has a lot of different things going on and the songs by Joris de Man sung by Julie Elven are especially great. The four works by Jonathan Williams could also be performed somewhere in a church, they are that wonderfully beautiful. I can imagine that for a number of people the complete soundtrack is a bit long, but personally, I like to put this music on while I am working. With some tracks I stop working for a while to let them affect me, like my favorite, "Aloy's Theme." The album is digitally available and even came out on CD, but the physical album only contains the highlights. In itself this is not a problem, but the CD costs more money and has less music. Choosing the digital version was therefore not a very difficult choice for me.
In the meantime an expansion of the game has been released with the title Horizon Zero Dawn: Frozen Wilds. For this expansion, the same composers have written the music that can be found on iTunes and Spotify. This expansion contains good music, but I do not find it as strong as the original. The score has been out now for about a year, and I keep returning to it. For this website I am supposed to listen to new music all the time. But instead of doing that I keep listening to these four hours that I could have spent listening to a new score three or four times. This album will definitely stay on my playlist for a long time. For me personally, it contains the best game music that came out in 2017.
Listen or buy
Tracklist
Music: Joris de Man1, The Flight (Joe Henson and Alexis Smith)2, Niels van der Leest3 and Jonathan Williams4
Vocals: Julie Elven
Percussion: Circle Percussion
The highlights are in bold.
Part 1 – Motherland
Prologue (feat. Julie Elven)1 (5:29)
Aloy's Theme (feat. Julie Elven)1 (2:31)
Motherless (feat. Julie Elven)1 (1:41)
Vanished Voices (feat. Julie Elven)1 (1:25)
Seal Your Lips1 (1:32)
The Welcome Of Stones1 (1:21)
Tell Me (feat. Julie Elven)1 (2:06)
The Point Of The Spear1 (1:44)
Years Of Training2 (2:23)
The Blessing2 (1:53)
The Proving (feat. Julie Elven & Circle Percussion)1 (1:43)
A Boon1 (1:38)
Where You Came From (feat. Julie Elven)1,2 (2:24)
Identification2 (1:02)
What The Seeker Had Sought (feat. Julie Elven)1 (1:21)
Anointed1 (2:26)
Seized From The Depths1 (2:00)
Hologram Myth (feat. Julie Elven)1 (3:36)
The Bad News (feat. Julie Elven)1 (3:05)
The Good News (feat. Julie Elven)1 (3:47)
The Cavalry Breaks Through (feat. Julie Elven, Circle Percussion)1 (1:46)
Victory (feat. Julie Elven)1 (3:03)
Homecoming (feat. Julie Elven)1 (2:57)
To The Hunt! (feat. Circle Percussion)3 (4:29)
Prologue (Early Style Sketch)1 (1:30)
Song For Aloy (feat. Julie Elven)1 (1:25)
Part 2 – Out Of The Embrace
Within The Embrace1 (4:21)
In Great Strides1,2 (4:24)
Her Breath, Her Land1 (4:59)
On Our Mother's Shoulders1 (4:46)
Haze And Renewal2 (1:08)
A Truth Whispered At Night1 (4:05)
Trails In The Darkness1 (4:23)
Machine Dreams1 (4:51)
Cloudpart2 (0:50)
The World And All Its Lessons1,2 (3:39)
This New Wilderness1,2 (5:22)
Territory Of None2 (6:43)
A Wanderer's Work2 (6:34)
Brave, New1,2 (5:20)
The Memory Of Old Walls2 (4:31)
Part 3 – Onwards To Meridian
Aloy's Journey (feat. Julie Elven)1 (3:03)
Meridian, Shining1 (4:00)
City On The Mesa1 (4:07)
Envoys1 (2:19)
Beads Fallen On Bronze2 (0:50)
All That The Light Reaches2 (7:12)
A Resplendent Soil2 (5:11)
Another Day Rusts2 (1:17)
Across The Daybrink2 (1:24)
Delver's Hymna1,2 (4:04)
To Call Our Own1 (4:37)
Your Hand Of Sun and Jewels (Carja traditional)2 (2:09)
KunaBass Solo2 (1:01)
Iron Pendulum Solo2 (0:29)
Braumdrum Solo2 (0:51)
Go Like Time Around An Arrow (feat. Circle Percussion)3 (5:38)
Song To The Sun – Dawning4 (2:18)
Song To The Sun – Midday4 (3:23)
Song To The Sun – Evening4 (3:54)
Nora u Norawea4 (2:12)
Part 4 – Secrets Of The Earth
The Spreading Eclipse2 (5:36)
The Demon Remade2 (1:26)
Force Multiplication1 (4:00)
Buried Shadow2 (0:57)
Battle Begins2 (1:53)
The Future By Its Throat2 (3:13)
Hold The Ridge2 (3:54)
Overrun2 (1:31)
Countdown To Zero2 (1:25)
Planned Obsolescence2 (3:24)
Colossal1 (4:15)
Threat Assessment2 (1:46)
Will Against Will (feat. Julie Elven)1,2 (3:06)
Drawn To Strife1 (2:45)
Little Ones2 (3:38)
Beasts Of Steel1 (2:45)
Drums in The Sun-Ring (feat. Circle Percussion)3 (6:07)
Death and Rebirth2 (1:13)
A Storm In The West2 (1:19)
Total length: 4 hours
Sony Interactive Entertainment Europe (2017)