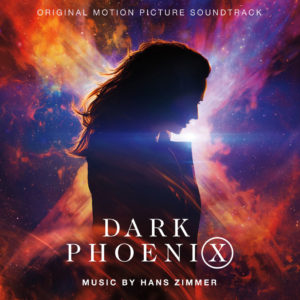 The X-Men are a fictional superhero group that has played an important role in my life. I really loved their cartoons on television when I was a kid, and when I was in college and the first X-Men live-action movie hit the theaters, I went to see it with my friends. Since then I have seen all the sequels and prequels of the franchise. I even caught some episodes of more recent cartoons on TV or on the internet. In addition to being entertaining movies, many of them are also accompanied by a good score. John Ottman is one of the regular composers for these movies, but other composers have written music for X-Men movies as well, like the late Michael Kamen, Henry Jackman and John Powell, who composed one of my all-time favorite scores: X-Men: The Last Stand. In March 2017 Hans Zimmer announced in an interview that he would stop composing music for superhero movies. He broke that promise after more than two years when the announcement came that he would be the composer for the latest X-Men installment: X-Men: Dark Phoenix. When I heard this news, I was quite surprised because most other X-Men scores are quite orchestral, and that is not really the style Zimmer is going for nowadays.
When you listen to the first track "Gap" you can immediately hear that this is a typical Hans Zimmer synthesizer score, with some choir and a few orchestral elements. The main theme of the movie sets in after a minute, and it is a sequence of chords that just goes up and down a bit in short intervals. As can be expected from Zimmer, these chords go on while other musical elements are appearing and disappearing. At the 3-minute mark, the chords are becoming short and fast notes with the support of a choir. This version of the theme reappears a couple of times in the score as the background music for action scenes. At the end of this 8-minute long track, voices can be heard that build up to the Jean Grey theme, which is sung by the choir, with a lot of despair in their voices, representing Grey as the extremely powerful Phoenix. Jean Grey as a lost woman is represented by the same theme but with the melody sung by a woman, as can be heard at the start of the second track "Dark." The theme returns at the 2-minute mark, when the same beautiful melody is played by the piano.
If you have read some of my other reviews, you know that I like to point out details about certain tracks on an album, but after listening to this score multiple times and seeing the movie, there are not many such details to talk about. The rest of the score is a mix of long lines, hints to both themes and a constant flow of repetitive musical patterns.
One thing kept popping up in my mind while I was listening to this score. Hans Zimmer has occasionally said in interviews – or was referenced a couple of times by other composers who have worked for him – that writing film music is like telling a story, and I totally agree with that idea. I see two ways of how such a story can be told musically. The first one is by using leitmotifs. When you listen to a piece with many leitmotifs you can recall the corresponding scene most of the time. The only leitmotif in this movie is Jean Grey's theme, and in a movie with a lot of characters, that is not enough if you want to go for the leitmotif approach of writing film music. The other approach is what Hans Zimmer is famous for, which is creating an atmosphere for a movie and using the music to enhance the emotions on screen. Good recent examples are the Dark Knight trilogy, Inception, Interstellar and Man of Steel, and that is where things fall apart for this movie. Except for the multiple ways in which he uses the Jean Grey theme, there is nothing emotional to be heard. There are other characters in this movie next to Jean Grey, and they all have their own story and emotions: There is love, anger, betrayal, pride, rage, mourning, regret and I just do not hear that in the score, with or without the images on the screen.
The movie has two major scenes which should have a big emotional impact. One of them is extremely sad, and the only thing I heard was uninspired long musical lines, while this scene has a huge impact on future X-Men movies. I should have been in tears watching that scene, but it did not grab me at all. I have to mention that the scene itself was also not well executed. The other impactful scene is when Dark Phoenix's powers are at their fullest. It should have been an emotional climax, yet I cannot pinpoint that exact moment in the score. That is how generic the music is during that scene.
While browsing the internet I have already seen messages of people who like this score, but sadly I am not one of them. In my honest opinion this is one of Hans Zimmer's weakest scores to date. I think it is too methodical, almost like it was written by a machine. It feels like a button is pressed for each transition in the movie to add a layer to the existing music or to change it to something else. If someone told me this music was a result of some kind of artificial intelligence based on Hans Zimmer's past music, I would probably almost believe that.
I do have to mention though that I did not like the movie either. I thought the story was extremely badly executed, but I have seen many movies like that where at least the music gives me a better theater experience. But for this movie this was not the case. I am happy for hardcore Zimmer fans who have a new score to listen to, but I will be removing this album from my personal Spotify list and put in my CD of John Powell's X-Men: The Last Stand instead. I will also wait for Hans Zimmer's next project, because I truly believe that he is still a genius for creating film music scores and musical stories.
Listen or buy
Tracklist
The highlights are in bold.
Gap (8:08)
Dark (4:28)
Frameshift (8:16)
Amity (5:53)
Intimate (10:14)
Negative (3:59)
Deletion (4:52)
Reckless (9:36)
Insertion (7:57)
Coda (4:41)
Total length: 1 hour and 8 minutes
Twentieth Century Fox Film Corporation (2019)