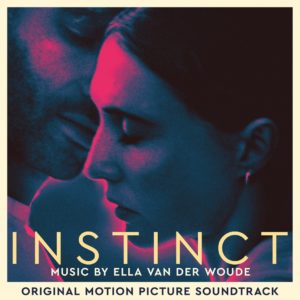 Sometimes I find myself too focused on soundtracks from the big Hollywood blockbusters, and forgetting the music from movies from my own country, the Netherlands. Luckily, while I was looking for a new soundtrack to review, and being heavily disappointed by another score without any emotion and storytelling from Hollywood, I came across the film music of the Dutch movie Instinct. The movie is a thriller about a female prison therapist, who gets intimate with an incarcerated sex offender. There is a decent chance you have not heard about this movie, but its two main actors have become quite popular in Hollywood. You may know Carice van Houten as Melisandre from Game of Thrones, and Marwan Kenzari, who played the role of Jafar in the recent Aladdin remake. The movie is the directing debut of Halina Reijn, a famous actress in the Netherlands, and the music is composed by Ella van der Woude.
With a length of only 27 minutes, the score is not very long and the music that Van der Woude has written is an atmospheric score without much melody, but with rather ambient soundscapes and repeating patterns. The main soundscape, that can be heard on multiple occasions throughout the score and can be seen as the main theme, consists of a couple of string musicians playing long lines, as can be heard in "Instinct", the last part of "Animale," "Desert Walking" and "Just a Kiss."
The soundtrack also contains some tracks with beautifully performed patterns on a piano, for example in "Failed Waltz," where you can hear delicate piano music being played with support from the strings. The track has some uneasiness to it. In "Fear of Sleep" the piano plays a pattern that keeps going up and down, while the chords and the pace keep changing in order to keep the piece interesting. The almost same pattern returns in the track "Transition."
Another pattern that keeps appearing is an electronic pulse, as can be heard at the start of "Animale," before it transitions into the main theme, and also in the track "Introspect." A different kind of electronic pulse can be heard in "Revenge," where it sounds darker and quite sinister. The remaining tracks on this album are mere tools to create an ambient atmosphere, as can be heard in "Good Man," "Lucid Dream" and "Ocean." Aside from composing for films, Van der Woude is also a singer. That is why she can be heard in the last track on the album "Please Stay."
It is not easy for me to say whether this score is good or not. It does not really have many melodies, which makes it less interesting for me to keep listening to. Also since the album is short and includes numerous repetitions of the main theme, there is not a lot of music to listen to anyway. What I can definitely say is that it sounds better than what I have heard coming from some of the big movie productions in the USA. It sounds more thought through. If a soundtrack with ambient sounds and repeating patterns is your thing, maybe you should give this album a listen. Ella van der Woude is a composer I had not heard about, and after exploring this score I came to the conclusion that she is a composer to keep an eye on. She has only been in the film music business for a couple of years and I am curious to learn what kind of film music she will be composing in the near future.
Listen or buy
Buy this soundtrack digitally from Amazon.com or iTunes
Listen to this soundtrack on Spotify
Tracklist
The highlights are in bold.
Failed Waltz (1:35)
Instinct (1:33)
Fear of Sleep (2:34)
Good Man (2:47)
Animale (2:48)
Lucid Dream (1:07)
Ocean (1:31)
Desert Walking (3:20)
Introspect (1:27)
Transition (1:25)
Just a Kiss (1:06)
Revenge (2:13)
Please Stay (4:02)
Total length: 27 minutes
Riva Media Records (2019)