Concerning spoilers: I avoided mentioning story plots in this review, but I have to address some concepts which you may not want to know.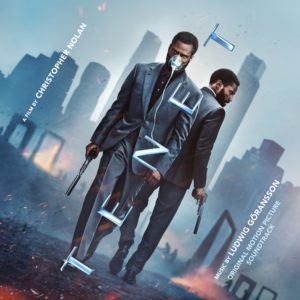 It is becoming the norm for new movie releases to go straight to streaming platforms in this pandemic. I have seen some wonderful movies from the comforts of my living room. This is not the case for Christopher Nolan's new movie TENET, which has been released the traditional way in movie theaters. Fortunately, I was able to see it safely anyways, as there were only three other people in the whole theater room with me.
For the last fifteen years Nolan has been collaborating with Hans Zimmer for his movies, but Zimmer was not available for TENET, because it was conflicting with his schedule for the movie Dune, which gave Ludwig Göransson the opportunity to write the music instead. Göransson has become quite a well-known composer with his Oscar-winning film music for Black Panther as well as for his unique and fantastic score for the Star Wars show The Mandalorian.
It is a known fact that Nolan, as a director, wants to be very involved with the music for his movies. So it comes as no surprise that there is a certain Nolan factor to this soundtrack too and that results in a number of striking similarities to previous Zimmer Scores with many electronic soundscapes, some orchestral parts and sometimes a glimpse of a guitar. While I was watching the movie, I noticed that I was bombarded with story elements, lots of fantastic visuals and even more sound effects for fighting, car chases and explosions, which put the music in the background.
When I was listening to this album for the first time, my first reaction was to put it away and listen to something else. I prefer soundtracks to be more melodic with concrete themes and motives. However, after another listen, I started to hear more interesting things and had to hear the entire soundtrack multiple times. There are some themes present. One is a melodic motive for 'The Protagonist,' which can be heard, for example, in "WINDMILLS" and "THE PROTAGONIST." The other is more like a sound effect and it is the sound of heavy breathing through some kind of mask, which represents the antagonist Sator. It can be heard, for example, in the track bearing his name "SATOR."
The movie is about being able to move backwards in time and while someone is doing that, you see bullets fly back into their guns, people walking and talking backwards and many more things like that. When you listen to the music you can hear this aspect in certain spots on the score. Some musical lines are written in such a way that when you play the line backwards, it fits perfectly with other normally played music lines, creating an interesting mixture of sounds, representing the concept of going forwards and backwards in time. A superb example can be heard from the four-minute mark in "THE ALGORITHM."
Deciphering this soundtrack is like trying to read some kind of ancient language. When you look at the words, you imagine something amazing, but you need the author, or experts of that language, to tell you what is actually going on. That is exactly how I feel about the music Göransson has written. I have a suspicion that many things are happening with the music, with parts of it going backwards while other parts are moving forwards. During the movie some scenes are revisited because people are able to go back in time, and the music probably reflects that, but you would need to analyze the sheet music in order to decipher all the notes and musical lines, or Göransson himself to elaborate on the temporal aspects of this music. For someone with no musical background, it is very hard to recognize these ideas.
Another issue that bugs me, is the fact that all the track names are written in capitals. It gives me the feeling that there is something going on, because I have never seen that on any tracklisting in recent years and I have no clue why they did it here. There is so much mystery in the air. If there really are interesting innovative things going on in the music, it is a bit of a shame that they are almost unhearable with all the loud sound effects going on during the movie. Maybe when someone enlightens me about the amazing things happening in this music, I will give it another listen, but for the time being I prefer to listen to Göransson's other work.
Listen or buy
Tracklist
The highlights are in bold.
RAINY NIGHT IN TALLINN (8:01)
WINDMILLS (5:16)
MEETING NEIL (2:16)
PRIYA (3:24)
BETRAYAL (3:56)
FREEPORT (3:39)
747 (7:05)
FROM MUMBAI TO AMALFI (4:26)
FOILS (3:11)
SATOR (2:52)
TRUCKS IN PLACE (5:33)
RED ROOM BLUE ROOM (3:30)
INVERSION (3:32)
RETRIEVING THE CASE (3:20)
THE ALGORITHM (5:58)
POSTERITY (12:42)
THE PROTAGONIST (4:48)
THE PLAN (performed by Travis Scott) (3:05)
Total length: 1 hour and 26 minutes
WaterTower Music (2020)