There are quite a few film music festivals in Europe. I have attended and written reports about most of them. However, there is one important festival that I have never written about, even though I have attended it many times, which is the one surrounding the World Soundtrack Awards in Ghent, Belgium. The reason is that I had been attending this festival years before I founded this website. This is quite odd since this festival is one of the largest film music festivals in Europe. At least it is by far the oldest, with their 23rd edition this year, which I was able to finally attend again. While the award show is part of Film Fest Gent, which is celebrating its 50th edition, it has also become more of its own entity under the name WSA Film Music Days, with multiple concerts in the evening and other events during the day.
Concerts
For this edition two main concerts were held. In addition to the 23rd edition of the World Soundtracks Awards, a second concert named PRESS PLAY: Music in Games was announced with music from video games. Each year the festival also includes smaller concerts called VIDEODROOM, which focuses on the combination of audio with visuals. One was with Japanese composer Eiko Ishibashi, and another was with Colin Stetson. I did not have tickets for those concerts, so for this report, I will focus on the two main ones instead.
PRESS PLAY: Music in Games
A welcome change has come to the World Soundtrack Awards, which will be honoring music for games from now on. Not only did the festival introduce a new World Soundtrack Award for Best Video Game, but they also awarded it during a concert, which was dedicated entirely to video game music. What excited me the most when I heard about this concert was that composer Austin Wintory curated the program. He has been working as a composer for many games and has many connections in the industry.
In addition to curating the program, Wintory was the host of the evening as well and told us some facts about the pieces that were performed. After a strong start of music from Medal of Honor, L.A. Noire and Celeste, we came to a sequence of pieces that Wintory called the "epic music" block, with music from the brand new video games God of War: Ragnarök, Star Wars: Survivor and Baldur's Gate 3, with the composers from the last two games, Gordy Haab, Stephen Barton and Borislav Slavov, present in the audience.
Instead of an intermission, the World Soundtrack Award for Best Music was handed out, with Narayana "River Boy" Johnson as the first winner for his work on the game Cult of the Lamb. Afterwards, the evening continued with the iconic music from The Legend of Zelda and "One Winged Angel" from Final Fantasy VII. The highlight of this concert came after a gorgeous piece from Everybody's Gone to the Rapture and music from Hearthstone, which was the music from the game The Last of Us, written by Gustavo Santaolalla. What made this piece so memorable was that Santaolalla was present to perform the intimate, gorgeous and emotional guitar play himself. When he played the final notes of the main theme, you could see him clearly moved by the standing ovation he received from the audience.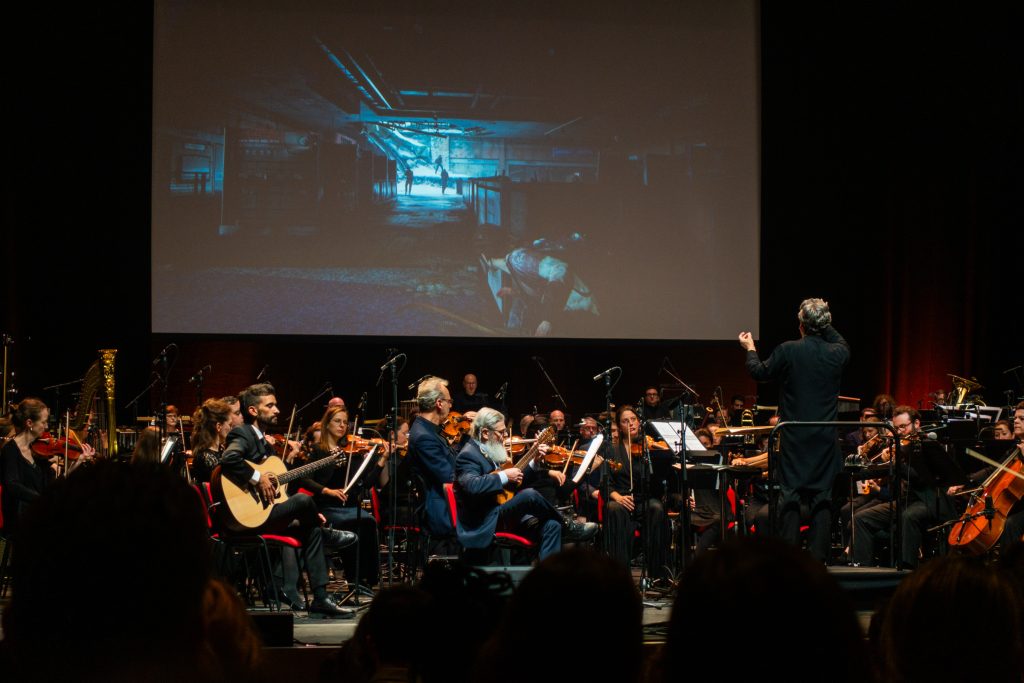 I felt for Wintory when he returned to the stage to announce the next block with his own music after such a performance, but he had no reason to worry since his music for Assassin's Creed Syndicate, Journey and Abzû is always well received. The evening ended with another bold piece, which was the music from Assassin's Creed Valhalla: Dawn of Ragnarök, for which composer Stephanie Economou, who was also present in the audience, won a Grammy.
The music performed that night was an excellent reflection of what game music has to offer and resulted in a fun and entertaining evening for me. I was apparently not the only one since I was sitting in the row behind Slavov, Barton and Haab, and I could see them enjoying themselves immensely, and not only for their own pieces. If you know that the composers themselves are having a good time, you know you have been part of an amazing concert. I am ecstatic that the WSA is finally recognizing music for games with their awards, and this concert was a brilliant celebration of that fact.
Concert information
Orchestra: Brussels Philharmonic conducted by Dirk Brossé
Choir: Vlaams Radiokoor
Host: Austin Wintory
Guests: Gordy Haab, Stephen Barton, Borislav Slavov and Stephanie Economou
Artists: Gustavo Stantaolalla, Jolien De Gendt, Ward Hoornaert, Juan Cruz Luqui, Karel Steylaerts and Erik Rydvall
Programma
Michael Giacchino – "Main Theme" from Medal of Honor
Andrew Hale – "Main Theme" from L.A. Noire
Lena Raine – Suite from Celeste
Bear McCreary – "The Path of the Father" from God of War Ragnarök
Gordy Haab, Stephen Barton – Concert suite from Star Wars Jedi: Survivor
Borislav Slavov – "Intro" from Baldur's Gate 3
Koji Kondo – "Zelda 25thth Anniversary Theme" from The Legend of Zelda
Nobuo Uematsu – "One Winged Angel" from Final Fantasy VII
Jessica Curry – "The Mourning Tree" from Everybody's Gone to the Rapture
Peter McConnell – "Pull Up a Chair" from Hearthstone
Gustavo Santaolalla – The Last of Us

All Gone (No Escape)
Main Theme

Austin Wintory – Suite from Assassin's Creed Syndicate
Austin Wintory – "Apotheosis" from Journey
Austin Wintory – Abzû

The Know, Water
Delphinus Delphis

Stephanie Economou – Suite from Assassin's Creed Valhalla: Dawn of Ragnarök
World Soundtrack Awards Ceremony & Concert
The main event of this festival is, of course, the World Soundtrack Awards concert. I have been to this concert several times, but they were hosted in an arena-sized venue before moving into the smaller Capitole in recent years. On the program for this concert was the music of two well-established composers, Laurence Rosenthal and Nicola Piovani, who received Lifetime Achievement Awards this evening.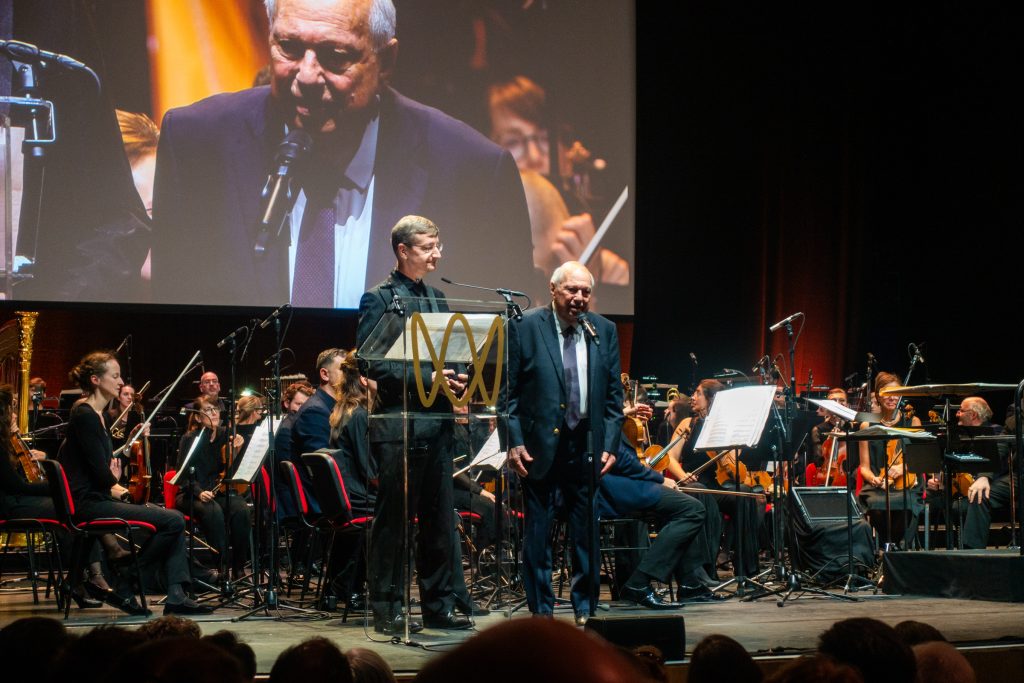 Each half of the concert was dedicated to the wonderful music of one of the composers, but first there was some other music, and some of the World Soundtrack Awards were presented. I will not go into detail on these awards since I have already written a news article about them. In the first half, the music focused on the young composer contest. They had to write the music for a small sequence of the game Abzû. Afterwards, we could admire the music from Laurence Rosenthal, who was a week away from turning 97 and was present in the audience.
The second half started with the music from last year's Discovery of the Year winner, Eiko Ishibashi. I was not familiar with her music, and that is a situation I always find pleasant. After handing out the other awards, including one to Volker Bertelmann for Film Composer of the Year, we could enjoy the music for the second Lifetime Achievement Award winner, Nicola Piovani. As with Rosenthal's music, his work is also very melodic, but you can also notice some differences. While Rosenthal's work is purely orchestral, Piovani includes additional instruments like the saxophone, a guitar and a soprano singing the gorgeous "Beautiful That Way" from La Vita e Bella.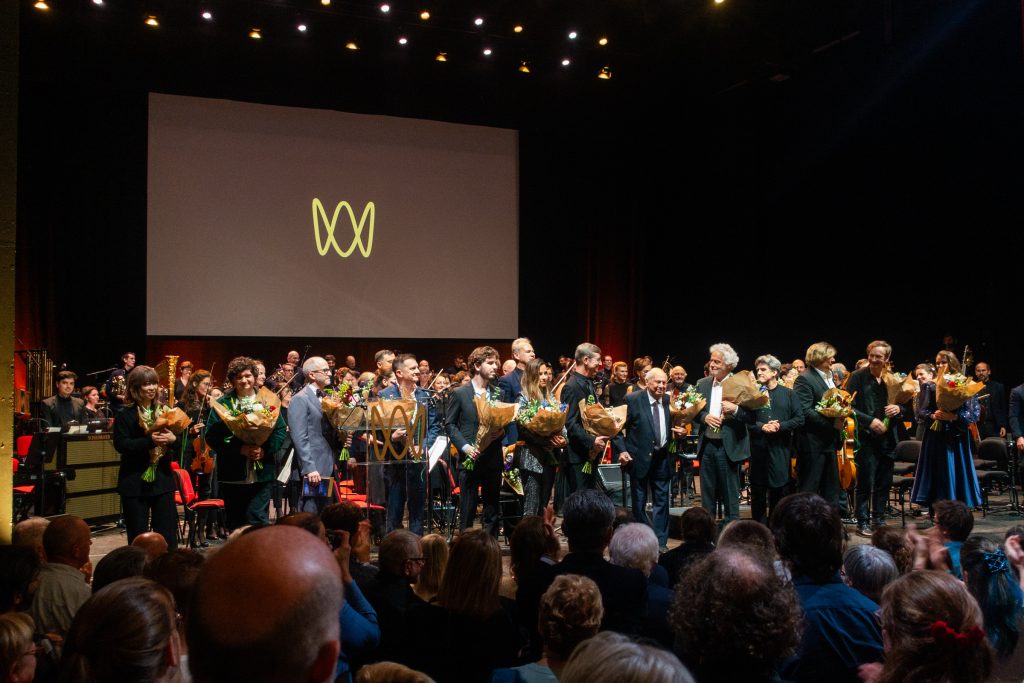 Ceremonies can often be long and dull, with many speeches that can drag you out of the flow of the music, but you can see the experience of the World Soundtrack Awards tackling that issue. They did it by handing the awards out in two blocks in each half, with music from different composers before and after.
While Rosenthal and Piovani are well-established composers, I was unfamiliar with all of their work, and so were many others in the audience. That is why I love the fact that the World Soundtrack Awards takes a bit of a risk to honor these composers, to play their music and to introduce their legacy to a broader audience instead of going for the more well-known film music pieces. I had a great time that evening.
Concert information
Orchestra: Brussels Philharmonic conducted by Dirk Brossé
Host: Tommy Pearson
Guests: Laurence Rosenthal, Nicola Piovani and Eiko Ishibashi
Artist: Marion Bauwens
Program
Composition contest – music for an excerpt from Abzû

Emma Kélalèche
Emile Cooper Leplay
Alec Sievern

Laurence Rosenthal

"The Great Plains" from The Return of a Man Called Horse
"Flight to Mount Olympus" from Clash of the Titans
"Joppa" from Clash of the Titans
"Prologue: Helen Alone" from The Miracle Worker
"The Miracle at the Pump" from The Miracle Worker
"'Ireland, April 1916': Welcome to Ireland & Fight in the Bakery" from The Young Indiana Jones Chronicles
Theme from The Young Indiana Jones Chronicles
"Prologue and Arrival of the King at Canterbury" from Becket
"Epilogue" from Becket
Intermission
Eiko Ishibashi – Suite from Drive My Car & Evil Does Not Exists
Nicola Piovani

"Main Theme" from La Stanza del Figlio
"Suite Taviani – La notte di San Lorenzo" from La notte di San Lorenzo
"Il Corvo" from Kaos
"Beautiful that Way" from La vita è bella
"Suite Fellini – Intervista" from Intervista
Day events
On the days between the two concerts, many panels and meetings were organized, with most of them in the main venue of the film festival: the Kinepolis cinema in Ghent, but also in the lobby of the main hotel of the festival. Most of these panels consisted of a moderator talking to one or more composers or other persons from the industry, and they were all quite informative. I especially liked the meeting with the game music composers. You could clearly tell that they know each other and are passionate about each other's work. You can watch this panel below:
Another fantastic event was the official meet and greet session in the hotel lobby on the last day. Many guests from the film music industry sat behind a little table, and if you reserved a ticket to this event you could walk to them and ask for a photo or signature if you were a fan or ask for advice if you wanted to work in the business. It was pretty hectic but a lot of fun to witness.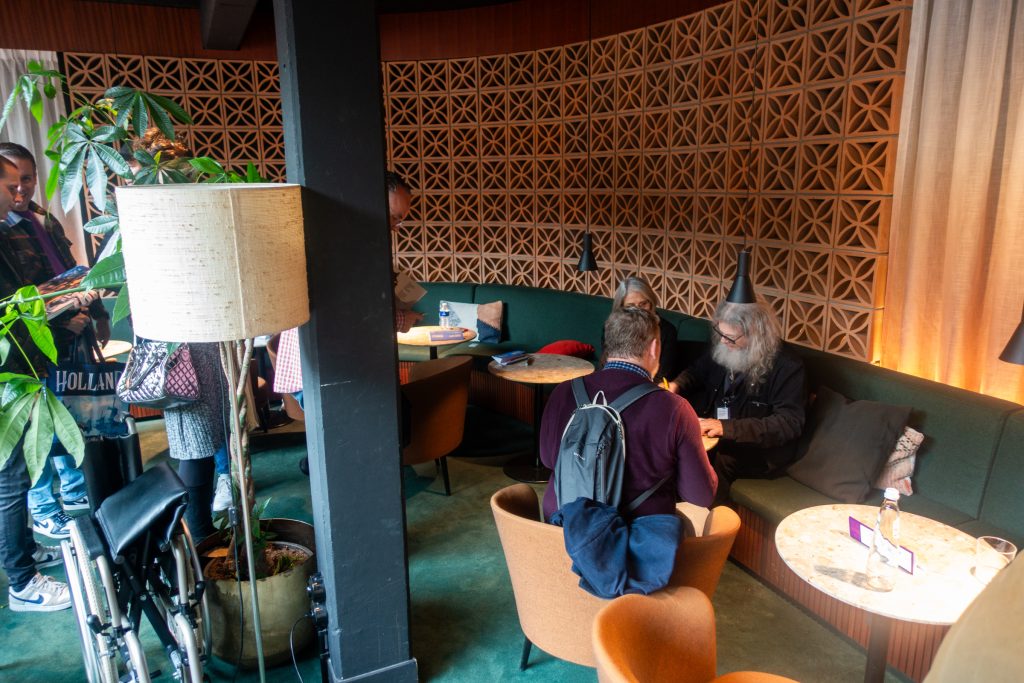 Interviews
During these Film Music Days, I was able to conduct two interviews. One was with Borislav Slavov, with whom I talked about meeting Hans Zimmer while he was working on the music for Crysis 2 and his work on Baldur's Gate 3. The second one was with Stephen Barton and Gordy Haab, during which we talked about their collaboration, their work on Star Wars Jedi and their individual projects. These interviews will be published within the next few months.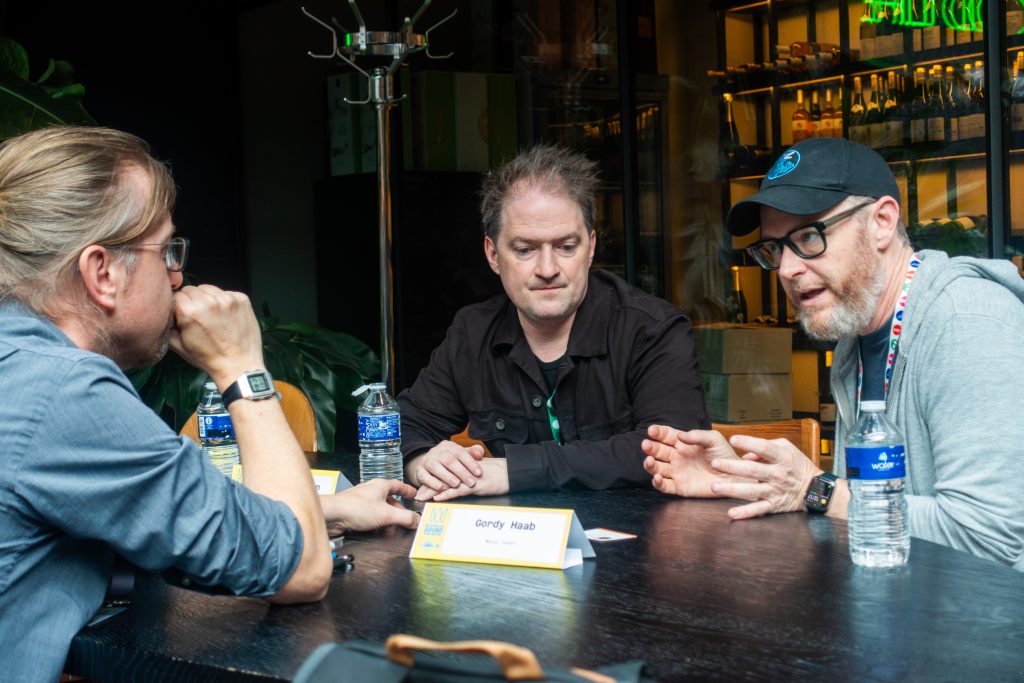 Conclusion
I already had fond memories of the World Soundtrack Awards before I founded Soundtrack World. The concerts were always unique, and the Brussels Philharmonic with the festival's music director Dirk Brossé at the helm, always did an outstanding job. They have continued that trend with this edition. The venue is a bit smaller than I was used to, but it resulted in a more intimate experience. Especially with music by Rosenthal and Piovani, it would not have fit that well in an arena-sized venue. In addition, the city of Ghent is a beautiful place to visit, with its old city center where you can drink excellent Belgian beers between your strolls through the narrow and old streets. It is a perfect place to combine a long weekend away from home with superb film music and, from now on, music from video games as well.
Photos