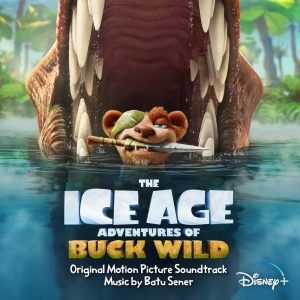 Animation movies are often quite a challenge to write the music for. Since animation does not involve real people acting, a viewer can often miss important facial expressions, making the mood of the supporting music even more important to express how a character feels. Additionally, in many animated movies – especially adventurous ones – many things are happening and they all need musical support. One of the best composers for creating such a score is John Powell. His music for the How to Train Your Dragon trilogy is magnificent, but it is not the only animated franchise he has written music for, because Powell has also composed the music for most Ice Age movies.
The most recent movie in the franchise, The Ice Age Adventures of Buck Wild, does not have music by Powell, but to be honest I am not disappointed, since the music was written by Batu Sener. I think it is a safe assumption that many people who like film music do not know who he is, since he has not been credited as the main composer on many scores. Being relatively unknown in the film music community does not mean he has not left his mark, because he has been working with John Powell for many years. As a member of Powell's crew, he is responsible for writing additional music for Powell's scores, and he has transformed pieces from Powell's music into fantastic suites for concerts that I have attended. I was quite curious what kind of music he would write as the main composer on a project, after having worked in Powell's inner crew for so long.
When I listened to the soundtrack for Buck Wild for the first time, I immediately heard John Powell's legacy. The light-hearted orchestral music, full of thematic ideas, is very much what he would have written. This is, of course, not a big surprise because some of Powell's original themes are reused in this score. The most striking example is "Ellie Remembers (Part 2)." If you are wondering where part 1 is: You can find it on the Ice Age: The Meltdown album from 15 years ago, containing the same theme in the same orchestration.
What I like the most about the score is that, while being faithful to the Powell sound for an Ice Age movie, Sener's own spin on it can be heard very well. There are themes for most characters in the movie, including ones from the previous Ice Age movies, such as Buck and the Possums, but there are also new themes for the characters from this movie, in which you can recognize the foundation of Powell's thematic ideas. All these themes, for old and new characters, have been very well integrated into a lively and energetic score, which never gets dull. If you are curious about these themes, most of them can be found in tracks with telling titles, like Buck, Zee, Possums and Orson.
If I was listening to the music without knowing who composed it, I would have said with great confidence that this is a John Powell score. This may sound a bit negative towards Batu Sener, but I actually mean that as a compliment. Being able to come up with excellent themes, and to implement them very well, especially in an animated movie is not an easy task, and Batu Sener did so tremendously.
Listen or buy
Tracklist
The highlights are in bold.
Prelude to a New Adventure (2:55)
Independent Possums (1:13)
Ellie Remembers (Part 2) (1:58)
Mission: Possums Out (1:34)
Destiny Awaits (2:04)
Dawn of the Possums (3:29)
Orson, the Brainiac (4:00)
Buck's Den (1:52)
Nighttime Stories (2:39)
Mime Games (2:17)
Meet Zee (1:57)
Surveying Raptors (2:02)
Orson's Army (2:16)
Journey to the Lost Lagoon (3:11)
Reuniting with an Old Friend (2:34)
Lagoon Fight (4:09)
Fall of the Union (1:26)
Finding Courage (1:41)
Training with Zee (1:26)
Battle of the Watering Hole (8:09)
Possums' Independence (5:44)
Dr. Buckminster (1:12)
Total length: 59 minutes
Hollywood Records (2022)