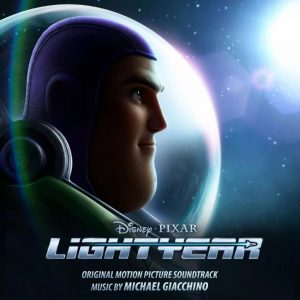 Animation studio Pixar and composer Michael Giacchino have been collaborating on quite a few movies, including The Incredibles, Incredibles 2, and Up, for which Giacchino even won an Oscar. Their relationship is still thriving because Giacchino also wrote the music for Pixar's most recent animation movie Lightyear. The movie is about Buzz Lightyear, one of the characters from Toy Story. Back in 1995 this movie paved the way for Pixar's success. Randy Newman's score for that film is still a delight to listen to as well, with its catchy songs and overall light-heartedness. While Lightyear draws its inspiration from the toy figurine, it explores the hero's background story and consequently it is a little more serious, which is also reflected in the music. 
Giacchino loves to write themes for characters and aspects of a movie and he usually hands them to the listeners on a silver platter. Traditionally, he likes to create marvelous suites to include on the album, and with the track "One Suite Buzz" he has done it again for Lightyear. In this suite you can find marvelous versions of the movie's three themes. The first theme is for Buzz Lightyear, and it sounds wonderfully heroic. The melody is very catchy and has the power to stay in your mind for a long time. The second theme is for the antagonist Zurg, who gets a villainous-sounding march, bringing me back to Giacchino's music for Rogue One. The third theme is quite a contrast with the march as it is a beautifully emotional orchestral piece, and it is meant for Lightyear's friend Hawthorne and her family.
The three themes are, as can be expected, wonderfully integrated into a brilliant score. As I said before, the music is a bit more serious than in Giacchino's other soundtracks for Pixar movies, but it fits the movie perfectly and even elevates its quality. It felt heroic, emotional or light-hearted at all the right moments. Giacchino has always been capable of writing fitting music for a movie, and he has done so again for Lightyear.
Listen or buy
Tracklist
The highlights are in bold.
Mission Log (2:23)
Initial Greetings (3:26)
Lightyear (2:45)
The Best Laid Flight Plans of Space and Men (1:15)
Blown on Course (1:37)
A Hyper Failure (0:54)
Lightyear's Behind (1:44)
Mission Perpetual (2:40)
The Lone Space Ranger (2:23)
Afternoon Delight Speed (4:42)
Light Speed at the End of the Tunnel (0:33)
Relative Success (0:41)
Zurg Awakens (1:53)
Operation Surprise Party (0:43)
A Good Day to Not Die (2:37)
Zurg's Displeasure (0:30)
Space Afraiders (3:57)
Zurg‐onomics (2:00)
Oh, Hover (2:56)
Mistake It All In (1:32)
Buzz, Meet Zurg (1:32)
To Infinity and Be Gone (4:13)
Hawthorn in Her Side (0:59)
World's Worst Self‐Destruct Sequence (1:38)
Time to Space Your Fears (4:00)
Hiding from Yourself (1:20)
Improv‐Izzy‐tion (0:49)
Back to Buzzness (3:09)
Home on the Space Range (2:58)
Infinite MOEtion (2:05)
One Suite Buzz (12:19)
Total length: 1 hour and 16 minutes
Walt Disney Records (2022)