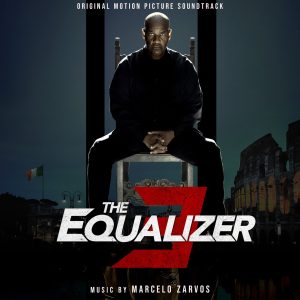 I have a deep appreciation for The Equalizer movies. Denzel Washington is one of my favorite actors, and he did a stellar job in the first two movies of the franchise. In addition to his performance, the films also offered some wonderful music by Harry Gregson-Williams, including his iconic way of creating emotional melody lines, often on piano, blended with electronics for the good-hearted and lonely McCall, who Washington portrays. The stone-cold and highly-trained killer part of McCall was also brilliantly portrayed by Gregson-Williams with some kind of guitar riff, orchestra and electronics.
The latest movie in the series, The Equalizer 3, is supposed to be the final installment. It was still directed by the same director, Antoine Fuqua, and still starred Washington as McCall, but a different composer, Marcelo Zarvos, provided the score. What frequently happens when other composers write music for a sequel is that the score goes in a different direction. This is also the case with the music Zarvos composed for the third Equalizer movie, but while the music differs from Gregson-Williams's material, Zarvos used the same ideas. For the more emotional parts, you can still hear excellent, but different, piano play with orchestral elements, as can be heard in "First Walk," "Aminah" and "Altamonte's Victor."
For the killer part of McCall, Zarvos went for the extreme and opted to go for loud and unnerving sounds that sound like screams, as can be heard in the final part of "Nine Seconds" or in more detail in "Love, Disorderly." Honestly, I am not sure what to think about these screams. I know that McCall has a troubled mind, but after seeing the two previous Equalizer films again, I do not see a match between these chaotic, frantic sounds and McCall's systematic approach to performing his kills.
When you listen to as many soundtracks as I do, you sometimes hear music inspired by other existing cues, which was probably used as a temporary track while editing the movie. I am not sure if this is precisely the case for The Equalizer 3, but the track "Vincent's Demise" is about an Italian mafia boss, and that track's gorgeous melodies and instrumentation have strong vibes corresponding to Nina Rota's The Godfather. I recommend that you listen to that track to see if you agree.
The tracks that I have mentioned are part of a well-implemented score for the latest installment of the Equalizer franchise, but many of the other tracks on the album are just functional for the movie and provide a lesser listening experience. As mentioned, I liked some parts of the music, so I will keep my eye on Marcelo Zarvos, who was a new composer for me, for his future projects.
Listen or buy
Tracklist
The highlights are in bold.
Prelude (1:35)
Nine Seconds (2:50)
Vincent's Demise (4:21)
First Walk (1:18)
Marco Threatens Gio (2:26)
Angelo's Shop Burned (1:43)
Aminah (2:41)
Drive to Vineyard (1:59)
They Should Have Let Him In (2:46)
Bottom Up (1:45)
Collins Makes Contact (2:54)
That's Who You Are (2:34)
Did He Save a Good Man? (2:01)
Synthetic Amphetamine (2:58)
Robert Phones Collins (2:11)
Good Man Bad Man (2:04)
Robert Gives Himself Up (4:11)
Altamonte's Victory (4:14)
Fireside Chat (1:53)
Interpol Raid (1:02)
Barbarian at the Gate (1:25)
Robert Reconsiders (1:33)
Love, Disorderly (2:28)
A Storm is Brewing (3:08)
Total length: 58 minutes
Madison Gate Records (2023)