Two Steps from Hell is the name of the composer duo Thomas Bergersen and Nick Phoenix, who mainly compose music that can be heard in movie trailers. Most of their pieces are heavily focused on a broad sounding choir and a lot of percussion. I was very surprised and happy when Film Music Prague announced a Two Steps from Hell concert with both composers being present as guests. Unfortunately, it became clear that Nick Phoenix would not be able to come, but thankfully this was not the case for Thomas Bergersen. The fans didn't seem to mind, since the first concert sold out very quickly and when the afternoon concert was announced it followed suit.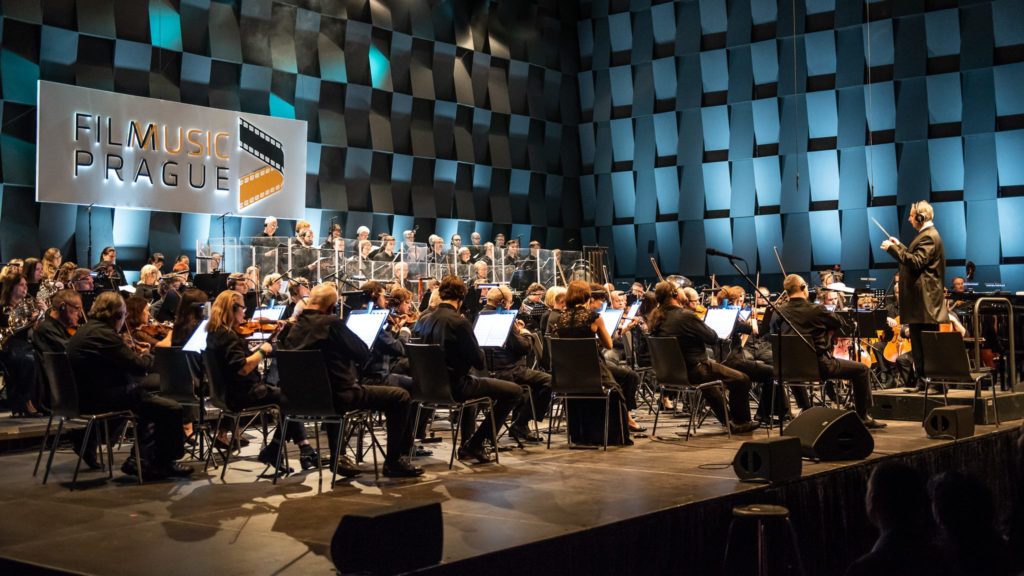 When I arrived at the venue, I knew I was in for a treat. There were a lot of people with big smiles on their faces. Judging from their interactions, some of them had not met each other in real life but had only spoken on the Internet. In the venue itself, it also became clear what to expect from this concert. The trailer music Two Steps from Hell makes is very bombastic and loud most of the time. It was no surprise to me that the whole area where the percussion was located, was surrounded by transparent walls to reduce the noise levels for the other musicians.
The first piece of the night showcased everything that could be expected from this evening: Petr Pololáník, who conducted this concert, was wearing headphones and I could hear an audio track with additional music in the background giving support to the massive wall of sound that was coming our way. You could clearly see that the audience loved it. The cheers became even louder when Thomas Bergersen entered the stage with his electric violin. With this instrument, he helped the other violins play "Heart of Courage." For the next piece he switched to the piano. After a bit more than a half an hour, the first half was over.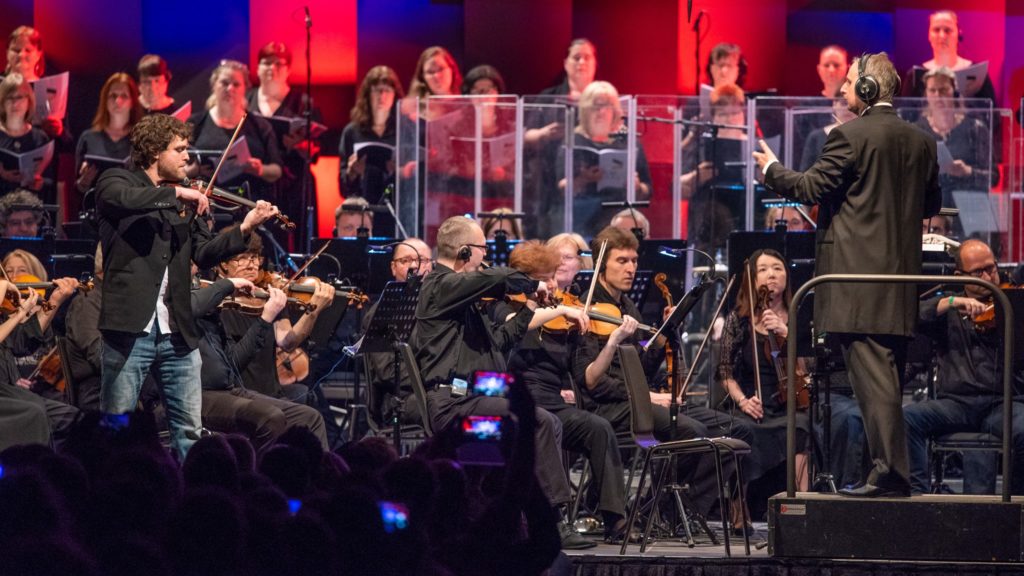 After the intermission, the concert continued at the same pace as the first half. The pieces were only just a couple of minutes long, and personally, I think they all sounded pretty much the same. Luckily there were two singers present to give the pieces a bit more variation. The program ended with one of my personal favorites: "To Glory." The second half was, fortunately, a bit longer than the first one, and the crowd did not let Bergersen leave so easily: he had to play an encore. Instead of another bombastic epic track, it was him playing on the piano accompanied by Merethe Soltvedt, with whom he collaborates frequently, sitting on a chair and singing a wonderful tranquil piece of music called "Remember Me," from his solo album Illusions. After having left the stage already, Bergersen returned once more to collect his violin. He also apologized that the show was over and that it was all that they had prepared. But he also mentioned that he would like to come back and bring Nick Phoenix with him, which resulted in a lot of cheers from the audience. After a concert I usually linger around the venue with my friends while they wait for the artist in the hope of snatching an autograph or a photo. More people had that same idea, and when Bergersen came out, he was treated like a rock star, which was pretty entertaining to see.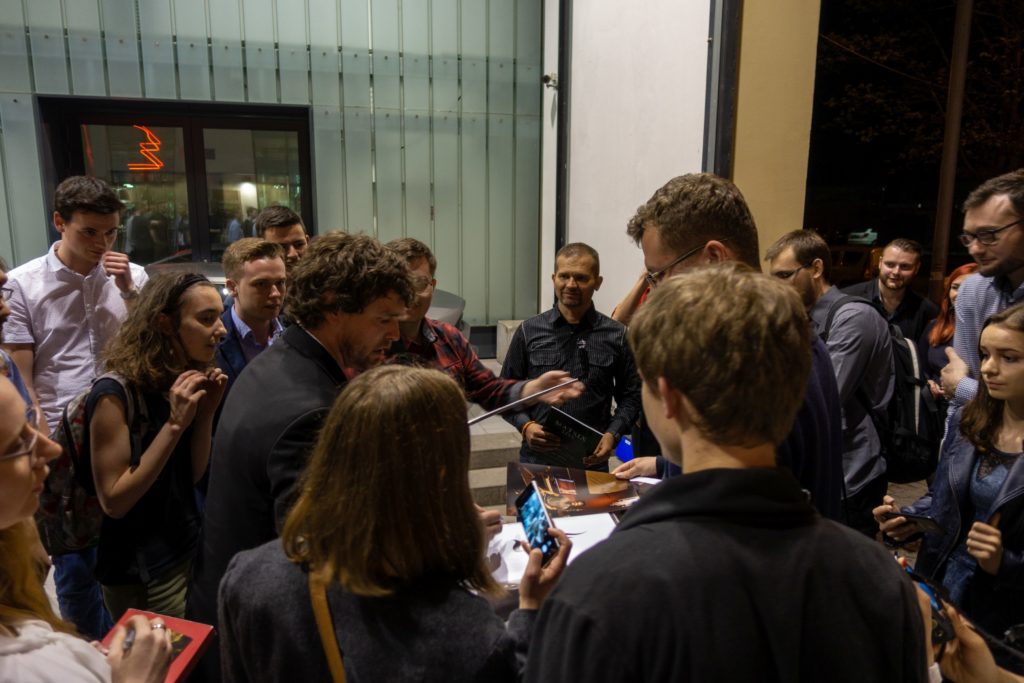 Two Steps from Hell's music is like action movies to me. Many of those movies have a very thin storyline and the acting could be better most of the time. However, while watching this film, you are being entertained and you can get a lot of enjoyment out of it. That is how I feel about this concert. I was looking forward to it and got what I was expecting. The music of Two Steps from Hell is very much studio-focused and is better suited to be listened to on an album than at a live performance. You could hear this in the performance with the audio tracks playing in the background, but also some instruments could not be heard over the wall of sound from time to time. Some of the cues had a bit of a false ending: after the climax of the track, the audience would start to applaud while there were still seconds of the track left that had to be played, resulting in some confusion. What I liked the most about this concert was the audience. They came from all over the world to meet their idols. I personally spoke to a woman who had traveled from Denmark with her son to attend this concert in Prague. Other guests came from as far away as Brazil and some even watched both iterations of the show on this day. Film Music Prague made a lot of people extremely happy that day. They introduced live orchestra performances to an audience of which most members had never experienced one before, a fact of which the organization can be proud. They did not play my favorite track "Invincible" though: a good reason to attend one of their concerts again.
Concert information
Where and when: Prague, Czech Republic – April 20th, 2018 during the Film Music Prague festival
Orchestra: Praga Sinfonietta conducted by Petr Pololanik
Choir: Kühn Choir with choir master Lenka Navrátilová
Vocalists: Kamila Nývltová en Merethe Soltvedt
Guest: Thomas Bergersen
Program
Thomas Bergersen – Strength of 1000 men (feat. Merethe Soltvedt)
Nick Phoenix – Fill My Heart (feat. Kamila Nývltová)
Thomas Bergersen – Protectors of Earth
Nick Phoenix – Everlasting
Thomas Bergersen – Heart of Courage
Nick Phoenix – Fire Nation
Thomas Bergersen – Ocean Princess (feat. Merethe Soltvedt)
Nick Phoenix – Master of Shadows
Thomas Bergersen – Flight of the Silverbird
Intermission
Nick Phoenix – Blackout (feat. Kamila Nývltová)
Thomas Bergersen – Winterspell
Nick Phoenix – Stormkeeper
Thomas Bergersen – Evergreen
Nick Phoenix – Neverdark
Thomas Bergersen – Victory (feat. Merethe Soltvedt)
Nick Phoenix – Fall of the Fountain World (feat. Kamila Nývltová)
Thomas Bergersen – To Glory
Thomas Bergersen – Remember me (feat. Merethe Soltvedt) – Encore