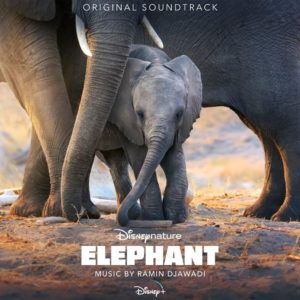 With movie theaters in the Netherlands currently closed because of the coronavirus, there are not many new film scores to review, but in the current day and age you can, fortunately, find soundtracks for all kinds of other media, and one of these are streaming services like Disney+. While searching for a new candidate soundtrack to review, I came across the nature movie Elephant, about a small herd of elephants during their migration cycle of a year. The thing that piqued my interest was that the music was written by Ramin Djawadi, who is one of my favorite composers. Since we are encouraged to not leave the house, I decided to stay safely on my couch to watch this movie and listen to its music.
The movie is about elephants in Africa, so it comes as no surprise that this score contains a lot of African influences. The first track "Elephant Prologue" is exactly what I expected for such a movie, and it starts with chants from African solo vocalists with support of an African choir and instruments. Halfway through the track, the music transitions into an orchestral piece, which consists of a simple but elegant melody line, followed by a solid end by the orchestra with the help of another African vocalist.
The first track is a wonderful example of what to expect from the rest of the music, which is a beautiful blend of orchestral and African elements. In addition, the soundtrack contains a handful of musical phrases that keep returning throughout the whole album. I would not call them themes, since I did not find a character or emotion representing that specific melody while I watched the movie. Some tracks have a very dominant African part with African singers and percussion, as can be heard in "Leaving the Delta," "A Thousand Mile Journey," "Floodwaters Return", and during the conclusion of the movie: "An Unforgettable Journey." Other tracks have a strong focus on a regular orchestra with some electronic sounds and a choir. Of these I especially like the emotional cues "Bones" and "Death of the Matriarch," the last of which contains a gorgeous lament sung by the choir. This track also highlights one of the musical ideas that make me love film music so much. If you listen carefully to this track's melody, you will notice that you can hear the same melody on the album in a different form in various other places, for example as a song at the start of "Floodwaters Return."
There is one final track I would like to mention as a highlight, which is "Victoria Falls." The falls themselves are a wonder of nature and I would still like to visit them one day. The music for them in this movie is fantastic. After a subtle and a bit of an eerie start by a vocalist, during which you can also hear one of the beautiful musical phrases. Later on, the African choir starts to sing, working towards a superb finale, which is performed by the orchestra together with an African singer, making this a worthy cue for this magnificent force of nature.
When I saw that Ramin Djawadi had composed the music for an African nature movie, I was curious what he had written, since it would probably be totally different from his usual repertoire, and I am quite happy with what he has come up with. The balance between western instrumentation and the African influences is a pleasure to listen to, both with and without the images. I am also glad for the existence of streaming services. While many things are closed because of the coronavirus, we can still watch movies and listen to great music composed for them, from the safety of our own homes.
Listen or buy
Tracklist
The highlights are in bold.
Elephant Prologue (6:04)
Pool Party (2:42)
Mud Rescue (3:08)
Leaving the Delta (1:22)
Family Reunion (1:49)
A Magnificent Bull (1:19
Stepping Stones (1:57)
Bones (2:32)
A Thousand Mile Journey (2:01)
Caterpillars (2:26)
Under the Stars (2:09)
Victoria Falls (3:49)
Palm Island (1:29)
Crocodile Crossing (4:43)
Angola Rains (4:10)
Lion Hunt (4:03)
Death of a Matriarch (2:41)
Mourning (1:31)
Rival Herd (2:01)
Floodwaters Return (2:01)
The Final Push (2:39)
An Unforgettable Journey (3:57)
Total length: 1 hour
Walt Disney Records (2020)