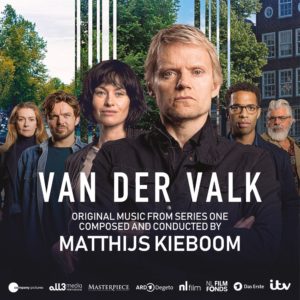 The TV show Van der Valk was quite popular in the UK in the '70s, and all in all five seasons were made over a period of 20 years. What is interesting is that there are many Dutch elements in the show. First of all, the main character is Piet van der Valk, a Dutch detective living in Amsterdam. Secondly, the main theme for the series, titled "Eye Level," was composed by Dutch composer Jan Stoeckart and performed by the Simon Park Orchestra. It was a huge hit in the UK in 1973 and stayed in the number one spot for a couple of weeks. As often happens with popular shows nowadays, Van der Valk has been revived and the revival, naturally, has Dutch influences as well. The detective is still a Dutch persona, living in Amsterdam, but the show has also been co-produced by NL Film, and more importantly for us, the music has been composed by Matthijs Kieboom.
For this show Kieboom had quite a challenge on his hands, because "Eye Level" from the original show is extremely iconic and fans of the original show would probably expect the theme being featured a lot in the current series. When I listened to the original I understood the problem straight away: The tune is simple and it sounds kind of old fashioned for me without any nostalgic feelings about the old show. Since I missed the one episode which aired here in the Netherlands, I have not been able to watch the new series, but a glimpse of the cover of this album shows me that the reboot is much more modern. When you listen to the music, you can hear that the show is more mature, since the majority of the music has been written as an underscore to support the scenes and the mood of visuals. It uses electronics, some guitar and support of a string orchestra to give the music an organic touch. While Kieboom did not use the old theme in its full glory, there are some beautiful hints of the melody played by the piano or the strings in "Lover's Confession," "Arlette" and in the main title music "Dutch Detective."
It is always hard for me to fully give my opinion on a score that makes a point of being more in the background supporting the scenes when I have not seen the visuals. I do understand the reason why "Eye Level" was not used in the music of the reboot: It does not fit with the rest of what Kieboom has written to support the new story. I do find the hints to it a pleasant nod to the old times.
Listen or buy
Tracklist
The highlights are in bold.
Cloovers to the Rescue (3:04)
Body Count Statistics (3:52)
Trailing & Chasing (2:59)
Lover's Confession (2:59)
Lucy Gets Stabbed (2:42)
Right-wing Art (1:11)
Rescue Operation Started (1:20)
Don't Do It (2:22)
Confrontation (2:16)
Webcam Murder (0:58)
Library Visit (2:06)
The Ritual (1:44)
Connecting the Dots (1:46)
Brad De Vries (2:41)
Museum Shootout (4:37)
You Are Dead to Me (3:16)
Rooftop Rumble (3:17)
On the Payroll (1:08)
Banner Research (1:39)
Catwalk Catastrophe (2:29)
Guns, Fists and a Frying Pan (4:49)
Corruption (1:12)
Nighttime Kidnapping (1:48)
Arlette (2:41)
Dutch Detective (0:44)
Total length: 60 minutes
All3Media Ltd (2020)