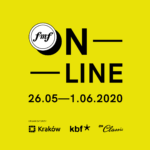 The Krakow Film Music Festival is one of the festivals, which had to cancel their event because of the coronavirus. As an alternative, the organization has streamed a fantastic concert each Sunday on its Facebook page. They now also announced that during the original event days, they will be streaming a concert of one of their previous editions.
Here below you can find the timetable. If we have a report about the concert, you can read more about it by clicking the corresponding link:
You can find all the information you need on the Krakow FMF Facebook page, from where they will stream the concerts, but you can also find the concerts on their Youtube channel. We can totally recommend "attending" these concerts and experience the magic of this magnificent festival.