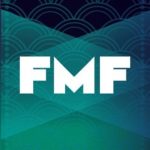 The Film Music Festival (FMF) in the Polish city of Krakow is a festival which I have attended since 2011, and have written reports about since 2017. It is still the biggest film music festival in the world and not even Hollywood has a festival with concerts and panels on as many consecutive days as the FMF. For this year's edition we were even treated to the most concerts ever with nine concerts divided over six days.

For the previous FMFs, I have been reporting about it in multiple articles, but since the last FMF report I started to write about a festival in one report instead. This gives a very good overview of what the festival is about, and it will not take more than a month after the end of the festival to publish reports about it. In this article I will try to give a thorough summary of each concert, tell you about the panels and meet and greets, tease you about the interviews I have done, and I will end this long article with the conclusion. Sit back, relax, and join me for the ride and trust me, if you like film music, you will want to know about this film music festival.
The concerts
Nine concerts spread over six days means, of course, that some days had more than one concert. These concerts were divided over four locations in the city. Some of the concerts were in the massive sports arena Tauron Arena, which can house more than ten thousand people, others were in the smaller ICE Congress Center, which is also the headquarters of KBF: the institute that organizes festivals like these in Krakow. ICE is also more suitable for the less massive concerts and its acoustics makes it sounds better for a symphonic orchestra. The other two locations, which I will mention in the respective concert summaries themselves, were well-suited for their specific concerts.
May 14: Cinema Chorale
With this concert, the festival wanted to try something new. In the beautiful Church of St. Catherine of Alexandria we could listen to music performed by only a choir, a soprano or an organ. The program consisted of all kinds of pieces which have been used in movies and television, where some of them were original choir pieces, while others were not but were arranged for choir. There was also a cue "My Heart's in the Highlands," with only an organ and a soprano, written by Arvo Pärt, which was so gorgeous in this old church.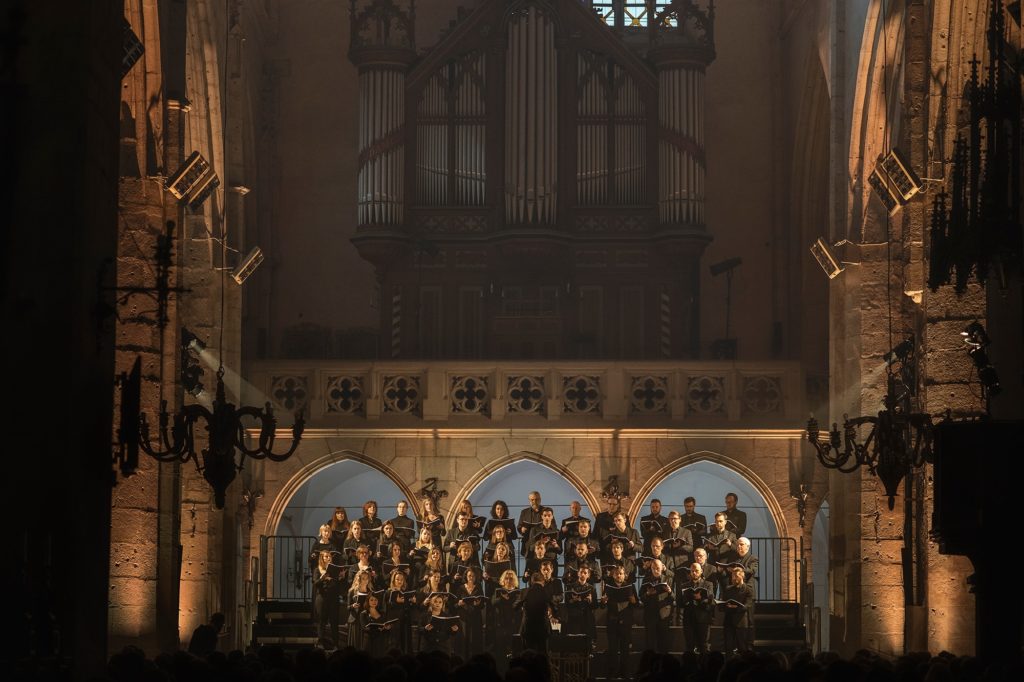 There were pieces of Bruno Coulais' music from The Chorus on the program. The composer was supposed to be present but was not able to attend. Fortunately, Don Davis was present for his choral work from Behind Enemy Lines. Composer and producer Mikael Carlsson, who had arranged a couple of cues on the program and was the overall producer of this concert, was in the audience as well. Especially his choral version of the theme from Band of Brothers gave me goosebumps, but my favorite piece of the night was "Agnus Dei" by Samuel Barber. I know this piece, which is used in the movie Scarlet Letter and is Barber's own arrangement of his "Adagio for Strings," very well, and I was hoping to hear it live someday in a church, and the FMF, with the help from Carlsson, made that happen. This type of concert was held for the first time, but I hope that the festival will keep a concert like this on their program. It is well worth attending.
Concert information
Choir: Pro Musica Mundi Choir conducted by Wiesław Delimat
Soprano: Jolanta Kowalska-Pawlikowska
Organ: Filip Presseisen
Special guests: Don Davis and Mikael Carlsson
Host: Magdalena Miśka-Jackowska
Program
Wojciech Kilar – "Agnus Dei" from King of the Last Days
Patrick Doyle (arr. Mikael Carlsson) – "Libera me" from Carlito's Way
Arvo Pärt – "My Heart's in the Highlands" from The Great Beauty
Gustav Mahler (arr. Clytus Gottwald) – "Im Abendrot (Adagietto from Symphony No. 5)" from Death in Venice
Bruno Coulais – "Vois sur ton chemin" from The Chorus
Bruno Coulais (arr. Marek Pawełek) – "In memoriam" from The Chorus
David Lang – "I Lie" from The Great Beauty
Michael Kamen (arr. Mikael Carlsson) – Theme from Band of Brothers
Ennio Morricone (arr. Marek Pawełek) – "Angele Dei" from The Mission
Don Davis – "Chorale" from Behind Enemy Lines
Patrick Doyle (arr. Graham Preskett) – "Non nobis, Domine" from Henry V
Samuel Barber – "Agnus Dei" from The Scarlet Letter
Wojciech Kilar – Bogurodzica (encore)
May 15: Bram Stoker's Dracula Live in Concert
This concert was a screening of Bram Stoker's Dracula with the music by the late Wojciech Kilar and Don Davis conducting, and it. At first glance, this approach might seem straightforward from a distance, but there is quite a story behind having made it happen. We were told that Kilar had been approached a couple of years ago with the question if it would be possible to do the movie with live music, and he said it was impossible. The FMF and their partner festival Fimucité put a lot of effort into realizing this concert against all odds.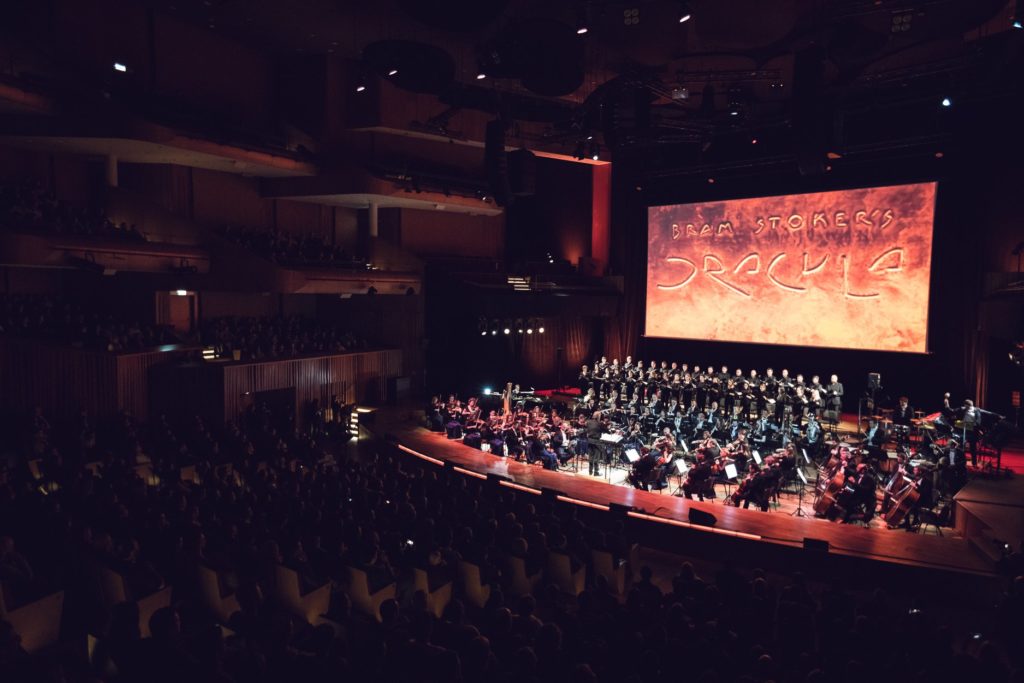 Danish arranger of Polish descent Thomas Bryła was given around 330 sheets of Kilar's hand-written music and his task was to match every second of music in the movie to notes on one of these sheets, since the original recordings were heavily cut and used in all kinds of different places in the movie. Bryła was able to make new music sheets for every musician and choir member so that the music for the movie could be performed live. The resulting world premiere was absolutely stunning. I had never seen the movie before, but I knew the music and it was a pleasure to finally match it to the images on the screen. The end credits song, originally sung by Annie Lennox, was performed by Agata Kulis, with support from the orchestra and the choir.
This concert was a significant achievement. The collaboration of FMF and Fimucité brought the movie with music back to life. If you are curious about this movie, it will be shown during Fimucité on Tenerife on September 28. I hope it will now also be available in other parts of the world.
Concert information
Orchestra: Beethoven Academy Orchestra conducted by Don Davis
Choir: Polish Radio Choir
Soprano: Anna Zawisza
Vocalist: Agata Kuliś
Hosts: Jadwiga Polus and Łukasz Cioch

May 16: Scoring4Polish Directors
This was a concert about music written for movies and TV series with Polish directors. Each edition of the 'Scoring4Polish Directors' has a Polish director as a special guest. In previous years these directors were Andrzej Wajda, Roman Polański and Agnieszka Holland, and this year that honor was given to Krzysztof Zanussi.
In the first half we could listen to music from the movies directed by the special guest. Zanussi collaborated with Kilar for decades, and from this large library of music two suites were arranged by Nikiforos Chrysoloras, featuring music from movies like The Illumination, A Woman's Decision, Black Sun and Foreign Body. Another piece from this last movie was performed, with vocals by Polish singer Kasia Moś, who is also the daughter of the conductor of this evening, Marek Moś. Next to Kilar's music there were also two pieces from the movie Ether, which started and ended the first half. The first was a beautiful piano piece "Humoresque," which is a solo piano piece composed and played by Michał Miodek, and the last cue before the intermission was a waltz,conveniently named "Vals."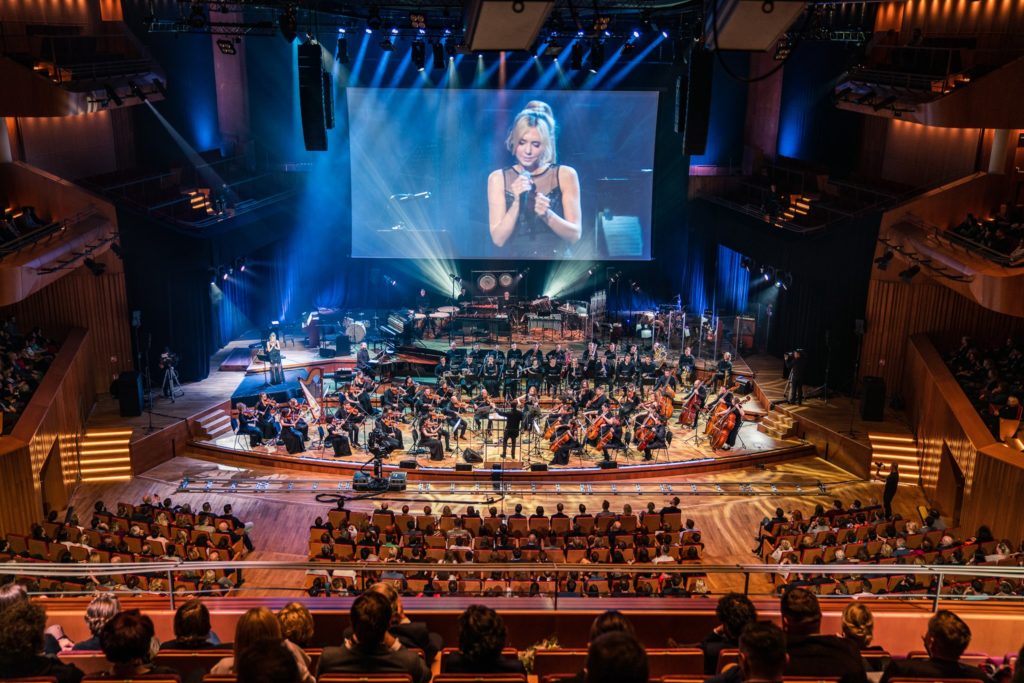 At the start of the second half only three musicians entered the stage, who performed four jazz-like pieces on the banjo, drums and piano, while also singing for some songs. With these songs, it became clear that we would hear a different kind of music for the remainder of the concert. After a suite with music by Antoni Komasa-Łazarkiewicz from the movie Mr. Jones, performed by the whole orchestra,, the FMF Young Talent Award winner was announced. This year's winner was the young Polish composer Hubert Walkowski, who had beautifully scored a scene from the movie Spoor using only strings and piano.
This edition of the FMF the organization introduced an award for Polish Composer of the Year, for the best Polish soundtrack of the previous year, which was won by Bartosz Chajdecki for the TV series Kruk. Szepty słychać po zmroku. In addition to winning the award, Chajdecki also had the honor of concluding the concert with two suites. Next to a suite from the TV series with the award winning score, there was also a suite from the series Ziuk. Młody Piłsudski, which was the highlight of the evening for me with three singers chanting and a band providing support for the orchestra to create this rock-like sounding piece.
The 'Scoring4Polish Directors'-concerts are very educational for me. As a non-Polish person, almost all the music is unknown to me, making these concerts a great way to get introduced to new film music. Unfortunately, as mentioned at the concert, Polish film music rarely gets published anymore, making it impossible for me to buy and listen to some of the awesome music that I have heard this night, and that makes me a bit sad. Music like we have heard that night needs to be out in the world, and not only in the movie, or a concert like this.
Concert information
Orchestra: AUKSO Chamber Orchestra conducted by Marek Moś
Artists: Katarzyna Bogusz (vocals), Julita Charytoniuk (vocals), Kasia Moś (vocals), Anna Witczak-Czerniawska (vocals),Maciej Dobrzański (bass guitar), Michał Miodek (piano), Marcin Masecki (piano), Jan Emil Młynarski (banjola, vocals), Robert Rasz (drums), Jerzy Rogiewicz(drums), Paweł Solecki (ethnic instruments) and Paweł Stankiewicz (electric guitar)
Special guests: Krzysztof Zanussi, Bartosz Chajdecki, Antoni Komasa-łazarkiewicz, Marcin Masecki, Sandro Ruscio and Michał Miodek
Hosts: Jadwiga Polus and Łukasz Cioch
Program
Michał Miodek – "Humoresque" from Ether
Wojciech Kilar (arr. Nikiforos Chrysoloras) – Suite from the films The Illumination, Hipoteza, A Woman's Decision and The Contract
Wojciech Kilar (arr. Nikiforos Chrysoloras) – Suite from the films Foreign Body, Black Sun, At Full Gallop and Wherever You Are
Wojciech Kilar (arr. Mariusz Obijalski) – "Spirala" from Foreign Body
Sandro Ruscio – "Vals" from Ether
Intermission
Masecki / Młynarski / Rogiewicz – "Night and Day", "Choo-choo", "Dance All Night" and "The Hi De Ho Man" from Mr. Jones
Antoni Komasa-Łazarkiewicz – Suite from Mr. Jones
Bartosz Chajdecki – Suite from Kruk. Szepty słychać po zmroku
Bartosz Chajdecki – Suite from Ziuk. Młody Piłsudski
May 17: Disney in Concert: The Magic of Music
Each edition there are big concerts in Tauron Arena, and this concert was the first of this year. It was also the second Disney-themed concert, as last year we could experience a screening of the live-action version of The Beauty and the Beast with Erik Ochsner conducting. For this edition he returned to conduct the FMF Youth Orchestra, who had their first arena experience, after having only played in smaller venues so far.
On the program were all kinds of famous songs from Disney animation movies, sung by popular Polish singers, and with visuals from the movies on a big screen. This concert was mainly aimed at children and their parents and that also meant that all the songs were in Polish. Not that I mind though, the orchestra performed the music extremely well, and most of the Polish singers did a good job.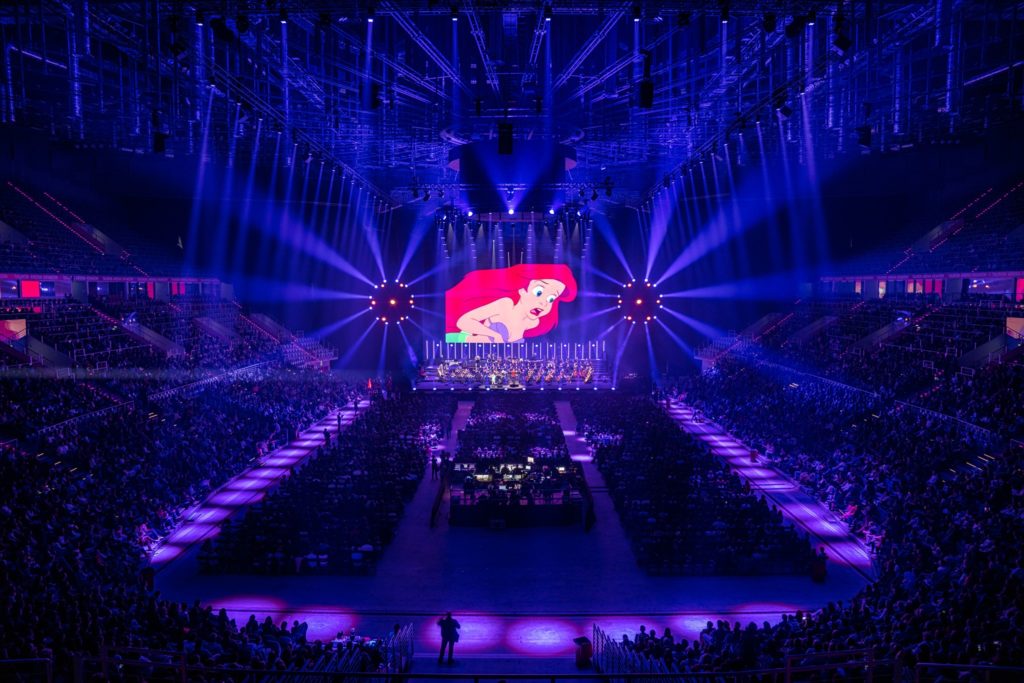 During the concert they also put the spotlight on children who are unfortunately not able to hear. During Moana there were deaf children on stage, hand signing a line of the song's lyrics in turn. When they were done, we were not supposed to applaud like we usually do, since they cannot hear that, but we all had to wave, and to have more than ten thousand people waving to your performance is quite a feat.
Next to the songs and the images, there was also room for special effects. During "Let it Go" from Frozen, sung by the singer who also did the original Polish recording, mist machines turned the stage into a snowy field while glitters fell from the ceiling, and for "Colors of the Wind" from Pocahontas leaves were falling. During the last song from the Lion King fireworks were set off and little hearts fell from above for the children to catch.
To my delight Monika Bachowska was also conducting her own orchestra for a couple of songs, which she had been preparing for many months. Ochsner was doing an outstanding job with the orchestra, but I was also glad to see Monika acknowledged on stage for all the hard work she had done.
When I saw that the Youth Orchestra was allowed to play in the big arena, I was quite surprised, but I was also convinced that they would pull it off after experiencing their concerts for a couple of years now. I really hope that many people went home satisfied: the children, their parents, the singers, the musicians, the conductors and all the other people who attended this concert.
Concert information
Orchestra: FMF Youth Orchestra conducted by Erik Ochsner and Monika Bachowska
Vocals: Amelia Andryszczyk, Marcin Jajkiewicz, Katarzyna Łaska, Natalia Nykielm, Antek Scardina, Michał Szpak and Magdalena Wasylik
Hosts: Urszula Urzędowska and Piotr Krasnowolski
Program
Brad Kelly (arr.) – Disney Memories Overture

You Can Fly
Second Star to the Right
Alice in Wonderland
I'm Late
Bella Notte
April Showers
Waltz of the Flowers
Second Star to the Right

Alan Menken, Howard Ashman – The Little Mermaid

Part of Your World
Under the Sea
Beluga Sevruga
Kiss the Girl
Happy Ending

Matthew Wilder, David Zippel – Mulan
Lin-Manuel Miranda – Moana
Alan Menken, Howard Ashman, Tim Rice – Aladdin

Arabian Nights
Friend Like Me
A Whole New World

Alan Menken, Glenn Stater – Tangled
Alan Menken, Stephen Schwartz – Hunchback of Notre Dame
Alan Menken, David Zippel – Hercules
Kristen Anderson-Lopez, Robert Lopez – Frozen
Intermission
Alan Menken, Howard Ashman – The Beauty and the Beast

Transformation
Belle
Be Our Guest
Beauty and the Beast

Marc Shaiman, Scott Wittman – Mary Poppins Returns

The Place Where the Lost Things Go

Alan Menken, Stephen Schwartz – Pocahontas
Mack David, Al. Hoffman, Jerry Livingston – Cinderella

A Dream Is a Wish Your Heart Makes
Bibbidi-Bobbidi-Boo
So This Is Love

George Bruns (adapted from a theme by Pyotr Tchaikovsky) – Sleeping Beauty

Battle with the Forces of Evil

Elton John, Tim Rice – The Lion King

Nants Ingonyama
Circle of Life
I Just Can't Wait to Be King
Can You Feel the Love Tonight
Busa
May 17: Birdman Live in Concert
I have heard a lot about the movie Birdman and its score, because it is far from traditional. Instead of the score being written in a studio using traditional methods, the whole score was an improvisation on drums by Antonio Sánchez. For this concert there was only a drum kit on one side of the large stage, with an extra monitor for Sánchez to see the movie.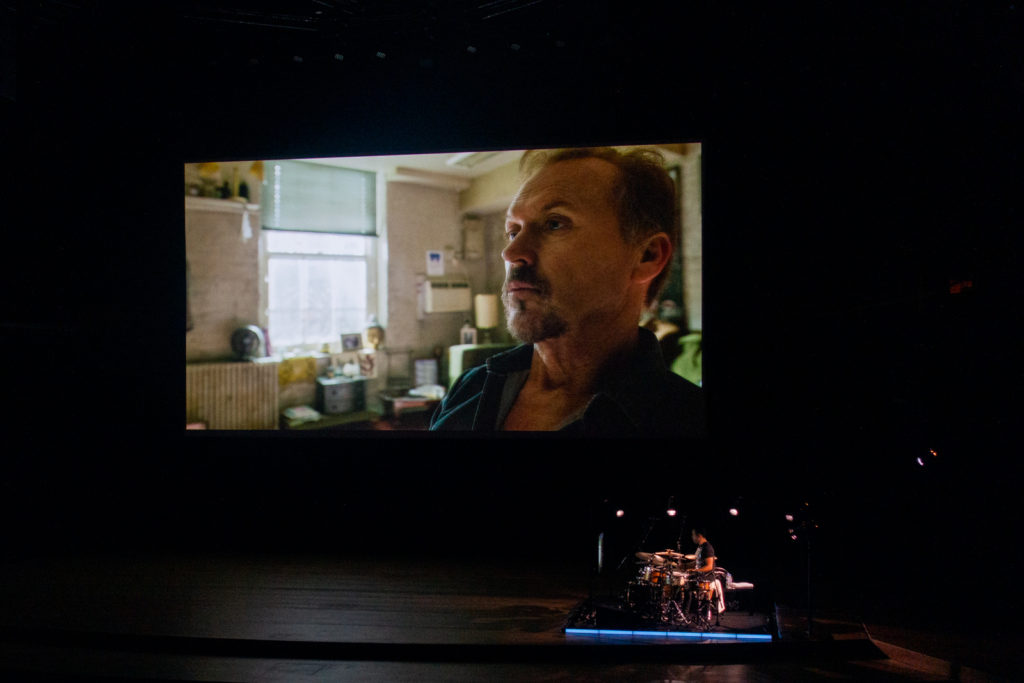 The movie was quite interesting and somewhat weird, while the cinematography was extremely well-done. The drumming Sánchez was doing while the movie was playing added an extra layer of awesomeness to the whole experience. The movie has a lot of moments without music, and sometimes third-party music was playing on the audio track. Sánchez could sometimes sit on a chair at the side of the stage for more than ten minutes. He caught up on the lost time with the encore, because when the screen had faded to black after the end credits, he kept on drumming for quite some time – finishing up one of the strangest and unique concerts I have ever attended.
Concert information
Drums: Antonio Sánchez
Host: Łukasz Cioch
May 18: The Magic and Majesty of Alexandre Desplat
When the guests and the concerts were announced, I was looking forward to this concert the most to be honest.,. A concert with music from Alexandre Desplat, with him conducting, would just be magnificent. I was hoping for just his music without any amplification and without a screen to distract you from the music, and I got what I was hoping for.
On the program were suites of his music from the movies, with "Pelléas et Mélisande," a concerto for flute and orchestra, as the exception. It was quite fun to see flutist Jean Ferrandis being able to continue playing beautifully with one hand, while turning the page with his other. While he was there, he could also play the solo from Girl with a Pearl Earring next.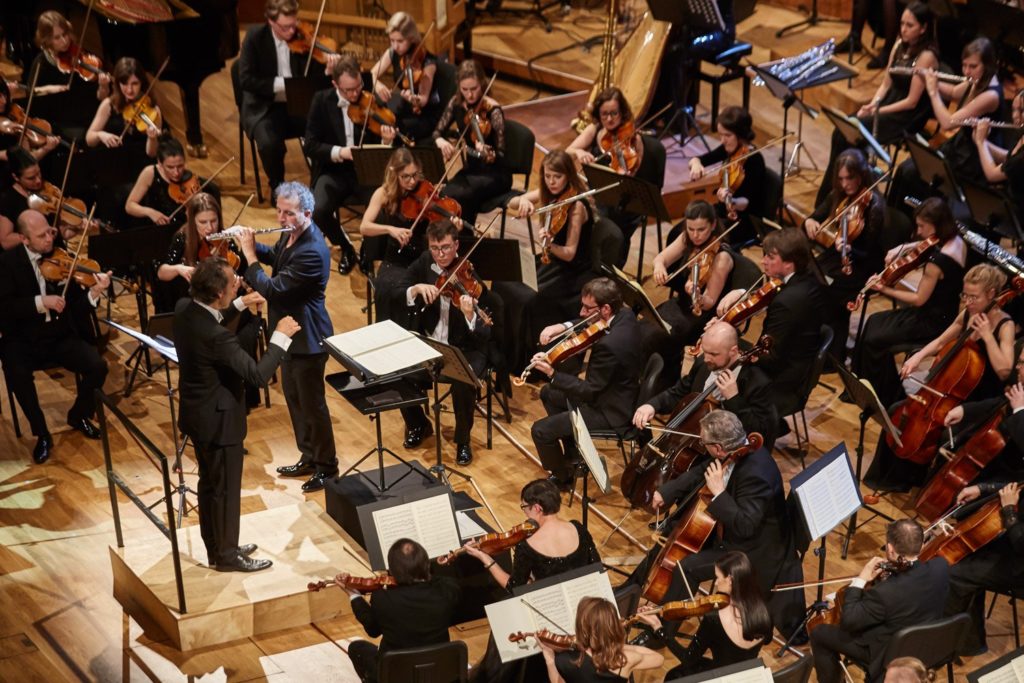 The other suites were also amazing. I was even a bit sad when the suite of Imitation Game was shorter than I had hoped for. When Alexandre Desplat returned after the intermission, there was a microphone attached to his head, and I was quite curious what kind of speech he would be giving, but the end result was even better: he used it to whistle the gorgeous solo of The Shape of Water while conducting the orchestra.
These were just some highlights of this amazing concert as each suite was a joyful experience for me. Of course we were also treated to encores. Five chairs and music stands were brought onto the stage for five guitar players to play the music from The Grand Budapest Hotel, and afterwards they concluded the evening together with a piece from Venus in Fur.
All my expectations were met for this concert. It was just an amazing experience and a privilege to be able to attend a concert like this. Next to the magnificent music, Desplat was also funny on stage and able to entertain the audience in a different way than just with his music. Desplat does this type of concert more often and if one is close to you, you should definitely try to attend it.
Concert information
Orchestra: Sinfonietta Cracovia conducted by Alexandre Desplat
Flute: Jean Ferrandis
Guitarists and accordion: ?
Hosts: Magdalena Wojewoda-Mleczko, Paweł Pawlik
Program
Valerian and the City of a Thousand Planets Suite
"Pelléas et Mélisande", Sinfonia Concertante for flute and orchestra
Girl with a Pearl Earring Suite
Imitation Game Suite
Intermission
The King's Speech Suite
The Ghost Writer Suite
The Shape of Water Suite
The Ides of March Suite
Harry Potter and the Deathly Hallows: Part I and II Suite
The Grand Budapest Hotel (encore)
Venus in Fur (encore)
May 18: Dance2Cinema: Tarantino Unchained
The next concert, another collaboration between the FMF and Fimucité, was right after Desplat and it was held only three floors up in the same building. The Pop Culture Band is a bunch of musicians from Tenerife, who have done a couple of film music projects during several editions of the Spanish festival. One of them is called "Tarantino Unchained," where they play music from the Quentin Tarantino movies. Apparently, this was a huge success, since they were asked to do the same program, but this time with two Polish singers, in Krakow.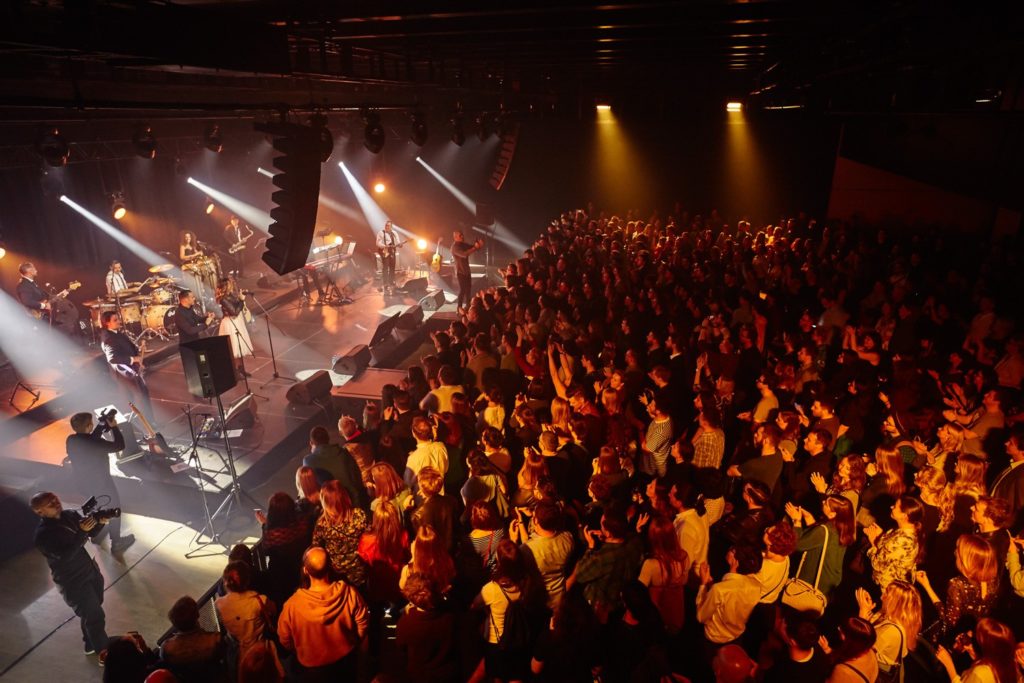 It was quite a fun experience to hear all these songs that I know so well. One of my favorite song, next to "Misirlou," is "Battle without Honor or Humanity" from Kill Bill: Vol. 1. I have always had a soft spot for that song, and to hear it live was fantastic.
Concert information
Vocals: Anna Karwan and Damian Ukeje
Pop Culture Band: Gonzalo de Araoz Vigil (musical director and lead guitar), David Gonzalez Alvarez (keyboard), Francis Diaz Gonzalez (electric guitar), Julio Moreno (bass guitar), Javier Guarrero Peral (drums), Nuria Herrero Martinez (percussions), Elio Bignote (trumpet), Jairo Cabrera (trombone), Luis Cuen Amieva (saxophone), Hector Quintero Garcia (vocals, acoustic guitar) and Patty Gonzalez Taffoi (vocals)
Program
"Bang Bang – My Baby Shot Me Down" from Kill Bill: Vol. 1
"Misirlou" from Pulp Fiction
"Little Green Bag" from Reservoir Dogs
"Across 110th Street" from Jackie Brown
"I Gotcha" from Reservoir Dogs
"Son of a Preacher Man" from Pulp Fiction
"Stuck in the Middle with You" from Reservoir Dogs
"Jungle Boogie" from Pulp Fiction
"Girl, You'll Be a Woman Soon" from Pulp Fiction
"Magic Carpet Ride" from Reservoir Dogs
"Woo Hoo" from Kill Bill: Vol. 1
"Waitin' in School" from Pulp Fiction
"Hooked on a Feeling" from Reservoir Dogs
Intermission
"Street Life" from Jackie Brown
"Hold Tight" from Death Proof
"Battle without Honor or Humanity" from Kill Bill: Vol. 1
"Cells" from Sin City
"After Dark" from Dusk Till Dawn
"Let's Stay Together" from Pulp Fiction
"Unchained" from Django Unchained
"Goodnight Moon" from Kill Bill: Vol. 2
"Chick Habit" from Death Proof
"You Never Can Tell" from Pulp Fiction
May 19: Cinematic Piano: Quai de Scènes a show by Solrey
Recent editions of the FMF have had a smaller, more private, kind of concert with a focus on the piano on their program. This year it was up to Alexandre Desplat's wife Dominique "Solrey" Lemonnier to entertain us with beautiful chamber music based on Desplat's repertoire. The music was played mainly by the Traffic Quintet, which she has founded, with two violins, a viola, a cello and a double bass, together with Alain Planès on piano, and occasionally Alexandre Desplat on his flutes or the glockenspiel. Desplat's music had been integrated into lengthy suites by Solrey, which she was conducting herself. Next to the music, images were also very important, showing us scenes from Paris, like for example the Seine, but also from the Notre Dame in its full glory, and later on, with the fires that damaged the beautiful cathedral.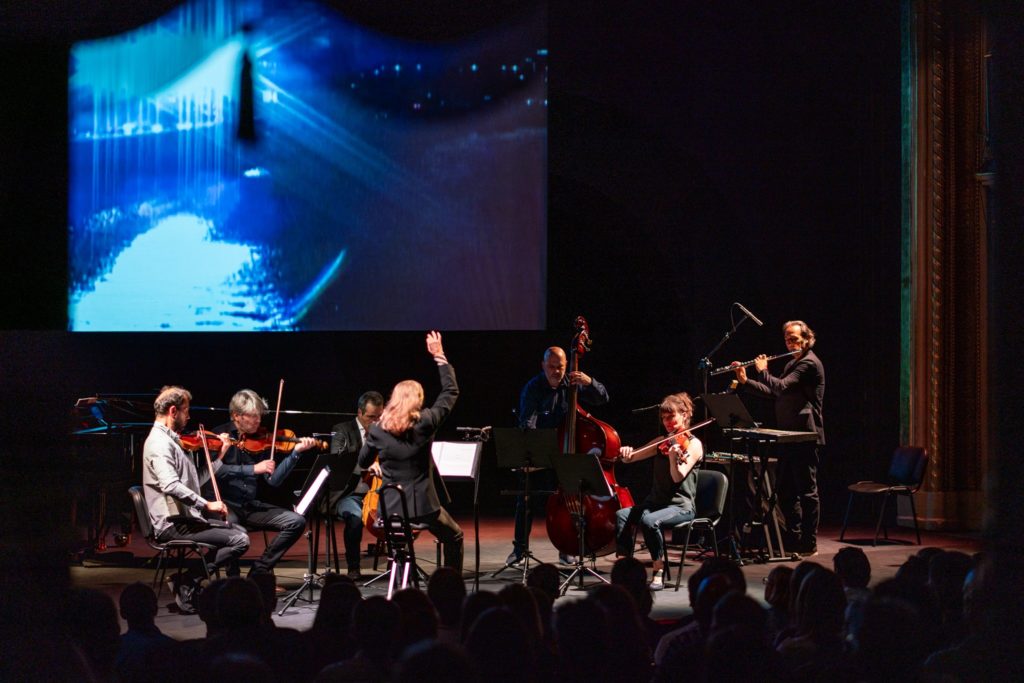 I have been to many different venues in Krakow during my visits to this beautiful city, but I had never been to Słowacki Theatre, which is a very old and small theater, and it was perfect for an intimate concert like this.
Concert information
Traffic Quintet: Bertrand Cervera (violin), Nicolas Vaslier (violin), Estelle Villotte (viola), Raphaël Perraud (cello) and Philippe Noharet (double bass) conducted by Dominique "Solrey" Lemonnier
Piano: Alain Planès
Flutes and glockenspiel: Alexandre Desplat
Video: Solrey, Ange Leccia
Program
Themes from films by Alexandre Desplat
Un Héros très discret
Love, etc.
Le Plus Bel Age
The Ghost Write
King's Speech
Un Prophète
Girl with a Pearl Earring
Lust, Caution
Extremely Loud and Incredibly Close
The Tree of Life
Chéri
Reines d'un jour (by George Brassens and Alexandre Desplat)
Coco avant Chanel
Sur le pont des arts (by George Brassens) – encore
Sur mes lèvres – encore
May 19: FMF Gala: The Glamorous Show
The main gala was different for this edition of the FMF. In previous years lots of special guests were invited, but for this edition Craig Armstrong was the only one. The announcement for this concert promised an evening with songs, dance, and Armstrong's music. I personally had my doubts whether this announcement by the organization would be able to fill up the big arena, but luckily I was mistaken.
On the program were some of Armstrong's beautiful instrumental suites for Moulin Rouge!, The Great Gatsby, Romeo+Juliet and Love Actually. For the last two he was on stage playing the piano himself. Especially Love Actually, with its amazing themes, was a privilege to witness. After he was done playing, he received the festival's Kilar Award for his accomplishments in the film music industry.
Craig Armstrong was not the only winner of an award that night. Every year the organization also hands out the FMF Ambassador Award, which was won by publicist Ray Costa this year. He was quite happy with it, because when he received the award he held it high in the air with a huge smile on his face.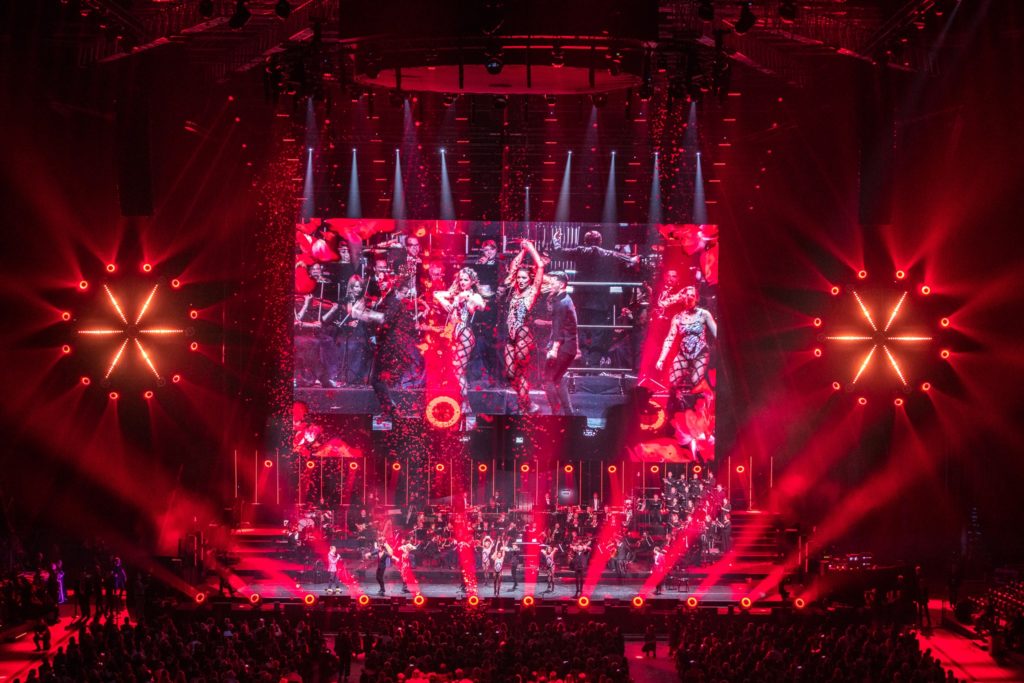 The rest of the concert, was as the announcement stated, filled with song and dance, most of which were used in Moulin Rouge, Romeo + Juliet and The Great Gatsby. While the orchestra, with extra musicians to play guitars, keyboards and drums, was performing the music, Polish celebrities were singing the songs together with six dancers in all kinds of costumes twirling around them, creating a spectacular show. The show really ended with a bang, with explosions of golden glitter and ribbons covering the first ten rows in front of the stage. Even the crane camera was fully covered in ribbons.
I think it was a bold move to have a gala in the arena with only one composer, but the show element attracted a lot of people, making it quite successful. The best way to describe this evening is that it was very entertaining with a high production quality. I do not really see the songs as film music though, but having experienced Craig Armstrong performing his own music on piano, was on its own already worth attending this concert for.
Concert information
Orchestra: Beethoven Academy Orchestra conducted by Krzysztof Herdzin
Choir: Pro Musica Mundi Choir
Vocals: Natalia Nykiel, Maria Sadowska, Natasza Urbańska, Igor Walaszek and Jakub Wocial
Dancers: Santiago Bello (lead), Dominika Dąbkowska, Urszula Dral, Patryk Gładyś, Ewelina Kruk, Agata Łubieńska, Mateusz Muniak and Michał Paczuski
Piano: Craig Armstrong
Band: Błażej Gawliński (percussions), Andrzej Olewiński (guitars), Marek Lipski (piano, keyboards) and Piotr Lewańczyk (bass guitar, double bass and Moog synthesizer)
Song arrangements: Jan Stokłosa
Suite arrangements: Dave Foster
Hosts: Magdalena Miśka-Jackowska and Simon Greenaway
Program
Craig Armstrong – Moulin Rouge! Suite

themes: Satine's Theme, Death Scene

Smells like teen spirit
Children of the Revolution
Craig Armstrong (arr.) – One Day I'll Fly Away
El Tango de Roxanne
Nature Boy
Sparkling Diamonds
Show Must Go On
Intermission
Craig Armstrong – Love Actually Suite

themes: Glasgow Love Theme, Restaurant Scene

Craig Armstrong – Romeo + Juliet Suite

themes: O Verona, Balcony Scene

Young Hearts Run Free
Crush
Everybody's Free
Craig Armstrong – The Great Gatsby Suite

themes: I Let Myself Go, Let's Go to Town

Love Is Blindness
Back to Black
Young and Beautiful
Kill and Run
A Little Party Never Killed Nobody
Meet and Greets
In addition to composers and guests attending the concerts, they are also available for some form of meet and greet with their fans during the festival. Most of the Polish composers were on a panel talking about their experiences, and afterwards, most of them were available for a photo or an autograph.
I did not attend the meet and greet with Antonio Sanchez, because of other commitments during that time, but I saw pictures where he was sitting on the floor of the stage with his legs crossed talking to the audience. When I saw that picture, I felt a bit sad for not being able to attend.
Craig Armstrong had his meet and greet in the room where all the panels were, and he and his host Simon Greenaway had a pleasant discussion about all aspects of his musical career. Afterwards he retreated to a small room, where he was signing all kinds of items for the people who were standing in line outside of the room.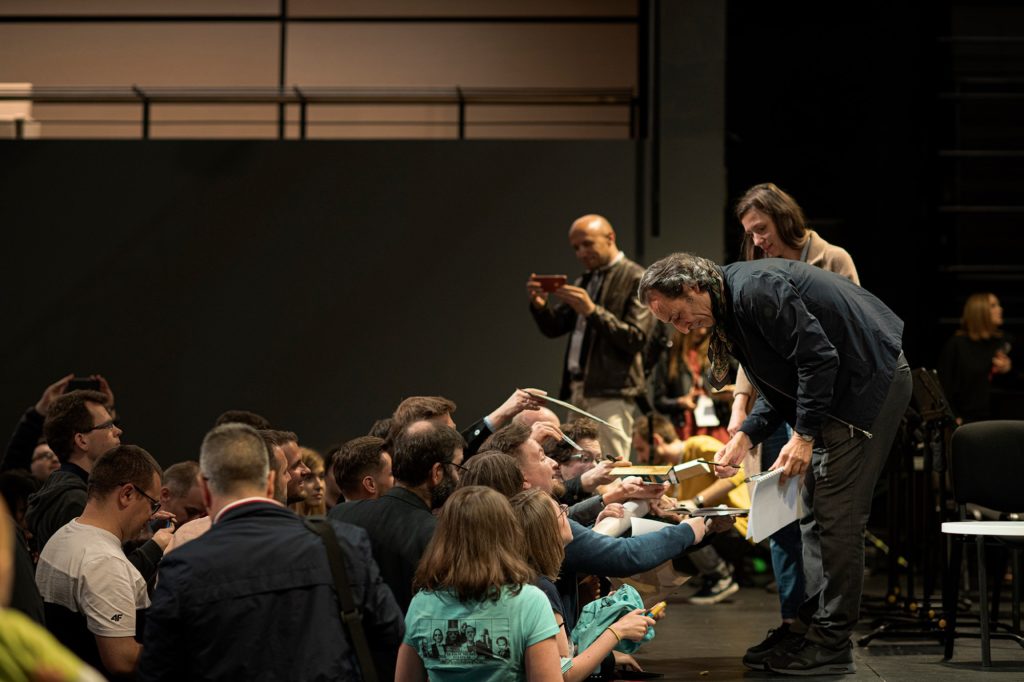 Alexandre Desplat had a meet and greet between the rehearsals for his concert. He and his host Magda Miśka-Jackowska were sitting on two chairs in the middle of the stage filled with empty chairs of the orchestra members and their music stands. After the meeting was over, people rushed to the front of the stage for an autograph. It almost looked like he would leave after one or two autographs, but luckily everyone in the room who wanted one got one.
Panels
Panels are very important at this festival. Not only for fans of film music who are interested in knowing more about the genre, but also for aspiring composers who want to learn more from people in the industry with more knowledge about a certain topic. This year I was not able to attend many panels because of other appointments, but the ones I attended were quite interesting. I especially liked the panel about how the Dracula concert came to be, and there was also a panel hosted by Magda Miśka-Jackowska and Dutch composer Matthijs Kieboom about the life of film music after having been written, with views from a conductor, festival organizer, composer and a reporter, which for me as a critic and a reporter is quite interesting.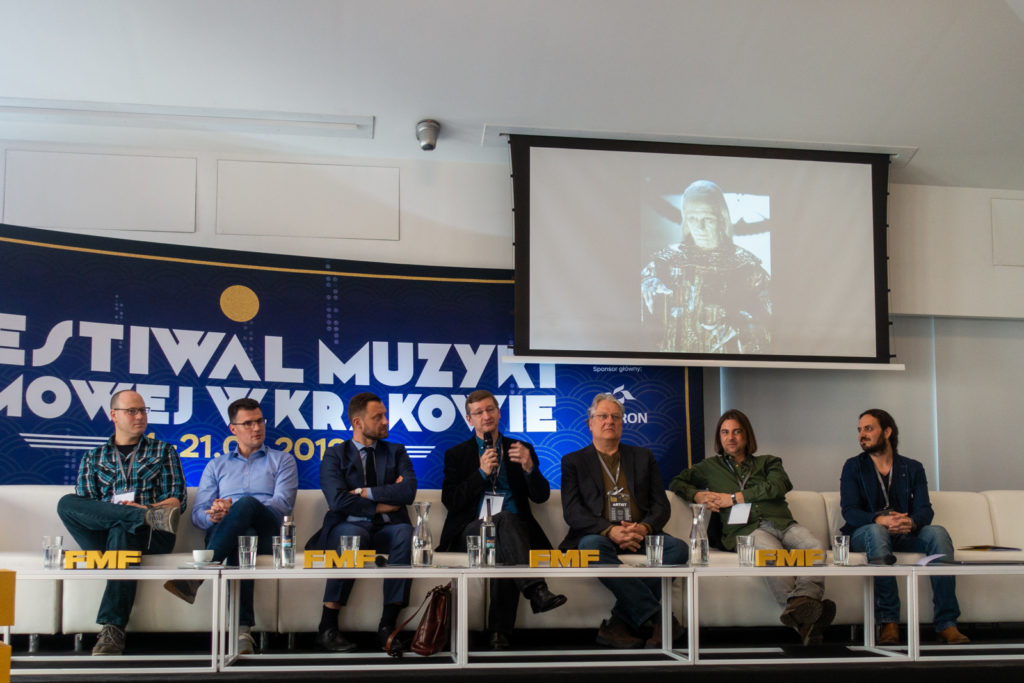 Some panels were in English and others in Polish, but there are always headphones at your disposal, which you can use to listen to translators who are translating the words into the language that is not spoken at the panel. The interesting topics, independent of the language they are being discussed in, make each panel worth attending if you want to know more about film music.
Interviews
If you have media access at the festival, there is a chance for some amazing interviews with the attending guests. A large part of the interviews on this site are from the FMF and for this edition I was able to interview Bartosz Chajdecki, Craig Armstrong and Don Davis. You can expect these interviews on this site in the next few months.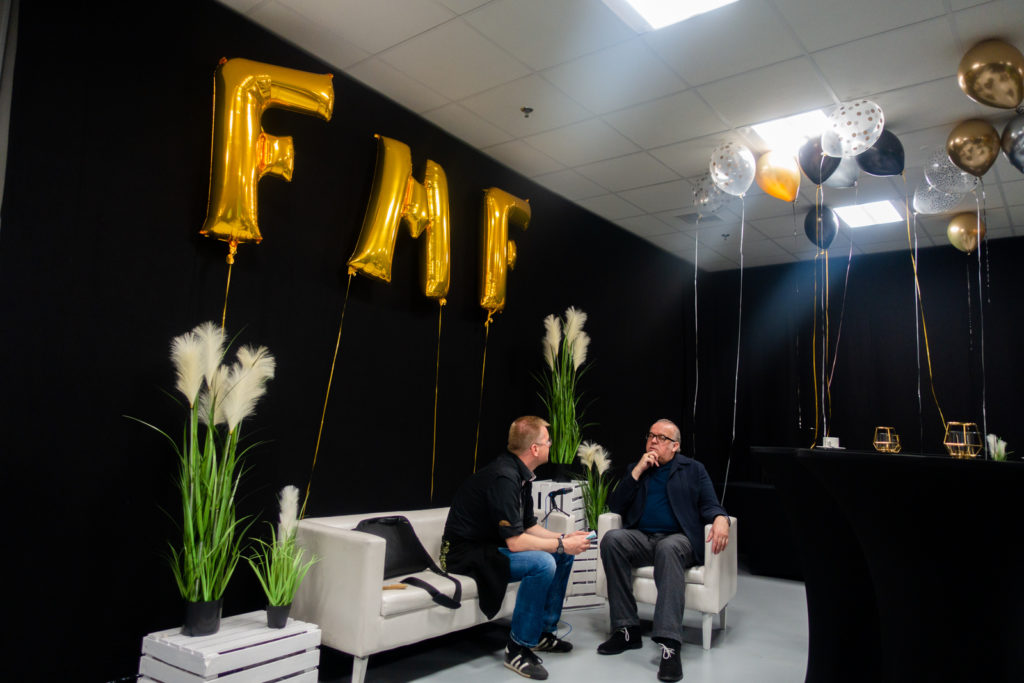 Conclusion
I honestly have the feeling that I can write the same conclusion for each edition of the festival. I have attended it nine times and within these years I have made a lot of friends and have met a lot of people in the industry. It is a festival where I feel very welcome, can listen to amazing film music concerts, meet famous film music composers and where I can get a peek into the minds of people in the film music industry. Next to that, I can join other film music lovers for drinks on the market square in the sun, or eat delicious Polish food in one of the many restaurants in the city. There are also a lot of tourist attractions you can go to: There is the castle, the old Jewish Quarter and the Wieliczka Salt Mine. In other words, this festival is a magnificent place with a lot of film music in a city that is worth a visit. The next edition will be my ten-year anniversary, maybe you would like to join me as well to celebrate.
Photos
Here is an overview of our photos of this festival.