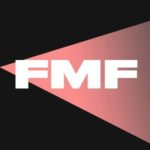 As you might have noticed, we have already covered a couple of concerts from this year's edition of the Krakow Film Music Festival (FMF). In this report, I will be rounding up the remaining concerts, discuss the panels and give my final thoughts about this festival.
Concerts
This year's edition once again had a lot of concerts: nine to be precise. The concerts we have already written reports on are two concerts with a Polish theme, two movies with live orchestras and the Video Games Music Gala. This means that there are still four concerts left to be discussed.
Dance2Cinema: All About Almodovar
Esther Ovejero is a singer from the Canary Islands, where she is a regular guest at the Fimucité festival. The collaboration between the FMF and Fimucité is very strong, and this concert is an example of that. Ovejero brought her band with her to Poland to perform songs that were used in the movies by the Spanish director Pedro Almodovar. With her spectacularly strong voice, she gave quite a performance together with the band, during which the audience could dance the night away.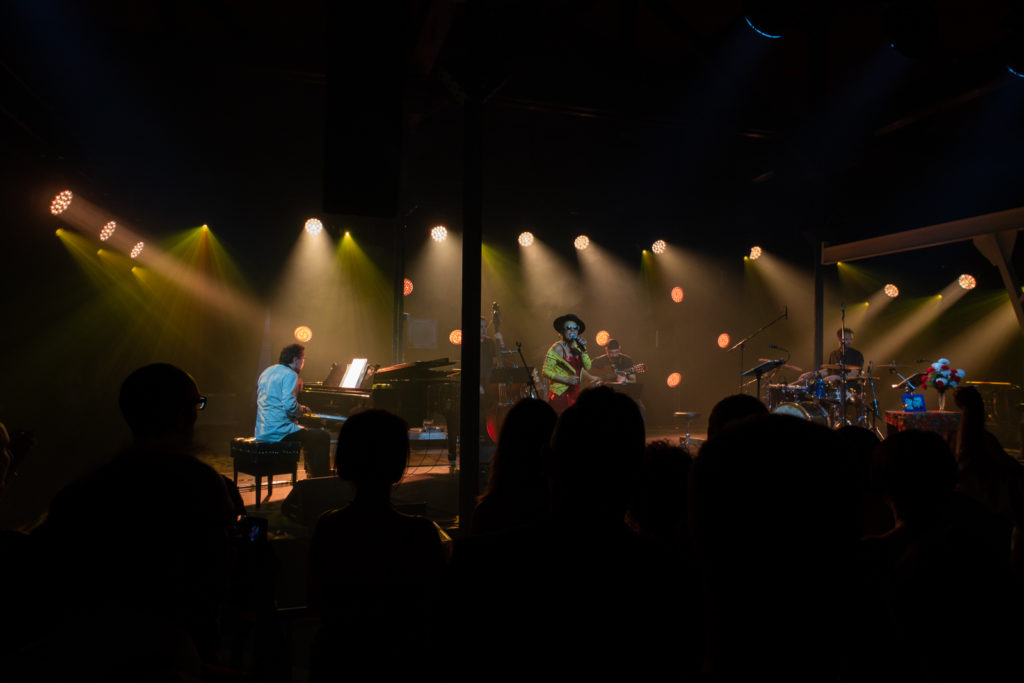 Funk & Folk: Atli Örvarsson & Torrek
After Esther Ovejero, it was time for Icelandic composer Atli Örvarsson with his band Torrek to perform folk music. Torrek consists of Atli Örvarsson on accordion and keyboard, his sister Hilda Örvarsdóttir as the vocalist, Eoghan Neff from Ireland on fiddle, his brother Flaithri Neff on uilleann pipes and whistles and a percussionist also from Ireland. These musicians met each other while making the score for The Eagle and they enjoyed playing together so much that they decided to continue under the name "Torrek". While watching this performance, you could definitely see that they were having a lot of fun and so was the audience.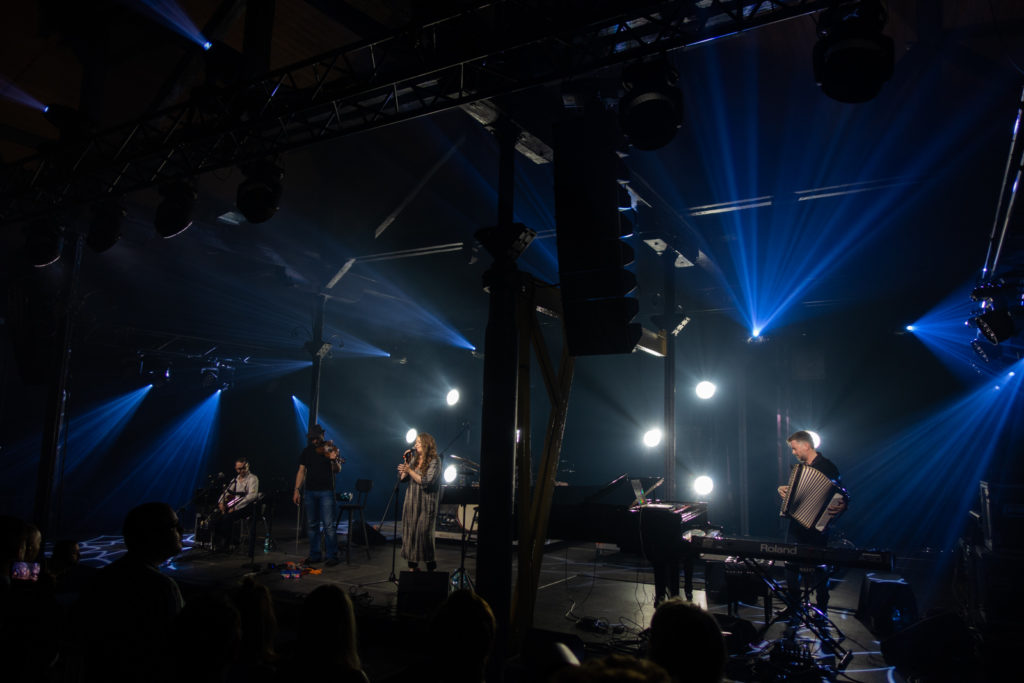 Cinematic Piano: LION – Hauschka and Dustin O'Halloran
Traditionally, one of the festival's concerts focuses on the piano and Jean-Michel Bernard did an amazing performance using this idea last year. This year, we could mainly listen to the music from the movie LION, for which the composers Hauschka and Dustin O'Halloran received an Oscar nomination. Each composer sat behind his own piano. However, they did not always play their instrument in the usual way. Especially Hauschka had all kinds of gadgets and knobs around him, and he had made modifications to the piano to let it make a variety of unusual and strange sounds that did not sound like a piano at all (Hauschka explains it perfectly in this Youtube video). Dustin O' Halloran did not have any of those gadgets as far as I could see, but during the concert, once, he played the piano while he was standing and another time he was plucking the strings inside of the piano to get the sound that he wanted. Each composer played a piece of their solo work next to the music from LION, while the other waited patiently in the dark. They also paid tribute to the late Jóhann Jóhannsson, who was a good friend and an influence on them. The best way to describe the music of this concert was that it sounded very experimental with a lot of repetitive patterns. I think you can get the most enjoyment from this music by just leaning back, closing your eyes and just experiencing all the melodies, patterns and different sounds.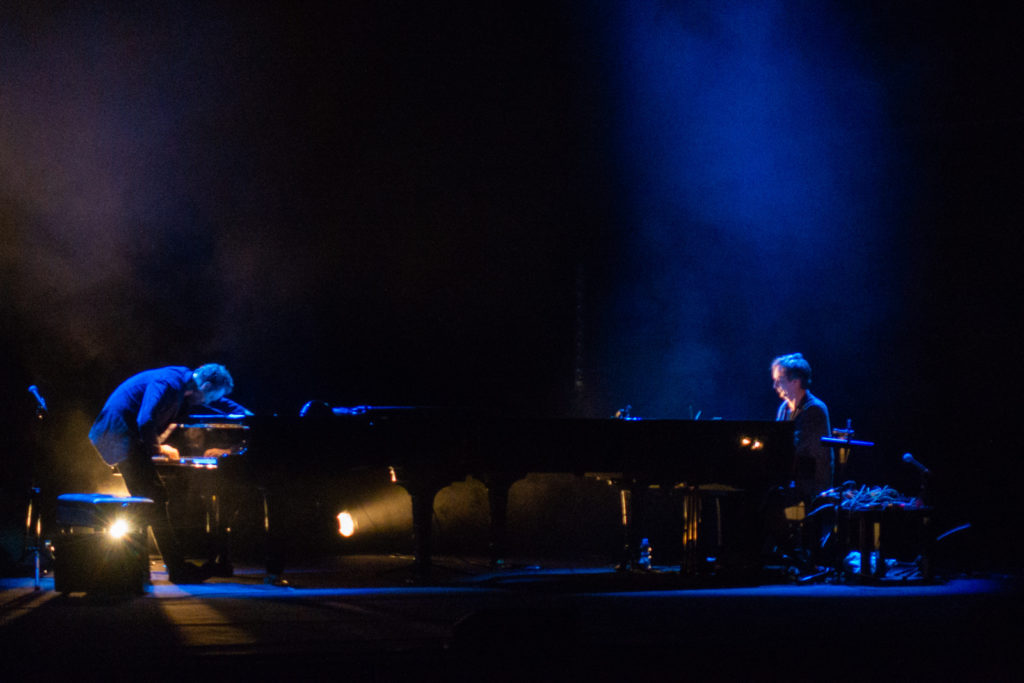 FMF Youth Orchestra Plays Monster Movie Music Madness
The FMF Youth Orchestra concert is always one of my personal favorites. The FMF has become such a big event, that it is also a pleasure to experience unamplified music and with hardly any speeches at all. The FMF Youth Orchestra and the Fimucité Youth orchestra have been collaborating for a couple of years now, and this year it was physically visible that this was the case, since there were a couple of members in the orchestra that came all the way from Tenerife. The monster theme that was chosen this year was very interesting. All the music was from movies with monsters, dinosaurs or aliens, which means amazing suites from Jaws, King Kong movies, Frankenstein movies, Alien movies and Gremlins. I did not recognize all the music, which always makes for a fun guessing game while I am listening to the orchestra. As with the previous years, the quality of this orchestra was quite impressive, especially since the musicians are still learning to improve their musical skills, resulting in another enjoyable lunch concert.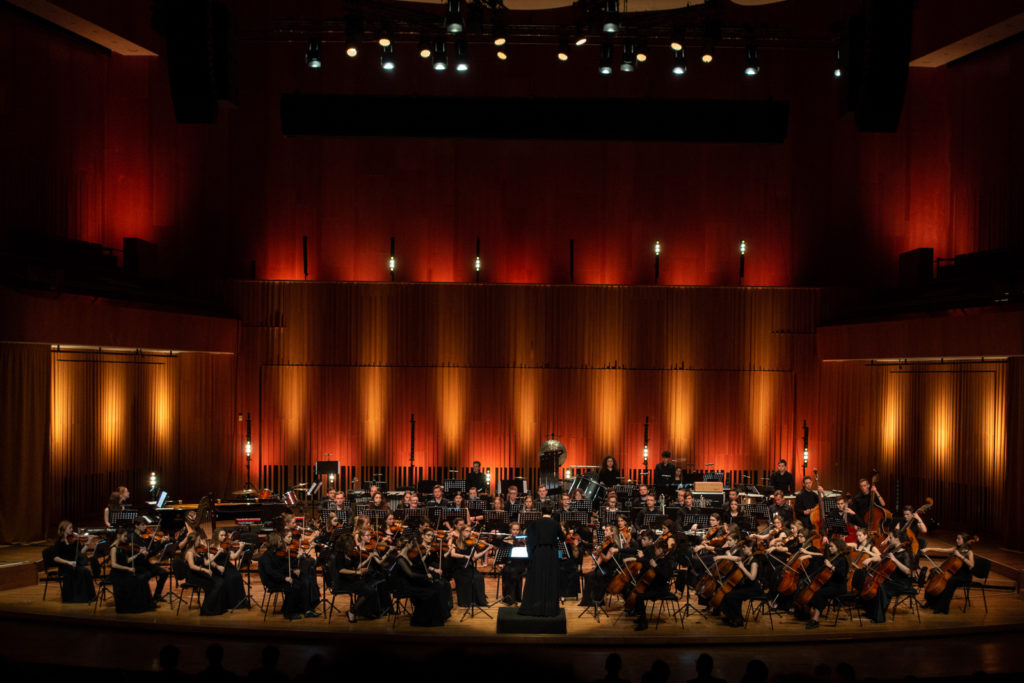 Concert information
Where and when: Krakow, Poland – June 3rd, 2018, during the Film Music Festival
Orchestra: FMF Youth Orchestra conducted by Monika Bachowska
Program
Music from the King Kong Movies
Max Steiner: King Kong (1933) Arr. by John Morgan and William T. Stromberg
John Barry: King Kong (1976) Arr. by Nic Raine
James Newton Howard: King Kong (2005) Arr. by Ted Ricketts
Music from the Frankenstein Movies
Bernhard Kaun: Frankenstein (1931) Arr. by Greg Sims
Patrick Doyle: Mary Shelley's Frankenstein (1994)
Music from the Alien Movies
Jerry Goldsmith: Alien (1979)
James Horner: Aliens (1986) Arr. by Conrad Pope
Iconic Movie Monsters
John Williams: Jaws (1975)
Jerry Goldsmith: Gremlins (1985)
John Williams: Jurassic Park (1993)
Encore
Jerry Goldsmith: Gremlins (1985)
Panels
During the day, a lot of panels about the film (or game) industry could be attended. Some panels were with one or two composers telling the audience about their experiences, while others introduced people from the industry sharing their knowledge. Each year, there is a large group of aspiring composers attending master classes during the festival, and they are always eager to get as much information as possible from the panelists. For fans it is also a good chance to get a signature from or photo of your favorite composer.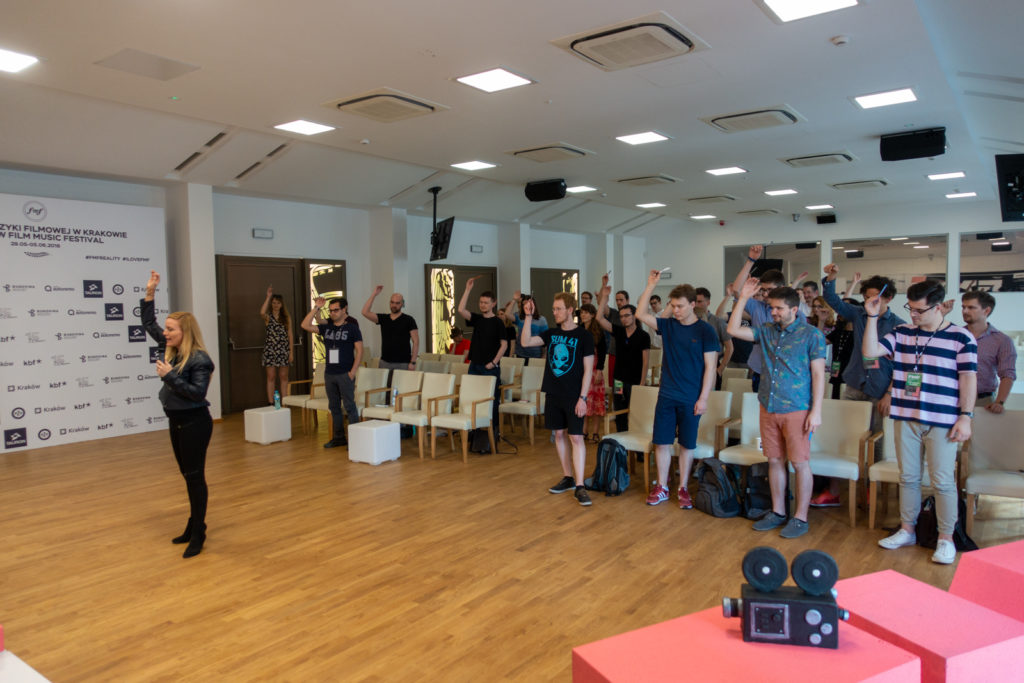 One of my highlights was a panel where Eimear Noone showed the attendants how she conducts. The whole room was standing and trying to mimic her moves. Another panel that I liked was with well-known composers like Elliot Goldenthal, Atli Örvarsson and Austin Wintory telling stories about getting influences from their roots. I was also invited to join one of the panels to talk about the life of soundtracks after the movie is done, which was quite an amazing experience. If you want to know more about how film music is created and what happens afterwards, you can learn a lot from these panels.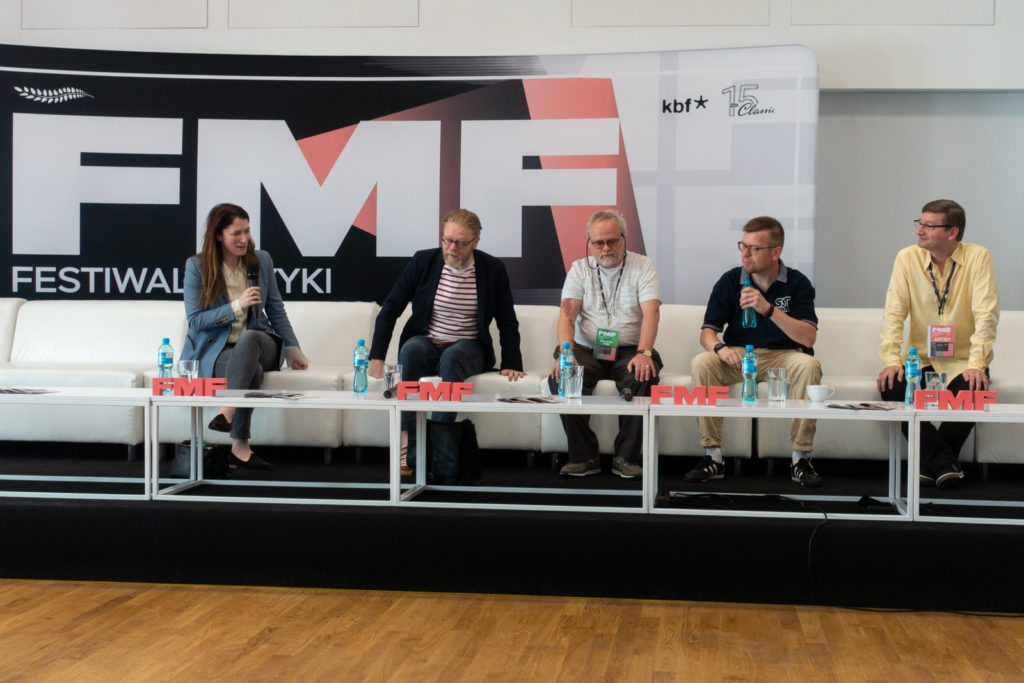 Conclusion
There is no other film music festival like the FMF in the world. It has grown so much in size, no other festival is able to compete with that. I was a bit doubtful when the program was announced: I don't know much about Polish directors and I'm not all that familiar with all the Polish composers. But this inexperience always results in new music and composers that I can explore, and that makes their concerts very enjoyable. What I liked the most about this year's edition, is that they had decided not to use any amplification in the ICE Congress Center. It is not necessary and makes the orchestra sound so much more natural. I also find it very enjoyable that most of the guests can be approached for an autograph or a photo. This festival always manages to invite famous guests. Sadly for them, not all those famous invitees are always able to come: For example, Michael Nyman was supposed to receive an award but did not find the time to attend the festival to personally collect his prize. Nevertheless, I was happy to see though that the three concerts in the arena had a good attendance, and that you could see the audience enjoying themselves. The festival is making so many people aware of film music, and that is a wonderful thing.
Photos
Here are some of the pictures that I took during the festival.