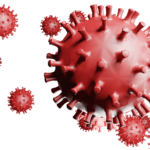 The year 2019 was a wonderful year for film music: Many superb scores were released and we could attend fantastic film music concerts and festivals all over Europe. The prospects for 2020 were looking very promising as well. I was looking forward to some very interesting concerts and intriguing scores, but then the coronavirus became a worldwide crisis, and the whole world came to a sudden stop, which included the release of and live performance of film music. The first sign was the announcement that the new James Bond movie was going to be postponed. Soon after, many countries went into a state of lock-down, which meant that restaurants, stores, bars, parks and – most importantly for us – concert halls and movie theaters were closed to prevent people from getting together and spreading the virus.
The crisis has also been having a huge impact on movies and their music, for the obvious reason that no movies are coming out, because no one is allowed to watch them in the movie theater, but on a deeper level the impact is even greater: The shooting of movies has been postponed, orchestras are not able to record, composers and their crew are not allowed to be in the same room, musicians are not able to perform and film music concerts and festivals have to be postponed or even canceled. All these things are absolutely horrible, because of the virus many people losing their jobs and some even their lives, but on the other hand it also sparks some glimmers of positivity that I would like to highlight in this article. When the world is in crisis, people tend to do things they would normally not do. Some of those are driven by necessity and others by people having more time.
Celebrating the love of film music using virtual meetings
One of the fortunes of this day and age is the internet. With lots of people, including myself, being forced to work from home, many conversations are happening using video conferencing. One of the things people are starting to do is to participate in bigger group calls that are not only for work, because meeting each other socially is out of bounds for the time being. I do this as well: I have drinks on Jitsi with my friends every Saturday, I meet my coworkers every Thursday after work on Google Meet, and since I cannot rehearse with my orchestra, my fellow orchestra members and I also meet every Monday on Zoom to share ideas how we can stay musically active.
Since last week I am able to add another meeting to the list. Michiel de Boer, the founder of Farmer Music, started a new initiative called Composers Café, which is an online meeting where composers from all over the world come together to talk about music. Many of the participating musicians either have the aspiration of composing for films or are already working in that industry. In the previous meeting two pieces by Finnish composers Touko Niemi and Rolf Gustavson were played and then discussed, while the attendees got to see the corresponding sheet music. Afterwards there was room for more general discussion and chat. It is amazing how technology is helping to bring people from different continents together to share their passion. This meeting is just one example, as many people are coming together online to talk about their passion.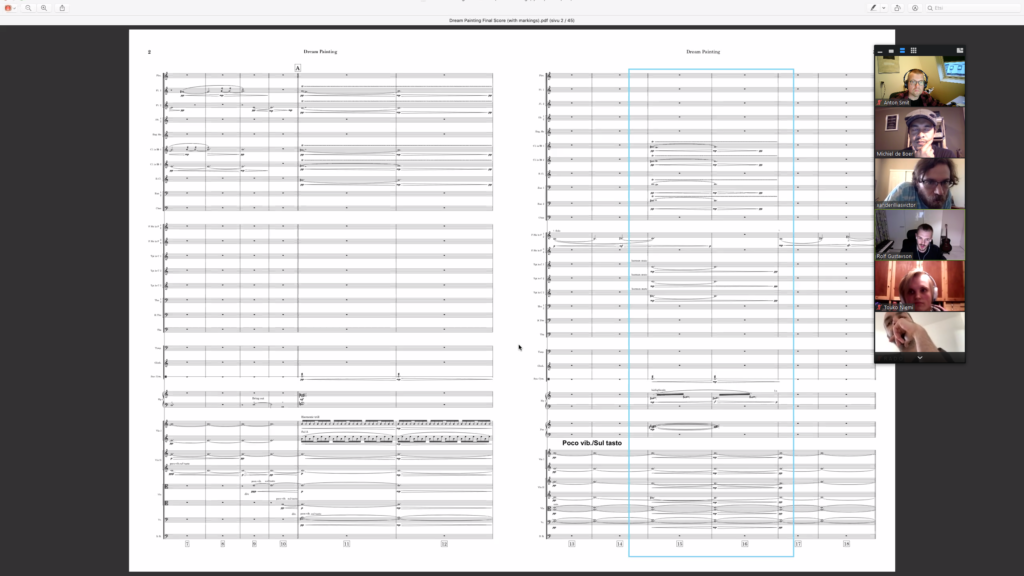 People of the industry reaching out and sharing their knowledge
With the film music industry coming to a sudden stop, a lot of extremely busy people who work in this industry have more spare time. Some of these people are now able to share their knowledge and passion with a huge group of people by using the internet. The biggest example is composer Danny Elfman being able to sit down for a 90-minute interview on Score the Podcast. Another excellent example is an online conference about video game music called VGMAcademy Live, which is open to the public and where many famous video game composers, like Jason Graves, Gareth Coker and Austin Wintory, are sharing their knowledge from their own homes.
One of the things I have been enjoying the most are the Composer Coffee Break sessions composer Michael Price is uploading to his YouTube channel every week. In these talks he has conversations with colleagues, such as Rachel Portman, Daniel Pemberton, David Arnold and many more, about how they are dealing with this crisis, but also about their experiences in the field.
Concerts are being performed and streamed on the internet
With all the concert venues currently closed, some, like Het Concertgebouw in Amsterdam, are now doing video streams on the internet: The artist – or artists (who are sitting more than 1.5 meters from each other) – is performing on stage in the venue, but without an audience. Most of these online events are not concerned with film music of course, but I especially liked pianist Iris de Hond's performance of music by Ludovico Einaudi in this magnificent hall.
One of my favorite film music festivals, the Krakow Film Music Festival, was also forced to postpone this year's edition to 2021, but, thankfully for the film music fans, they still wanted to do something else for the fans instead. That is why we can enjoy a short and intimate performance of one of the friends of the festival every Sunday, including Jean-Michel Bernard and Atli Örvarsson, who have already done their performances, and just before this article was about to get published, we received the news that Dutch composer, and friend of this site, Matthijs Kieboom is going to perform his music on May 10.
These are just a couple of examples that spark some joy for film music fans like me in these terrible times. I sincerely hope that, once the virus is under control worldwide and we go back to our daily lives, we will still have some of these online events that give enjoyment to so many people, regardless of funds, time and distance. In the meantime, I hope that everyone reading this is healthy, staying at home and staying safe.