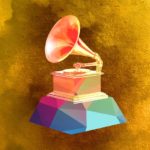 Om March 14, 2021, the GRAMMY Awards were awarded during an online event. There are a lot of categories, but for us, we are only interested in visual media ones. Below are all the nominees with the winners are marked in bold.
Best Score Soundtrack For Visual Media
Ad Astra – Max Richter
Becoming – Kamasi Washington
Joker – Hildur Guðnadóttir
1917 – Thomas Newman
Star Wars: The Rise of Skywalker – John Williams
Best Song Written For Visual Media
"Beautiful Ghosts" from Cats
"Carried Me With You" from Onward
"Into the Unknown" from Frozen 2
"No Time to Die" from No Time to Die
"Stand Up" from Harriet
Congratulations to the winners!