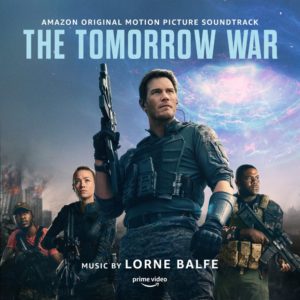 Many fans of Lorne Balfe were eagerly waiting for his score for the latest Marvel movie Black Widow, which has just come out, but before I am going to explore the music from that movie, I wanted to have a closer look at the music he wrote for The Tomorrow War. This action movie on Amazon Prime has a leading role for Chris Pratt, who has been drafted to travel to the near future to fight a losing battle at the brink of extinction against fierce and tough aliens. If you have read some of my previous Lorne Balfe reviews, you know that while he has written some splendid material in the past, I am not that fond of his action scores, and since The Tomorrow War is an action-packed movie, I was quite intrigued about what he had written for it.
The first thing that needs to be discussed is, of course, the main theme. The most fleshed-out version can be heard in "The Tomorrow War." It contains long melody lines by the strings, which are sometimes followed by rapid musical answers by the woodwinds. All of this is supported by a rhythmic synth baseline. One of my practical tests to judge the quality of a theme is to see if I subconsciously hum the melody, while I am doing something else and this theme meets that requirement perfectly. The theme does not appear very often on the album, but another hint to the theme can be heard at the end of "Fight."
One of the most recurring other themes is for Chris Pratt's character. It can be heard in full in "Dan Forester." The melody is performed by the strings, initially supported by electronics. Further on in the track, percussion takes over that supporting role. Other instances where the theme can be found are, for example, at the end of "Message From the Future" and near the end of "Test Tubes."
In addition to Dan's theme there is also a family theme for the Foresters, which can be heard in "Homecoming." The melody has some tranquility to it at the start, but it transitions into a more massive-sounding orchestral version. Other versions of this theme can be heard at the start of the tracks "Colonel Forester" and "Goodbye."
The good guys have received some very strong themes, but it should not come as a surprise that the aliens need one as well, and their theme is quite interesting. It is introduced in the first track "Multiply." The start of it sounds eerie and unnerving, due to some kind of synthetic sound, which is probably a highly processed voice. Later on in the track more natural-sounding vocal lines with the same melody are added on top of it, which are, I assume, all performed by Tori Letzler, who is credited for this score. All these vocal lines, together with the synth sound, create an atmosphere of uneasiness, but it also adds some beauty to it. It is a lovely theme, but it does not really fit in an action score with the aliens as horrifying and murdering machines, but the solution for this challenge can be found in other tracks. In "The Whitespikes" you can hear a more complex version of this version, with the inclusion of percussion, strings and other sounds, but also two long notes that illustrate the aliens' murderous intent. In "Spikes Attack" you can find an orchestral version of the theme.
The last theme I would like to mention is also hinted at in "Spikes Attack" and it is more like a fast-paced sequential buildup, which sounds like hope and a chance of winning, and it can be heard at the 1:10 mark. You can also hear it as part of a superb build-up in the track "Reunited" and as an introduction in "The Draft."
The movie is full of action scenes, but it also contains some tense build-ups and these result in some awesome and immersive tracks. I have already mentioned "Reunited," but also "Pushing" is an excellent example of a build-up track that keeps a certain style and pace, without getting dull. "So it Begins" is another impressive track, written to support a long sequence. It is eight minutes long, containing a pulse that keeps going, while adding layers on top of it, like heavily processed vocals or other electronic sounds and patterns, to keep the sequence interesting.
To be honest, I was almost giving up hope on ever liking Lorne Balfe's writing for action movies. I never understood why people are loving his action scores so much. They were not for me, and I almost thought the same about this score. While the previous action scores did not change my mind after exploring them more thoroughly, I had to come around after studying the film music for The Tomorrow War. Many details in the music Lorne Balfe wrote for it, is fading in the background by all the bullets and explosions in the movie, but listening to the music on its own is a wonderful showcase of integrating thematic ideas into the music to support all the hectic things that are happening on the screen.
I know that while I am writing this review that Balfe's music for Black Widow is already out, but I deliberately did not listen to it yet to keep it from influencing this review. With this one finished, I cannot wait to start exploring his work for the latest Marvel film, to hear if it surpasses The Tomorrow War as Balfe's best work for an action movie.
Listen or buy
Tracklist
The highlights are in bold.
Multiply (2:53)
Spikes Attack (1:57)
Who's With Us? (4:04)
Reunited (3:07)
Back to the Past (4:03)
The Tomorrow War (5:33)
The Whitespikes (4:01)
The Draft (4:41)
Goodbye (4:15)
So It Begins (8:21)
Fight (2:47)
Message From the Future (2:27)
The Nest (2:08)
Test Tubes (3:19)
The Cube (2:51)
Pushing (6:23)
Miami Dolphins Still Suck (1:52)
Colonel Forester (5:09)
Dan Forester (3:16)
Homecoming (2:17)
Total length: 1 hour and 15 minutes
Sony Music (2021)