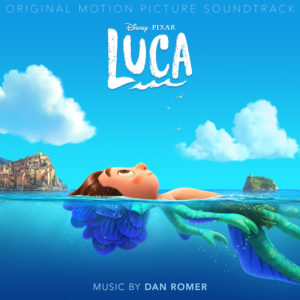 Disney has been busy these last months. Not only have they been releasing brand new series on Disney+ like the Marvel shows The Falcon and the Winter Soldier and Loki or the new Star Wars animation The Bad Batch, but also movies like Cruella on their VIP subscription tier, and the latest Pixar movie Luca on their regular tier. Pixar animations have often resulted in amazing soundtracks, with movies like Up, Finding Nemo and Soul receiving Oscars for best music, which makes Luca an interesting soundtrack to explore.
The story for Luca is about a teenage sea monster, who can transform into a human when he comes to shore and is trying to fit into the dangerous world of these land monsters. As usual for a Pixar movie, the story is light-hearted with a bit of a hidden message, and the task to provide music for it was given to Dan Romer. Romer has written quite some music in his career, but I know him best for his music for Beasts of the Southern Wild and Wendy. Both scores have some of that light-heartedness, with a strong base of musical patterns and a wonderful melody played over it, and I was quite delighted to hear the same style in the music for Luca.
The first track, "Meet Luca," is a good example of what to expect from the rest of the album. In it, you can not only hear the main theme, being whistled and performed on a clarinet, but you can also hear lovely patterns, most of the time plucked by the strings, which add joy and gentleness to the music. The use of acoustic guitars and Romer's own instrument, the accordion, also gives the music a Southern European sound, something that highlights the environment where the story takes place. Especially "That is the Dream" is a good example of Romer's gorgeous musical style, containing a solid musical foundation by orchestra, piano and percussion, with the main theme played over it. There are also a few other themes, with the theme for the parents, which can be heard in "Land Monsters Everywhere," performed by a bass clarinet and a tuba, being one of the highlights..
The music Romer has written for Luca is a perfect fit for the movie. The gentleness and joy of the music add to the story. It reflects that none of the characters in the movie are truly monsters (land or sea), and makes watching the movie an overall pleasant and fun experience. It will probably not receive an Oscar nomination, since the music does not really fit in the style of recent nominations, but it is a well-done score nonetheless.
Listen or buy
Tracklist
The highlights are in bold.
Meet Luca (4:08)
Did You Hide? (1:04)
The Curious Fish (1:39)
You Forgot Your Harpoon (0:39)
Phantom Tail (2:09)
Walking Is Just Like Swimming (2:02)
Vespa è Libertà (1:42)
You Hold the Ramp (0:59)
Silenzio Bruno (0:41)
That's the Dream (2:05)
The Bottom of the Ocean (1:52)
Take Me, Gravity (1:44)
Portorosso (1:36)
Signor Vespa (1:17)
This Isn't Any Old Race (2:55)
Buonanotte, Boys (1:27)
Land Monsters Everywhere (0:55)
Buongiorno Massimo (3:03)
The Out of Town Weirdo Tax (1:48)
Rules Are for Rule People (1:08)
How Humans Swim (1:03)
Not Our Kid (0:49)
Telescope (2:46)
Beyond the Solar System (1:02)
We Don't Need Anybody (1:54)
The Sea Monster (3:33)
I Wish I Could Take It Back (4:01)
The Portorosso Cup (7:34)
How to Find the Good Ones (5:14)
Go Find Out for Me (1:39)
Total length: 1 hour and 4 minutes
Walt Disney Records (2021)