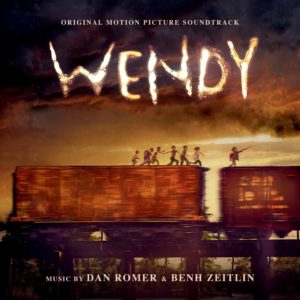 As a soundtrack critic I see a lot of soundtracks passing by. I see them on my social media feeds with reviews of my fellow critics or in emails that I get from people who work in the film music industry. Apparently, I am mildly influenced by the cover of a soundtrack album when deciding whether I want to explore a score or not. I have seen the album cover for the movie Wendy several times, but it never grabbed my attention. When I found out, however, that the score was written by Dan Romer, co-composed with the director of the movie, Benh Zeitlin, I was suddenly very intrigued. Wendy is Zeitlin's second film as a director and tells a different version of the famous Peter Pan story. I have listened to their music from Beasts of the Southern Wild, which I think is a gorgeous score, and could not wait to dive into the music from their latest collaboration.
The music for this movie was exactly what I was hoping for. On this album you can find a lot of wonderful melodies and patterns in various styles. There are some pieces which bring back memories of the superb track "Once There Was a Hushpuppy" from Beasts of the Southern Wild, as can be heard in "Never Grow Up," for example, where instruments just play with and around each other, creating a gorgeous and melodic piece. Other tracks, like "The Old Hand," have a mysterious vibe to them with more electronic sounds. "I Love My Mother" is a song which is sung by a group of singers. I know that such a group is usually called a choir, but in a choir all the voices sound like one, yet in this track you can really hear the individual voices giving the music a much more personal touch. The last track I would like to mention is the uplifting, fast-paced "Straight On 'till Morning." When I am listening to it, I just need to keep moving.
I missed the opportunity to watch this movie when it came out, since the movie theaters were closed. I am extremely curious about how this wonderful music fits with the visuals and especially with the director co-composing the music, I feel that the music must blend with the images extremely well. If I get the chance I will definitely watch it, although it is not really needed. This soundtrack is just an absolute pleasure to listen to on its own.
Listen or buy
Tracklist
The highlights are in bold.
Sneak Away (1:24)
Straight On 'till Morning (2:21)
The Haunted Train (2:06)
Into the Night (1:40)
Neverbirds (1:44)
The Mother (2:42)
Never Grow Up (3:45)
The Old Hand (3:29)
Where Lost Boys Go (2:06)
Want To Fly? (6:07)
To Grow Up is a Great Adventure (1:36)
Battle for Mañana (4:23)
I Love My Mother (3:15)
Counting the Days (2:31)
The Story of Wendy (5:13)
Once There Was a Mother (1:38)
Total length: 46 minutes
Milan Records (2020)