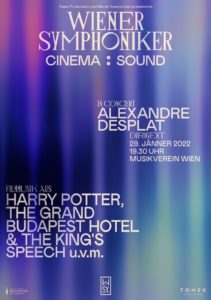 The multiple award-winning Hollywood composer Alexandre Desplat will return to Vienna on January 29, 2022, to conduct a selection of his award-winning screen compositions in the Great Hall of the Wiener Musikverein as part of CINEMA:SOUND!
Audiences can expect a musical journey from movies like The Grand Budapest Hotel, Harry Potter, Benjamin Button and The King's Speech.
Ticket sale starts at 11:00 on Oct. 12 at https://www.wienersymphoniker.at, https:///www.musikverein.at, https://www.tomekproductions.com or https://www.oeticket.com.