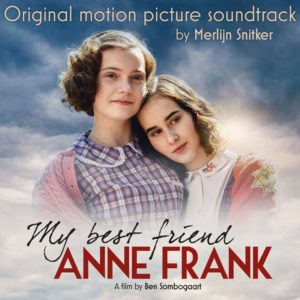 As is true for so many countries, the Second World War was horrendous for people in the Netherlands, and terrible stories can be told about that period. One of the famous ones, even known all over the world, is the story about the Jewish girl Anne Frank, who hid from the Nazis in the similarly famous Secret Annex, where she wrote her diary. Several movies have been made that tell her sad story, but none of them were Dutch. There were some Dutch TV shows that were made in the past about her, but it took 76 years after the war for the first Dutch movie to appear in movie theaters with My Best Friend Anne Frank (original Dutch title: Mijn Beste Vriendin Anne Frank).
The movie is based on the true story of Hannah Goslar, who was a close friend of Anne', and it is, as can be expected, not a happy one. I can imagine that writing the music for it was a challenge, and it did not come as a surprise to me that the assignment was given to Merlijn Snitker, a well-known and experienced composer, with music for many Dutch television and movies on his resume, including the music for The Desire and The Resistance Banker, another Second World War movie.
The 40-minute album for My Best Friend Anne Frank contains 16 tracks, and in many of them the music is played by a string ensemble, sometimes joined by instruments like the piano or the harp. What stands out for me in the music are the gorgeous emotional melodies and patterns, but what I like the most is how natural and human it all sounds. Someone told me not so long ago that a string instrument like a violin is the most human-sounding instrument next to the voice. The reason for this is how the instrument is played, using a bow and making vibratos with the fingers. It is not something that can really be done with artificial sounds, and it adds the needed extra layer of emotion to the film. Perfect examples of what I mean are the wonderful cello solo, which can be heard in "My Best Friend Anne Frank" and in "God Knows All But Anne Knows Better" and the piano and violin duet in "Family Goslar."
In the Netherlands many soundtracks for film and television do not get released, so I am quite content that this is not the case for the music Merlijn Snitker has written for My Best Friend Anne Frank. This intimate and delicate score perfectly fits the story of the two Jewish girls Anne and Hannah and should be heard in, but also outside of, the Netherlands.
Listen or buy
Tracklist
The highlights are in bold.
My Best Friend Anne Frank (5:51)
The Ring (1:14)
What Would Hannah Do (3:08)
Family Goslar (2:39)
Hannah and Anne (2:03)
True Love (2:18)
Hanneli Wait, Come Back (3:38)
Sweet Dreams Papa (2:15)
The Secret Annex (2:03)
The Whistle (1:27)
Inspection (2:25)
Mother (1:01)
The Fence (2:26) 
Call The Doctor (1:35)
Throw Hannah Throw (2:08)
God Knows All But Anne Knows Better (2:41)
Total length: 39 minutes
Riva Media Records (2021)