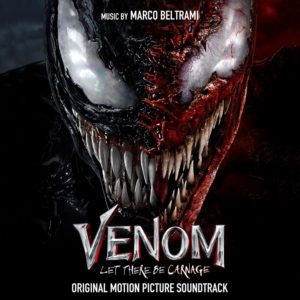 One of the most successful motion picture franchises must be the movies based on the Marvel superheroes. The majority of these are produced by Disney and focus on the Avengers, but not all of them are, because the Spider-Man license is owned by Sony. The human spider is the company's only Marvel superhero, and since the latest Spider-Man movies did quite well, they decided to be creative and made the movie Venom, which is based on a villain from the Spider-Man universe. Apparently, the movie was successful enough to warrant a sequel Venom: Let There Be Carnage.
The music for the first movie was composed by Ludwig Göransson, but as is often the case with a sequel, the assignment was given to a different composer. In this case to Marco Beltrami, who has composed for other Marvel movies, Logan and Wolverine. The music Beltrami has written for Venom 2 is orchestral most of the time, with some electric guitars added to the mix, and often has a supportive role for the scenes.
While most of the music is supportive and not very pleasant to hear on its own, Beltrami did also come up with some interesting ideas. A wonderful example is "Eddie Draws," with all kinds of wacky and fun sounds, but what I love the most are the two main themes for protagonist Eddie Brock – with the Venom symbiote – and mass murderer Cletus Kasady – with the parasite Carnage. The reason I like them is that they both have a foundation in the piano but in different ways. For Brock, the theme is like blues as can be heard in "Venom and Blues," which starts on the piano before it transforms into an orchestral piece. Cletus' theme is even more glorious. His theme is unnerving and is played on a piano, and it sounds like one key of this piano is broken and produces a higher-pitched sound when it is used. The theme can be heard in "St. Estes Reform School," together with more gorgeous, but also eerie, sounds.
Most music from the album is pretty forgettable for me, since it requires the movie for context, but there are some gems to be found, as I mentioned above. I will probably not give this score much thought after this review, but when one of the themes randomly pops up in my Spotify list, I am certain that it will bring a smile to my face.
Listen or buy
Tracklist
The highlights are in bold.
St. Estes Reform School (Extended) (3:26)
Cletus' Cell (2:44)
Eddie Draws (1:30)
Brock's Revival (0:59)
Lucky Slaughterhouse (1:45)
Ann's News (1:06)
Take the Hit (1:29)
Postcard From the Edge (1:52)
No Touching! (3:31)
Eddie Hangs on the Line (1:03)
Lethal Rejection (2:04)
Carnage Unleashed (2:04)
Mulligan Visits Eddie (2:45)
There is Only Carnage (1:40)
Get Shriek (2:39)
The Great Escape (2:19)
Venom Needs Food (1:15)
People Seeing Monsters (1:30)
Find Venom (1:56)
Turn on the Charm (1:40)
Eddie Escapes (2:25)
Shriek Comes Home (2:23)
You Can Eat Them All (1:38)
Unholy Matrimony Pt. 1 (6:16)
Unholy Matrimony Pt. 2 (4:02)
He Did Not Taste Good (2:17)
Panza and Quixote (1:00)
Venom and Blues (2:33)
Venom's Suite Tooth (3:12)
Brock and Roll (2:44)
Total length: 1 hour and 7 minutes
Sony Classical (2021)