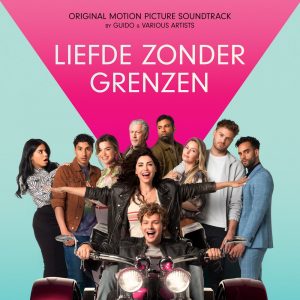 With the Netherlands in lockdown it is not possible for me to go to the movie theater to see the latest movies. Nevertheless, I still wanted to write a review, so I took a look at my backlog of review candidates and decided to dive into the music for the Dutch movie Liefde Zonder Grenzen (English: Love Without Borders). The movie is a romantic comedy, which is a popular genre in the Netherlands. I picked this soundtrack because, first of all, it was written for a Dutch movie, and, secondly, it was composed by a composer I did not know before: Guido Heeneman under his artist name GUIDO. He has written more soundtracks in the past but has not been on my radar before Liefde Zonder Grenzen.
If you look at the cover, you will notice that GUIDO was not the only one who contributed to the score, since it says 'Various Artists' next to his name. The artists in question have helped him by performing love songs, which can also be found on this album. Most of them are performed by Daan, but he is not the only contributor, since LAURA, Rachel Louise, and Chris Murphy have been credited as well. I could not find much other material by them on Spotify, so that probably explains why I have not heard their names before, although that does not diminish the quality of the songs.
GUIDO obviously still had to write the music for the scenes between the love songs. The music he has created is minimalistic with just a handful of instruments: chief among them a piano, acoustic guitars, a small string ensemble and some additional synth elements. Surely it is written to support the corresponding scenes with happy and sad melodies, but unfortunately I am unable to confirm this, as I did not see the movie while it was in theaters. The standout tracks for me are the ones in which the focus lies on a single instrument. One is "Eva's Bucketlist" with intimate piano play, and the other is "The Breakup," in which one acoustic guitar starts to play all by itself until the piano joins in to add an additional layer of emotion to the music.
There is not much else I can say about the music, besides the fact that I think that the songs and the rest of the music blend together very well. Romantic comedies do not need complicated music most of the time, and it is not really the kind of music I am drawn to. I probably would not have listened to this music if I had been familiar with Guido Heeneman's work. I am glad that I did though, since the music is melodic and pleasant to listen to in the background while I am doing something else. I will keep an eye on GUIDO, to see what he comes up with for future movies.
Listen or buy
Tracklist
The highlights are in bold.
Lynch Syndrome (1:14)
Thinking of You [preformed by Daan] (3:04)
Maarten's Secret Part I (0:48)
Eva's Bucketlist (1:08)
Family Dinner (0:50)
Medication Schedule (2:08)
What's your Preference, Ferry? (0:59)
It's Happening [preformed by Daan] (2:12)
Maarten's Secret Part II (2:12)
Ferry & Mike's Growing Friendship (2:46)
The Tumor has Grown (2:08)
Alhoub Al Mamnoue (Forbidden Love) (1:27)
Thanks for Today (0:48)
Lust for Life (1:11)
Other Dates (1:45)
Not my Father (1:31)
The Breakup (2:27)
Let it Go [performed by LAURA and Daan] (4:02)
Solitude Surrender [performed by Rachèl Louise] (3:20)
Proud to be your Daughter (3:17)
Cannot Stop [preformed by Chris Murphy] (5:04)
Total length: 55 minutes
Riva Media Records (2021)