Many things came to a halt during the pandemic, but fortunately this was not the case for the Krakow Film Music Festival. It was one of the first events that switched to an online version in May 2020, by providing videos of previous concerts on its social media among other things. I was also able to attend one of their open-air concerts in August 2021. But now with Europe opening up again, the 2022 edition of the festival could again entertain us with a complete program of six concerts, workshops and guests.
The concerts
While this edition featured six concerts, the festival was still not quite at its full strength as it was before the pandemic. With the war in the neighboring country Ukraine, only one high-profile composer was announced to be coming over from the US – John Powell. His music was featured in two concerts: One dedicated to his music career, and the other a screening of the How To Train Your Dragon movie with a live orchestra. The other concerts of the festival had more of a local character.
May 24: Kilar | Glass
The first concert is a project developed by the FMF and Fimucite. It mainly focused on the music from Wojciech Kilar, but the concert also featured some music by Philip Glass, since their music has some similarities. The concert was conducted by Michael Riesman, who is the director of the Philip Glass Ensemble, and the piano solos were played by Aleksander Dębicz. The concert did not start with film music, however, but with Kilar's Piano Concerto No. 2. My highlight of this first evening was not film music either: Kilar's Orawa left the musicians sweating after their hard work of playing rapid patterns on their instruments. The rest of the evening was filled with minimalistic film music that never got boring, as only specialists of minimalism are able to do.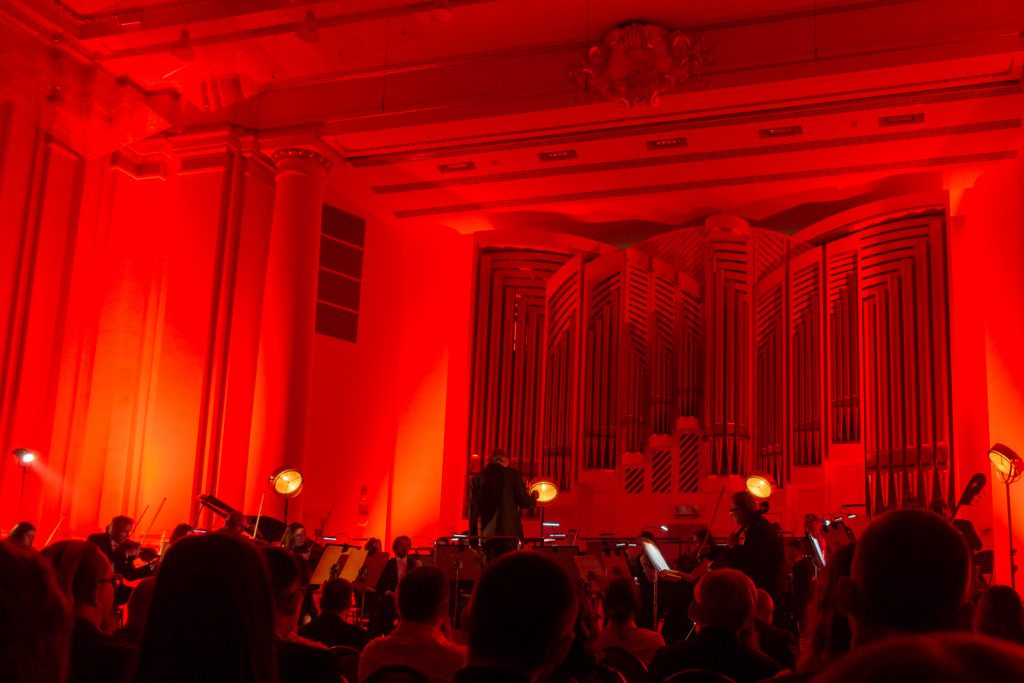 Concert information
Orchestra: Sinfonietta Cracovia conducted by Michael Riesman
Artists: Aleksander Dębicz and Joanna Radziszewska
Program
Wojciech Kilar – "Piano Concerto No. 2"
Wojciech Kilar – "A Certain Light" from The Portrait of a Lady
Wojciech Kilar – "Orawa"
Wojciech Kilar – "Vocalise" from The Ninth Gate
Philip Glass – Suite from The Hours
Wojciech Kilar – "The Brides" from Bram Stoker's Dracula
Philip Glass – Suite from Dracula
May 25: Scoring4Polish Directors: Jerzy Skolimowski
One of the traditional concerts at the FMF is a concert featuring music from the movies of a Polish director. This edition featured music from Jerzy Skolimowski's movies. Skolimowski was, unfortunately, unable to attend, but he appeared in a video addressing the audience from a hospital.
In the first half, we could listen to three pieces from several of his movies, and also to the music by Young Talent Award winner Ignacy Wojciechowski. The Polish Soundtrack of the Year Award was announced as well. It went to Wojtek Urbański for the music he wrote for Operation Hyacinth.
My highlight was the second half of the concert which featured a single 50-minute suite with music from a range of movies by Skolimowski, carefully arranged by the conductor Jan Stokłosa. In this suite, we could listen to a variety of solos by musicians and vocalists, who silently walked on and off the stage, while the orchestra kept playing to keep the music going. The finale of the suite was amazing. This should not be a surprise as that music was partly composed by Hans Zimmer, before his full career as a film music composer began.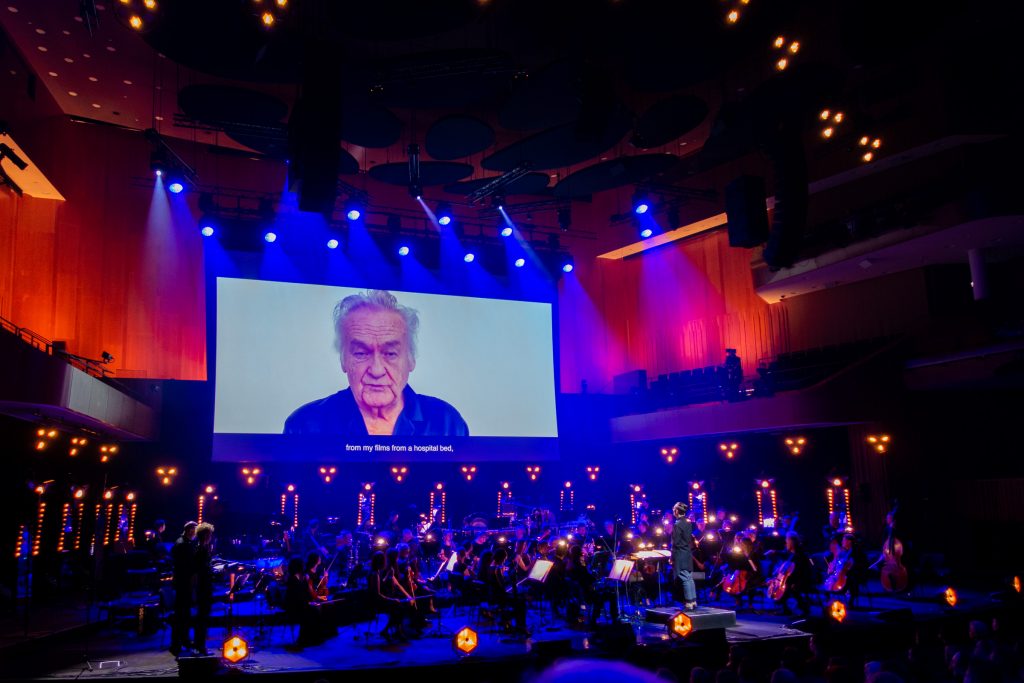 Concert information
Orchestra: Krakow Philharmonic Orchestra
Band: Stokłosa Collective Band: Paweł Stankiewicz, Maciej Szczycinsk, Marek Lipski and Robert Rasz
Artists: Katarzyna Chlebny, Edyta Krzemień, Lidia Sosnowska, Tomasz Organek, Kuba Więcek, Wojciech Lubertowicz, Wiesław Ochwat and Stanisław Słowiński
Special guests: Marcin Stańczyk, Wojtek Urbański and Ignacy Wojciechowski
Program
Paweł Mykietyn – EO
Ignacy Wojciechowski – 2022 FMF Young Talent Award winning composition
Wojtek Urbański – Operation Hyacinth
Marcin Stańczyk – Dark, Almost Night
Intermission
Skolimowski Suite

Krzysztof Komeda – Barrier, Start, Ręce do góry
Andrzej Trzaskowski – Walkover
Ørganek – 11 Minutes, O, matko!
Cat Stevens – "But I Might Die Tonight" from Deep End
Tony Banks – The Shout
Paweł Mykietyn – Essential Killing, 11 Minutes
Hans Zimmer, Stanley Myers – Moonlighting
May 26: Composers4Ukraine
I prefer to use my own words when I write a report about a concert, but for this specific one, I would first like to quote the official words from the organization:
"We are facing one of the most difficult moments in our modern history. We strongly believe that the festival's duty is to appreciate and highlight both Ukrainian heroism and tremendous selfless help provided by people from all over the world. As always, we want to do it side by side with our partners, creating a united and powerful statement among the film music composers."
I totally agree with these powerful words, and I could not have said it any better. This was put into action by inviting the orchestra from Lviv, Ukraine, to perform this concert, for which the male members were able to leave their country for a couple of days. Moreover, the Polish choir had taken in many Ukrainian singers.
For this concert, we could listen to beautiful pieces that were dedicated to, especially arranged or written by film music composers for the Ukrainian cause, with many of the pieces having a strong focus on the choir. The evening was a beautiful and emotional experience, filled with gorgeous music. Hopefully, the situation in Ukraine will improve soon, so that we do not need a concert like this again.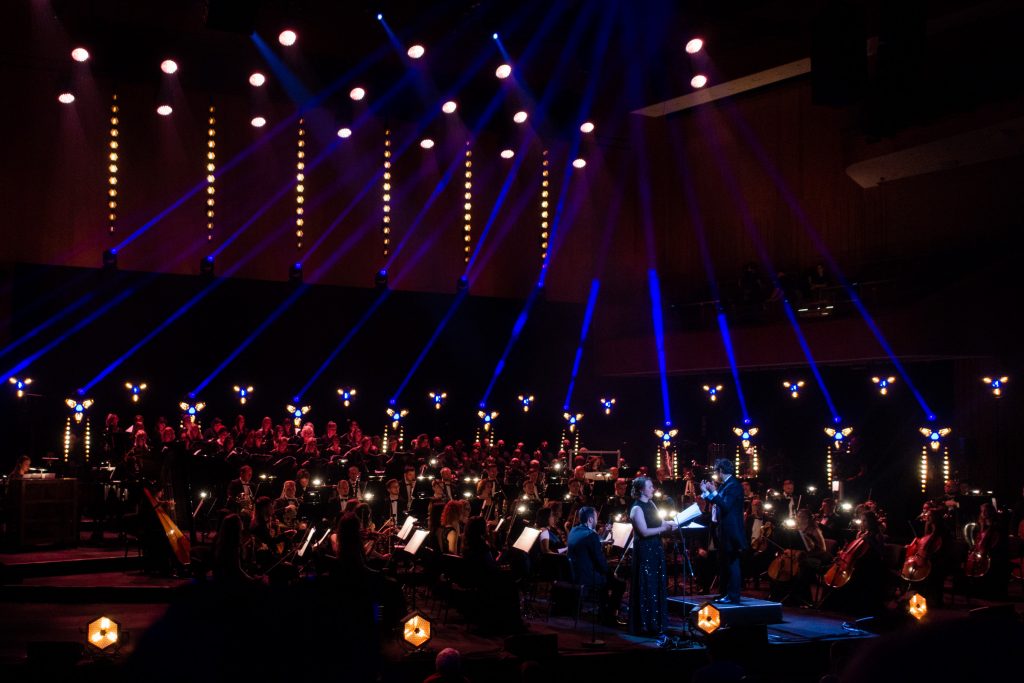 Concert information
Orchestra: International Symphony Orchestra Lviv conducted by Alexander Humula
Choirs: Camerata Silesia: The Katowice City Singer's Ensemble and Pro Musica Mundi Choir conducted by Wiesław Delimat
Artists: Holly Sedillos, Mariana Poltorak, Solomiia Plavlenko, Yana Hurtova, Tomasz Swierczek and Patryk Wyborski
Special guests: Diego Navarro, Antoni Komasa-Łazarkiewicz and Yeakun Yoo
Program
State Anthem of Ukraine
Antoni Komasa-Łazarkiewicz – "Czornym wyhorom – noczi…" **
Stephen Warbeck – "For Ukraine" **
Don Davis – "Chorale" from Behind Enemy Line
Dirk Brossé – "Pace" **
Howard Shore – "Agnus Dei"
Hildur Guðnadóttir – "Vichnaya Pamyat" from Chernobyl
Myrosław Skoryk – "Tryptyk huculski" part 1.
Benjamin Wallfisch – "Elegy for Ukraine" from Bitter Harvest
Elliot Goldenthal – "Hymn for a War Refugee" **
Intermission
Diego Navarro – Suite from "The Photographer of Mauthausen" and "Passage to Dawn"
Craig Armstrong – Fragment from Painted in White
Jan A.P. Kaczmarek – Finding Neverland

Where Is Mr. Barrie?
Why Does She Have to Die?

Lolita Ritmanis – "Lūgšana: Dodi Mieru Mūsu Brāļiem" from Blizzard of Souls
Michael Giacchino – "Parting Words" from Lost
Laura Karpman – "In Strowbill version 2" from Untold Legends: Brotherhood of the Blade
John Powell – "The Gift" from A Prussian Requiem
Patrick Doyle – "Fear No More" from All is True
Yeakun Yoo – Arrangement of "Requiem for Fallen Warriors"
John Williams – "Cadillac of the Skies" from Empire of the Sun
John Williams – "Song for World Peace"
State Anthem of Ukraine
** World Premiere
May 27: Słowińska | AUKSO | Konieczny
Special guest for this unique concert was Zygmunt Konieczny. He is a Krakowian composer who has written a lot of music in his long career, including some film music. During this concert vocalist Joanna Słowińska sang a collection of Polish songs with the lyrics written by poets and the music by Konieczny. Słowińska was supported musically by a string section of AUKSO, and the Stanisław Słowiński Quintet. When the concert was over, Konieczny received an award from the City of Krakow, and Słowińska received a medal, both for their achievements. The best way to describe this concert is by saying that I had an amazing evening, but that I had no idea what was going on, since I do not know any of the artists, and I do not speak Polish, making the concert quite an interesting experience with new music.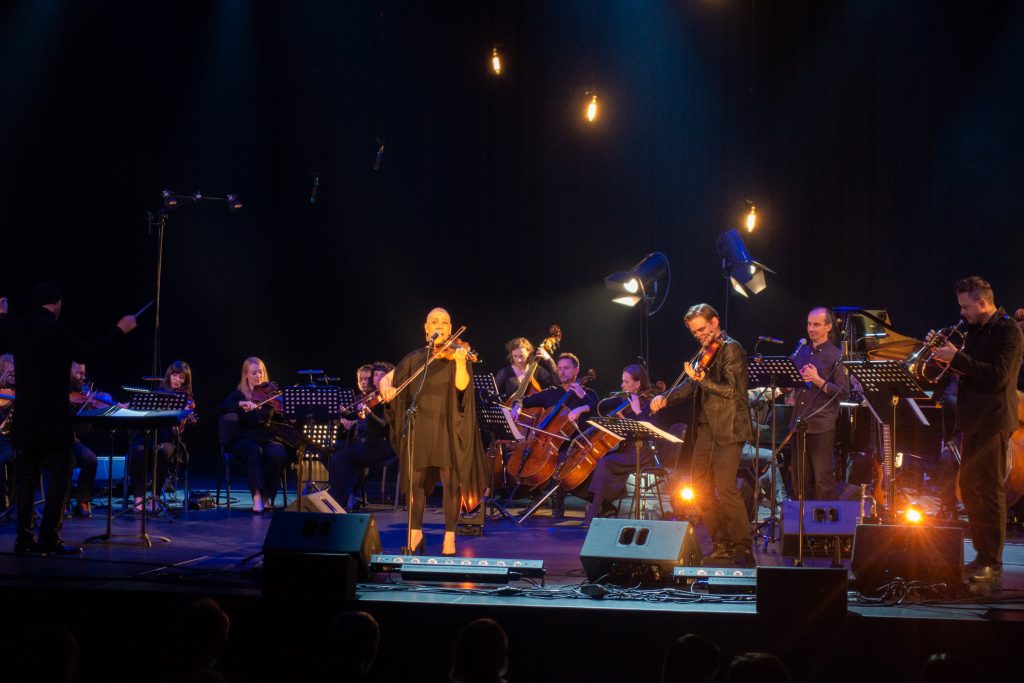 Concert information
Orchestra: AUKSO Chamber Orchestra conducted by Marek Moś
Band: Stanisław Słowiński Quintet
Vocals: Joanna Słowińska and Karol Śmiałek
Special guest: Zygmunt Konieczny
Program
Taki pejzaż, lyrics by Andrzej Szmidt
Grande Valse Brillante, lyrics by Julian Tuwim
Piosenka Weroniki, lyrics by Jan Jakub Kolski
Jaki śmieszny, lyrics by Wincenty Faber
Już ja z tobą nie zostanę, lyrics by Wojciech Młynarski
Pocałunki, lyrics by Maria Pawlikowska-Jasnorzewska
Diabły, lyrics by Zbigniew Książek
Karuzela z madonnami, lyrics by Miron Białoszewski
Wiersze wojenne, lyrics by Krzysztof Kamil Baczyński
Nie ma w świecie prawdy, traditional, translation from Ukrainian by Włodzimierz Nakoneczny
Pallas i Nike, lyrics by Stanisław Wyspiański
Chcę, lyrics by Stanisław Wyspiański
Niech mi nad grobem nikt nie płacze, lyrics by Stanisław Wyspiański
Ta nasza młodość, lyrics by Tadeusz Śliwiak
Kołysanka dla Jaszy, lyrics by Agnieszka Osiecka
May 28: The Music of John Powell
If you have attended the John Powell concert in Hamburg, or have read my report about it, you know that we were in for a treat with this concert. John Powell is quite an introvert, but when he is on stage, he is quite funny and entertaining. Almost half of the concert's program repeated the music from the Hamburg event, but we could also listen to some newly arranged suites. Especially with soprano Holly Sedillos present, new music could be performed, like "The Joke is Told" from the opera An Englishman, A Frenchman & An Irishman, which is written by Powell and the conductor of the evening, Gavin Greenaway. "Chicken in the Pot" from Solo: A Star Wars Story was performed as well, with Sedillos singing both parts. The guest star on the stage during this was a roasted chicken mounted on a microphone stand. This gives you an impression of how amusing the evening was. In addition to having a good laugh, the gorgeous music from John Powell, all arranged by Batu Sener, was magnificent, making the evening perfect, and the highlight of the festival for me.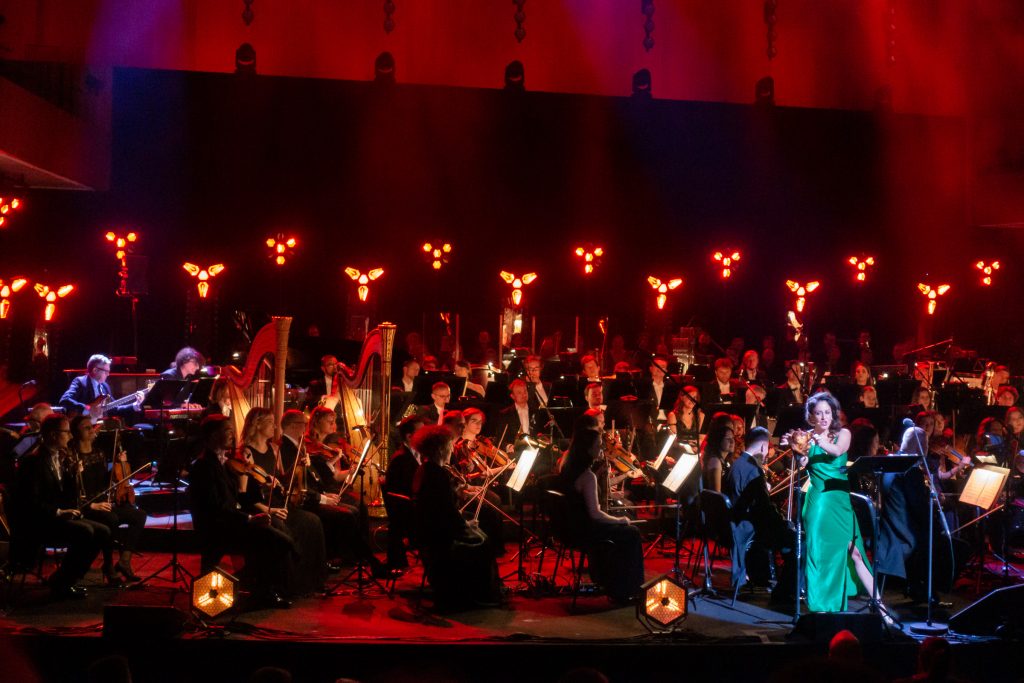 Concert information
Orchestra: Sinfonietta Cracovia conducted by Gavin Greenaway
Choir: Polish Radio Choir
Vocals: Holly Sedillos
Host: John Powell
Program
Suite from Rat Race
"Lando's Closet" from Solo: A Star Wars Story
"Building the Crate" from Chicken Run
Love Theme from Two Weeks Notice
Suite from Pan
"The Joke is Told" from An Englishman, A Frenchman & An Irishman
Suite from Ferdinand
Intermission
"The Opening " from The Bourne Identity
Solo: A Star Wars Story

Chicken in the Pot
Mine Mission Suite

"Victory is Ours" from A Prussian Requiem
Suite from How to Train Your Dragon 2
"Poisonous Love" from Rio 2
"The Hidden World Suite" from How to Train Your Dragon: The Hidden World
"Building the Crate" from Chicken Run (encore)
May 29: How To Train Your Dragon – Live in Concert
The last concert of the festival was in honor of Children's Day in Poland. The kids who gathered in the concert hall could enjoy How To Train Your Dragon with a live orchestra. Since young Polish children do not speak English, the dialogue was in Polish, but with English subtitles. I did not mind, of course, since the concert was meant for them, and I know the movie by heart. This meant I could focus on enjoying the perfect score live, performed by the Beethoven Academy Orchestra, conducted by Ernst van Tiel.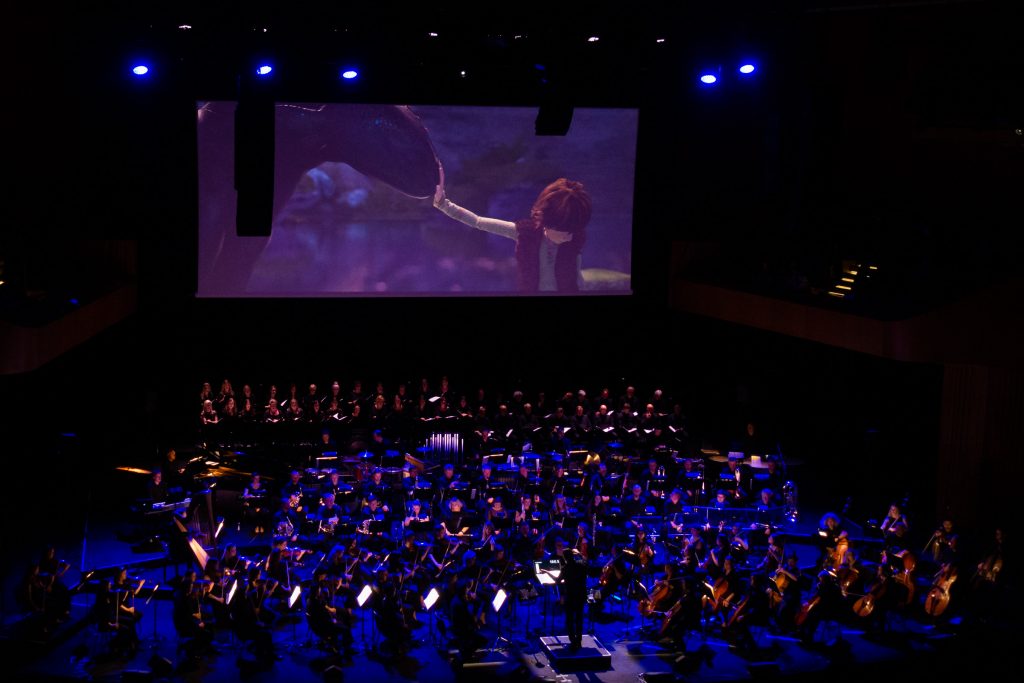 Concert information
Orchestra: Beethoven Academy Orchestra conducted by Ernst van Tiel
Choir: Krakow Philharmonic Choir
Special guest: John Powell
Panels
While there were not many guests from Hollywood at this festival, we could still learn about the film music industry by attending its panels. We could listen to Gary Marlowe, talking about his latest soundtrack Everything Will Change, in which he employed a wide range of synthesizers; Miriam Cutler talking about writing music for documentaries; Diego Navarro and Gorka Oteiza talking about writing for Spanish Netflix shows; filmmusic.pl launching their new website and many more.
John Powell was also available for two panels. During the first one he talked about working together with Batu Sener and Holly Sellidos. Suffice to say that the room was packed. Although he was not available for signatures right afterwards, that became possible during the meet and greet the next day. That panel took place outdoors in the sun, where the host Piotr Krasnowolski interviewed Powell first, before passing the microphone to the audience for a chance to ask Powell what was on their mind. After this panel, everyone could join the line to get autographs on their CDs and other items. It is always wonderful to see a composer like Powell taking the time to meet their fans and make their dreams come true.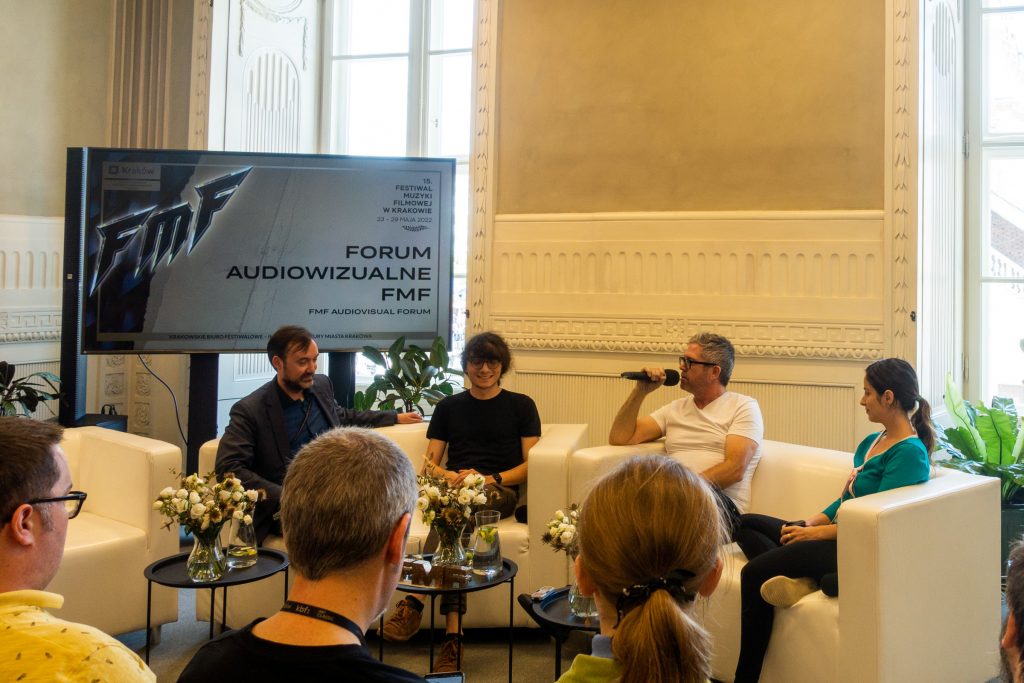 Interview
The Krakow Film Music Festival is a wonderful event for a chance to interview composers, to get a glimpse of their creative minds. I was able to conduct one significant interview during this edition: With the help of Gorka Oteiza from SoundtrackFest, we had the opportunity to collaborate on interviewing none other than John Powell himself. We spent more than 20 minutes talking about his influences, How To Train Your Dragon, and his thought process. You will be able to read that interview in the near future in English, Dutch and Spanish. I am very grateful to Oteiza for making this happen.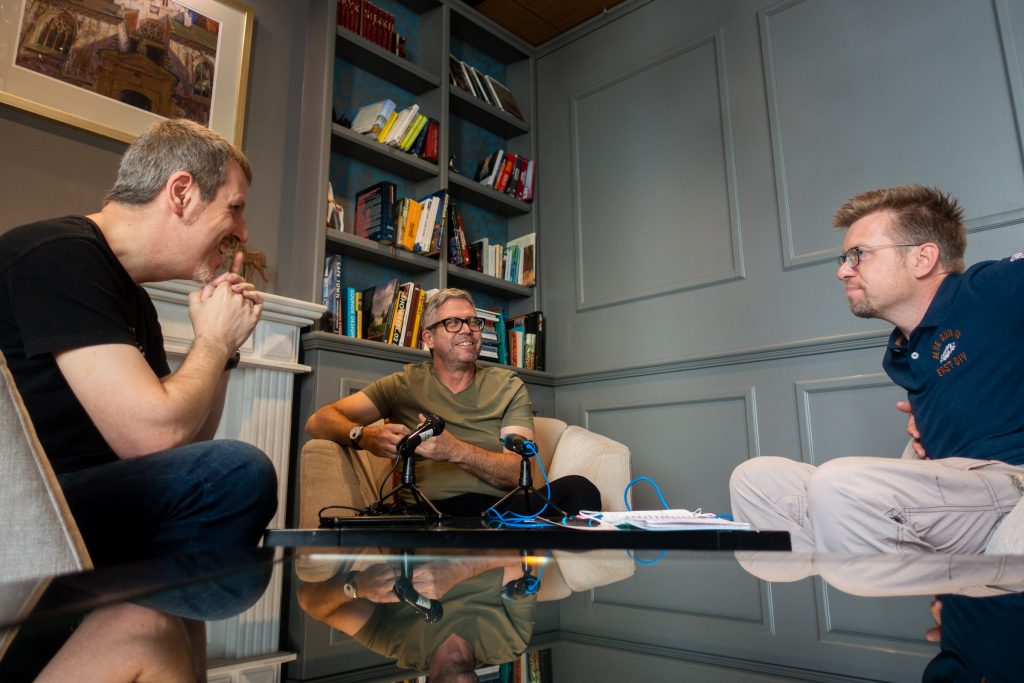 Conclusion
Because of all the crises in the world, the FMF was a bit smaller than in the pre-pandemic years. It reminded me of the festival from about ten years ago. There were fewer meet and greets with composers and fewer workshops as a result of these problems. But with that said, this edition was more mature in a way. Each concert was unique and extremely well-produced. I always see concerts in big sports arenas like Tauron Arena in Krakow as a necessity for a large audience to attend a concert. For me, to be able to listen to all the excellent concerts in the smaller, but better-suited venues was a delight, and it introduced me to some fantastic and lesser-known new music.
The FMF is the biggest film music festival in the world and it is expanding. There is already strong collaboration with Fimucite on Tenerife, but there are also ties with the World Soundtrack Awards. During this edition, a new film music festival in Rome was announced for late September as well. Krakow Film Music Festival 2022 was excellent, and I think it is only the start of all the good things to come film music-wise in Europe.
Photos
Here is an overview of other photos taken during this festival.