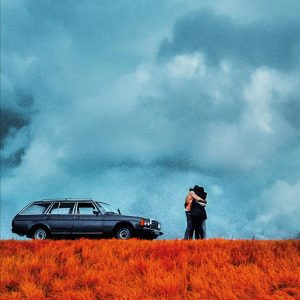 One of the things I love about attending film music festivals is meeting people. I have exchanged pleasantries with composer Gary Marlowe in the past, but during this year's Krakow Film Music Festival, I could finally really interact with him and got to learn more about his latest project: the music he composed for the Sci-Fi movie Everything Will Change. I have been looking for the movie, but sadly I have not been able to find it: I have not seen it appear in movie theaters, and it is not available on streaming platforms. The movie is a German and Dutch co-production, so I am a bit confused as someone from the Netherlands. I would still like to write about its music because Marlowe had an exciting story to tell.
The music for Everything Will Change is something I have not heard in film music for a long time: A score mostly made by analog synthesizers. What I love about these instruments is that while they are electronic at their core, their sound is created and influenced by human reaction. Even the length of the notes and volume can be changed by knobs and buttons, adjusting the sound just as you'd do while plucking a string on an electric guitar. Synthesizers are not the only instruments on the album; there is also room for some guitars, a piano and a vocalist.
The reason why I wanted to cover this soundtrack is that, first of all, it is a wonderful score. Marlowe has been talking about it passionately, and this passion is reflected in the music. Unfortunately, I haven't been able to hear it in the context of the movie yet. Secondly, this music reminded me of how wonderful synthesizer music can be. Artificially made sounds created by computers often sound soulless since there is no human interaction in the actual sound itself. Many soundtracks nowadays use these computer-generated sounds, and when I heard the word "synthesizer" in the past, this kind of digital music came to mind. Fortunately, with his enthusiastic talk about writing music, Marlowe reminded me of the true potential of synthesizers, resulting in the excellent score for Everything Will Change.
Listen or buy
Tracklist
The highlights are in bold.
End of an Era (03:01)
A Fellowship of Rebels (04:42)
Fairytale Suite (03:21)
The Journey (02:09)
Eden (02:18)
Extinction Pt 1-4 (07:24)
El Palmar 0(1:13)
Dark Motor (02:04)
The Ocean Says (03:35)
Bat Shit Crazy (Ode To Vangelis Papathanassiou) (02:33)
Time Travel (Chapeau To Alan Silvestri) (00:38)
Sharing the House (03:46)
Our Consciousness (03:39)
Monologue (03:13)
Total length: 43 minutes
Denovali Records (2022)