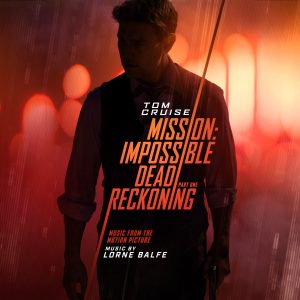 The Mission: Impossible franchise has been going on for decades. With that, I do not only mean the television series from the '60s but also the Mission Impossible movies with Tom Cruise that started in 1996. The latest film is Mission: Impossible – Dead Reckoning Part One, with music from Lorne Balfe, who returned after writing the score for this movie's predecessor, Mission Impossible: Fallout. As can be read in my review, I was not fond of that particular score. In recent years, Balfe was able to surprise me with many exciting scores for other movies. I was hoping that the trend would continue with Dead Reckoning Part One, and to get ahead of myself: He absolutely did.
In my review of Fallout, I mentioned that I did like one particular track, namely "Stairs and Rooftops," which I found to be a perfect fit for that movie. That track uses bongos and the orchestra in harmony to create a fun track that worked for the scene and was fun to listen to without the context of the film. The reason for talking so much about a track from a different movie in this review is that the entire score of Dead Reckoning Part One gives me the same vibes. If you are thinking about Mission Impossible, its main theme probably comes to mind, and Balfe transformed a part of it into Ethan Hunt's theme, which he also used in Fallout. Its melody is again the foundation for the music for Dead Reckoning Part One, together with original themes from Lalo Schifrin from the sixties. Balfe also wrote new thematic material, representing the antagonists Gabriel and The Entity, for example, cleverly integrated into the music and appearing at the right moments in the film.
What stands out is how the soundtrack for Dead Reckoning Part One stays engaging. The movie has many sequences that are pretty long, with many things happening on screen and without any dialogue. In those sequences, the music is allowed to shine. Not only does Balfe use different orchestral elements to keep the music going without getting boring, but he also is able to blend his iconic bongos in exceptionally well. In addition, for this score, he also used military drums, to add even more freshness to the soundtrack. I was engaged the whole time while watching the movie, and the music reality contributed to that. I am quite excited for Part Two. Let us see what the music will bring.
Listen or buy
Tracklist
The highlights are in bold.
The Sevastopol (2:07)
The Phantom (3:05)
Collision Alarm (1:31)
A Ghost in the Machine (2:38)
The Sum of Our Choices (1:24)
Dead Reckoning Opening Titles (1:12)
The Entity (3:22)
Your Mission… (2:34)
This Is Not a Drill (2:13)
The Plot Thickens (8:21)
You Are Dunn (5:54)
Get Out Now (1:56)
A Colourful Past (3:11)
Rush Hour in Rome (3:33)
Roman Getaway (2:46)
You're Driving (2:04)
Hit It (2:10)
He Calls Himself Gabriel (6:22)
A Most Probable Next (5:20)
Run As Far As You Can (1:59)
You Are Done (3:28)
Chasing Grace (2:51)
I Was Hoping It'd Be You (1:41)
Ponte Dei Conzafelzi (2:19)
To Be a Ghost (2:21)
What Is Your Objective (4:27)
Murder and The Orient Express (3:34)
Mask of Lies (2:37)
I Missed the Train (3:05)
Key Details (3:36)
The Moment of Truth (2:17)
Should You Choose to Accept (1:59)
Leap of Faith (1:36)
Consequences (1:41)
You Stop the Train (3:48)
Chaos on the Line (2:48)
Countdown (2:54)
This Was the Plan (6:15)
Curtain Call (1:01)
Total length: 1 hour and 58 minutes
Sony Classical (2023)