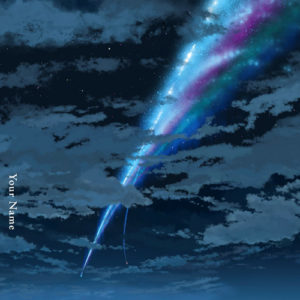 Did you ever feel a sense of connection to some random stranger you happened to cross paths within the twirls of everyday life? Did it feel like there was something way deeper than a mere chance to this supposedly superficial encounter? Take this notion, generously add Japanese flair, time travel, a body swap and some romance and you have all the important ingredients for the 2016 anime film 君の名は。or in English: Your Name.
The story by Shinkai Makoto was first published as a novel in June 2016, but only one month later it hit the cinemas as a motion picture production (this swift transferral of content from one medium to the other is quite common in Japan; most popular stories are available as films, comics, computer games and in many other formats). This animated version has become a huge success: it is the fourth highest-grossing film of all time in Japan (surpassed only by Spirited Away, Titanic and Frozen), the highest-grossing Japanese film ever in China (the growth market for all cinematic products) as well as the highest-grossing anime film worldwide.
One reason for this success might be the excellent mixture of genres (love comedy, romance, fantasy) that allows the film to please many different audiences; another surely is the music by the Japanese rock band Radwimps. The entire score is composed by the band's vocalist Noda Yojiro, who impressively proves his mastery of a variety of styles and musical moods. The few in-your-face rock tracks are spot-on, but also the emotional ballads and the heart-warming instrumental pieces are very effective. At the same time, this collection of music's overall distinctive characteristic is that it doesn't push itself into the foreground. While watching the film you might not even notice the instrumental pieces even though (or rather 'because') they are vital for making the atmosphere palpable.
If you have only three minutes, the one piece you want to listen to is "Twilight". By presenting the main theme with soft strings and a careful yet determined piano, it encapsulates the essence of Your name. After having heard it, you will concede that in fact you have a little more time to listen to another track. While I don't want to suggest a specific route for your journey through this soundtrack, there are a number of pieces that I would strongly recommend you to stop at along your way. First of all, there are the powerful rock songs "Dream Lantern" and "Many Previous Existences" (the latter is surely the track with the most chart potential on the whole CD). Then there are the beautiful piano pieces "Date" and "Date 2", the nice string piece "Object of Worship" and, if you are into piano and violin duets, "Searching for Hida". Last but not least, there is my personal highlight: "Sparkle". By combining piano, strings and the complete rock set-up including Noda Yojiro's vocals, it picks up the two threads prepared by the previous pieces and weaves them together to create a marvelously beautiful fabric. (This metaphor might seem a little over the top if you haven't seen the film, but I just couldn't resist this tip of the hat to grandma Miyamizu Hitoha).
Obviously, this soundtrack also has its weaker parts and it might be permissible to skip pieces like the slightly electronic "Taki Remembers" or the light-hearted "Beloved Café" (which really is elevator/bar music, but in defence it should be noted that this exactly its purpose in the film − it serves as background music in a café scene). A further slightly negative point is that in order to boost the film's performance on the international stage, Radwimps have re-recorded the songs with English lyrics; and while this is completely reasonable from a commercial point of view, at least for me some of the songs' appeal is lost in the process. It might be a personal quirk of mine, but I really like not understanding lyrics − maybe because that way I don't have to bother with meaning and can appreciate the human voice as an instrument (or maybe because it leaves more room to dream what the song could be about).
Anyways, in my opinion, Radwimps did a great job with this soundtrack; they produced wonderful music and contributed hugely to the impressive, beautiful experience that Your name has become.
Listen or buy
Tracklist
The highlights are in bold.
夢灯籠 (Yume Tōrō − Dream Lantern)
三葉の通学 (Mitsuha no Tsūgaku − Mitsuha's Commute)
糸守高校 (Itomori Kōkō − Itomori High School)
はじめての、東京 (Hajimete no Tōkyō − First Time in Tokyo)
(憧れカフェ (Akogare Cafe −Beloved Cafe)
奥寺先輩のテーマ (Okudera Senpai no Tēma − Okudera Senpai's Theme)
ふたりの異変 (Futari no Ihen − Their accident)
前前前世 (movie ver.) (Zen Zen Zense − Many Previous Existences)
御神体 (Goshintai − Object of Worship)
デート (Dēto − Date)
秋祭り (Akimatsuri − Autumn Festival)
記憶を呼び起こす瀧 (Kioku o Yobiokosu Taki − Taki Remembers)
飛騨探訪 (Hida Tanbō − Searching for Hida)
消えた町 (Kieta Machi − The Town that Disappeared)
図書館 (Toshokan − Library)
旅館の夜 (Ryokan no Yoru − Night at the Inn)
御神体へ再び (Goshintai e Futatabi − Once again to the Shrine)
口噛み酒トリップ (Kuchikamizake Torippu − Kuchikamizake Trip)
作戦会議 (Sakusen Kaigi − Strategy Meeting)
町長説得 (Chō Chō Settoku − Convincing the Mayor)
三葉のテーマ (Mitsuha no Tēma − Theme of Mitsuha)
見えないふたり (Mienai Futari − The Unseen Pair)
かたわれ時 (Katawaredoki − Twilight)
スパークル (movie ver.) (Supākuru − Sparkle)
デート2 (Dēto 2 − Date 2)
なんでもないや (movie edit.) (Nandemonaiya − It's Nothing)
なんでもないや (movie ver.) (Nandemonaiya − It's Nothing)
Total length: 1 hour 12 minutes
EMI Records / UNIVERSAL MUSIC LLC (2016)