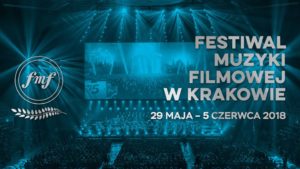 The Polish city of Krakow hosts a film music festival (FMF) each year in May. Visitors can enjoy concerts, meetings with composers and workshops about film music over a period of 8 days. We have covered the latest edition in detail on this site.
The FMF organization just announced its guests and program for 2018. The announced guests are Michael Nyman, Elliot Goldenthal, Krzysztof Penderecki, Atli Örvarsson, Jesper Kyd, Chris Drake and Austin Wintory.
Here is an overview of the concerts:
Tuesday, May 29: A concert with the main focus on composer Krzysztof Penderecki in Katowice
Wednesday, May 30: Same Penderecki  concert but then in Krakow
Thursday, May 31: A concert with music written for movies from Polish directors
Friday, June 1: Live screening of Beauty and the Beast and a dance event with Atli Örvarsson
Saturday, June 2: Cinematic Piano with music from the movie Lion and Video Games Gala in de evening.
Sunday, June 3: Youth orchestra concert about monsters in the afternoon, and a live screening Casino Royale in the evening.
Monday, June 4:  An outdoor showing of a movie
Tuesday, June 5: The youth orchestra concert again at a different location
Again, we are excited about the program! We are looking forward to it and we will be present. Are you interested in visiting this festival and have no clue how it works? You can always contact us and we help you on your way.
To get into the mood, please enjoy some videos from the 2017 edition: