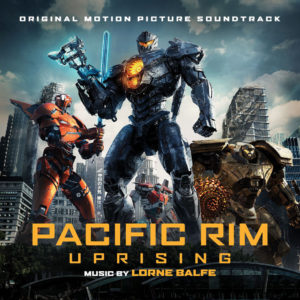 Pacific Rim movies are about massive robots fighting big bad monsters. The story is weak, the characters are not very well developed and the acting is sometimes a bit too comical. The first movie solved this by having awesome action sequences, like a giant robot walking down a street in a large city, facing the enemy while holding a huge boat that it is going to use as a club. When I was watching that scene I got an adrenaline rush and a huge smile on my face. The whole movie has an "Oh Yeah!" vibe. A big contribution to that is Ramin Djawadi's music with Tom Morrello's awesome guitar riffs. The sequel Pacific Rim: Uprising has not been scored by Djawadi, but by Lorne Balfe, who had to step in for John Paesano at the last moment. His approach to finding a suitable tone for this science-fiction story stands in stark contrast to Djawadi's work for the previous film.
The main theme can be heard in the first track "Pacific Rim: Uprising," and is an electronic melodic line with some percussion below it, until halfway when the electronic noise starts and some massive chords are added to the melody, creating a huge wall of sound. "Born Into War" provides a contrast to these massive sounds. It contains a beautiful, emotional and simple melody played on an electronic string instrument, which flows into the orchestra. "Shao Industries" is a track that stuck with me. It is an electronic dance track that makes me nod my head.
The tracks I have mentioned are worth a listen, while the rest of the score, unfortunately, is not, unless you like endless drums and long simple lines, that is. There is a small theme hidden in the noise: the Scrapper theme. It can be heard in "Scrapper Chase" and "End Game" and is a pattern of two musical sentences which will stick in your head, but is too short for me to have a solid opinion about it. The album also contains three songs: "Daddy Yo" by Wizkid, "Nobody Speak" by DJ Shadow feat. Run The Jewel and "Come Down" by Anderson .Paak, all of which take you completely out of the score since they are added in between all other tracks on the album. The last track that I would like to mention is "Go Big or Go Extinct – Patrick Stump Remix," which is a remix of Ramin Djawadi's original track. In this version, all the awesomeness of this original track have been removed and are replaced by futuristic sounds.
In my opinion, the music of Pacific Rim: Uprising has a huge problem: it lacks emotion, which is essential for a movie like this. One of the factors that makes film music fantastic, is that it enhances the emotions that are happening on the screen. The movie has scenes full of fun, excitement, despair, love, betrayal and of course the "We are going to win even though the odds are against us" moment. While these emotions are happening, we can hear drums and long lines, adding nothing to the scene emotion-wise. Where the predecessor shines, this soundtrack totally lacks. During the battles, I just heard drums instead of awesome guitars that let me rock in my chair and made me root for the big robots. The lack of proper music in this movie just annoyed me and made the cinema experience less enjoyable for me. I would recommend skipping this score. If you want to hear awesome Pacific Rim music, go listen to Ramin Djawadi's magnificent score, and if you want to hear some terrific music by Lorne Balfe, I would recommend music from the game Beyond: Two Souls. I really hope that this long-lines-with-drums phase in big Hollywood action movies will stop very soon.
Listen or buy
Tracklist
The highlights are in bold.
Pacific Rim Uprising (4:47)
Born Into War (4:12)
Rise of the Jaegers (1:38)
Go Big Or Go Extinct (Patrick Stump Remix) – Ramin Djawadi (2:10)
Daddy Yo – Wizkid (2:39)
Shatterdome Arrival (2:03)
Sneaking In (3:07)
Shao Industries (4:35)
Scrapper Chase (3:56)
Flashback (2:17)
Nobody Speak – DJ Shadow feat. Run The Jewels (3:15)
Kaiju Brain (2:11)
Combat (2:19)
Obsidian Fury (3:31)
Get It Done (3:24)
Come Down – Anderson .Paak (2:59)
Shatterdome Attacked (7:18)
Amara (2:36)
Coming Together (3:14)
On the Move (2:21)
Mega Kaiju (2:29)
Battle Speech (2:39)
End Game (2:00)
Victory (2:18)
The Revenge (1:52)
Total length: 1 hour 15 minutes
Legendary Pictures Productions / Milan Entertainment Inc. (2018)